Trump administration considers uranium mining in Grand Canyon, threatening ancient Native American tribe
'If this groundwater contamination happens in particular, there's no going back'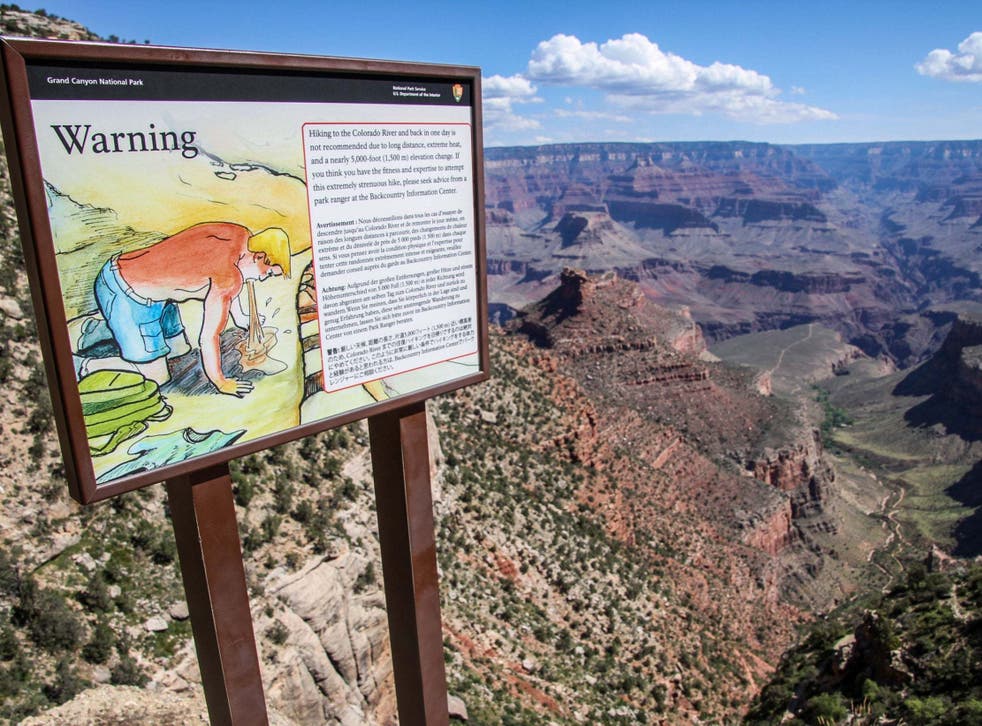 The Trump administration is considering a policy that could spark a renewed push for uranium mining in northern Arizona near the Grand Canyon, and pit environmentalists against the mining industry in a vicious political battle with grave consequences for Native Americans in the region.
The potential shift in strategy was published by the commerce department this week, and would speed up the permitting process for mining operations. The report also asks for a "thorough review" of bans on mining on federal lands, and comes amid a government effort to prioritise domestic mineral production viewed as "critical" to US economic and national security.
Activists say that the decision to consider a new strategy for reducing American dependence on foreign minerals could have disastrous impacts, and potentially poison the groundwater that a whole community relies on.
"Uranium mining companies have run into problems that prove that they're not actually guaranteed to be safe, and the problem is, if this groundwater contamination happens in particular, there's no going back," Amber Reimondo, the energy programme director with the Grand Canyon Trust, told The Independent.
While uranium mining has been conducted in the Grand Canyon previously, activists and opponents of the Trump administration's efforts to open up the land say that it had disastrous ecological impacts in the area.
The Indian tribe that took on a mining giant – and won

Show all 2
And, Democrats say that the argument that the US needs to being mining for uranium within its borders doesn't make sense, with more than half of the uranium the US buys comes from close international allies like Canada.
House natural resources committee chairman Raul Grijalva, of Arizona, has slammed the Trump administration's plan to deregulate the mining industry, and said the worst is yet to come if the course is not changed.
"Unchecked mining is already damaging inhabited areas around the Grand Canyon and other sites around the country," Mr Grijalva said in a statement "And we can expect much more severe impacts to public lands nationwide if these recommendations go into effect."
Support free-thinking journalism and attend Independent events
Ms Reimondo said that uranium mining in the Grand Canyon would pose a particular threat for the Havasupai Native American tribe, which has lived in the Grand Canyon for at least the past 800 years.
The tribe, which has been historically forced from its land by westward expansion in the United States, including by the national railroad, has a population of less than 1,000 and could not continue to exist if an incident contaminated the water in the canyon its members live.
"In the arid west, water is extremely hard to come by. And, especially in the case of the Havasupai, that is their sole source of water," Ms Reimondo said of the tribe that is a 10 mile hike or helicopter ride from modern infrastructure. "They're one of the most remote Native American communities in the country."
"They have no other options, it's not like you can trek in water from somewhere else."
Register for free to continue reading
Registration is a free and easy way to support our truly independent journalism
By registering, you will also enjoy limited access to Premium articles, exclusive newsletters, commenting, and virtual events with our leading journalists
Already have an account? sign in
Register for free to continue reading
Registration is a free and easy way to support our truly independent journalism
By registering, you will also enjoy limited access to Premium articles, exclusive newsletters, commenting, and virtual events with our leading journalists
Already have an account? sign in
Join our new commenting forum
Join thought-provoking conversations, follow other Independent readers and see their replies