The ways Trump is trying to make it easier for Americans to access guns: What he has done and said so far
All you need to know about Trump's stances on gun ownership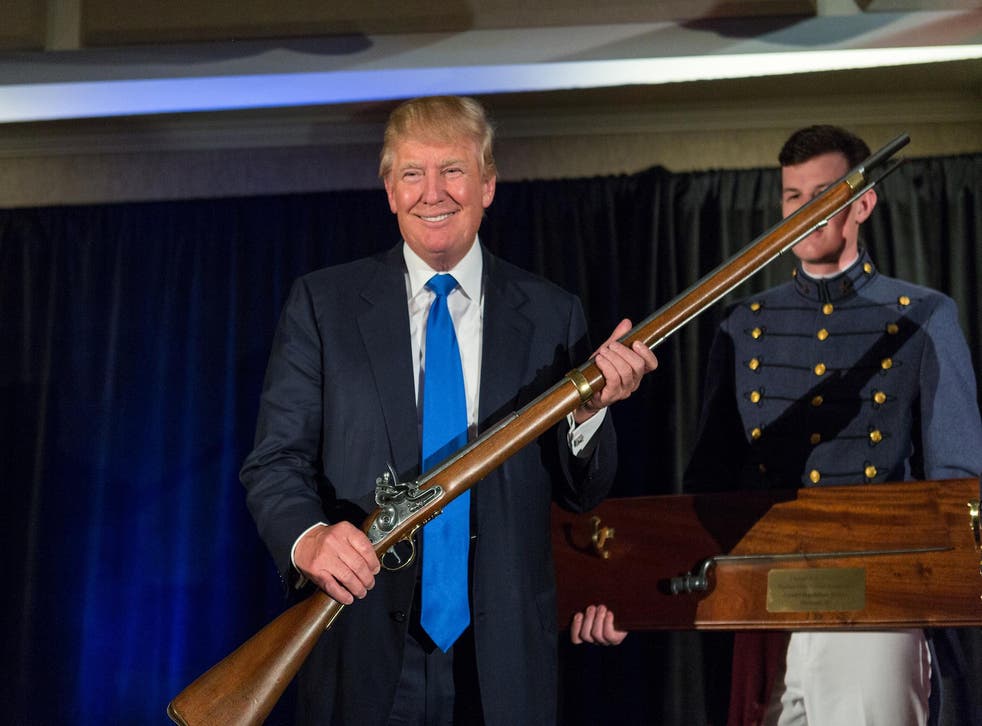 The mass shooting in Las Vegas, which has left at least 58 dead and more than 400 in hospital, has reignited the controversy over gun ownership laws in the US.
Donald Trump has repeatedly declared he loves the Second Amendment. And since becoming president, he has begun rolling back Obama-era restrictions on gun ownership.
What were Mr Trump's thoughts on guns before he ran for president?
Mr Trump wasn't always such a strong advocate of gun ownership. Before he was a presidential contender, he called out Republicans who "walk the NRA line" and "refuse even limited restrictions" on firearms laws, in his 2000 book, The America We Deserve.
"I generally oppose gun control, but I support the ban on assault weapons and I also support a slightly longer waiting period to purchase a gun," he wrote.
In April 2015 – 15 years later and two months before he announced his bid for president – Mr Trump appeared to change his stance: "I love the NRA. I love the Second Amendment," he told those gathered at a forum for the National Rifle Association of America.
What did Mr Trump say on the campaign trail?
During a 2016 Republican debate, the real estate mogul said he carries a gun in his home state of New York, "sometimes a lot."
"I like to be unpredictable, so people don't know if I'm carrying," Mr Trump said after a CNBC moderator asked him whether he would feel more comfortable if his employees brought guns to work.
"Yes, I might feel more comfortable. I would say that I would, and I have a permit, which is very unusual in New York," he added.
Las Vegas shooting – in pictures

Show all 15
Mr Trump also said gun-free zones are "target practice for the sickos and for the mentally ill."
"I think gun-free zones are a catastrophe," he said. "They're a feeding frenzy for sick people."
What has Mr Trump said on the issue since becoming president?
In April, Mr Trump declared to members of the NRA: "The eight-year assault on your Second Amendment freedoms has come to a crashing end."
He also assured association – which had donated more than $30m to his presidential campaign – that it now has "a true friend and champion in the White House."
"I will never, ever infringe on the right of the people to keep and bear arms," the President said. "Never ever."
What has he done on the issue?
In February, about a month after he was inaugurated, Mr Trump signed a resolution blocking an Obama-era rule that would have prevented an estimated 75,000 people with mental disorders from buying guns.
The rule was part of former President Barack Obama's push to strengthen the federal background check system following the 2012 Newtown, Connecticut shooting – the deadliest school shooting in US history.
Register for free to continue reading
Registration is a free and easy way to support our truly independent journalism
By registering, you will also enjoy limited access to Premium articles, exclusive newsletters, commenting, and virtual events with our leading journalists
Already have an account? sign in
Register for free to continue reading
Registration is a free and easy way to support our truly independent journalism
By registering, you will also enjoy limited access to Premium articles, exclusive newsletters, commenting, and virtual events with our leading journalists
Already have an account? sign in
Join our new commenting forum
Join thought-provoking conversations, follow other Independent readers and see their replies