Trump pledges $1 million of his own money to help Harvey victims
The President asked his press secretary to check with reporters about where he should donate the money
Alexandra Wilts
Washington DC
Thursday 31 August 2017 21:44 Comments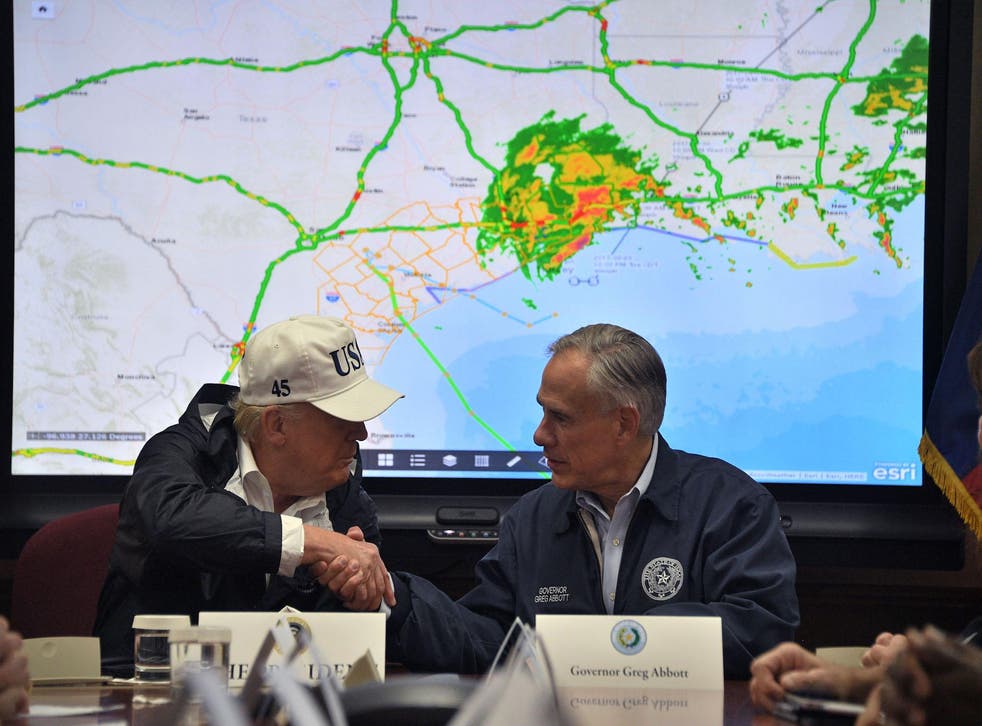 Donald Trump has pledged $1m of his own money to help Harvey victims as thousands of people continue to be rescued in the aftermath of the storm.
"He'll pledge proudly a million dollars of his own personal money to help the people of both Texas and Louisiana," press secretary Sarah Huckabee Sanders said during a White House briefing. "He would like to join in the efforts that a lot of people we have seen across the country do."
The President has not yet decided where he will donate the money, Ms Sanders said.
"He actually asked that I check with the folks in this room since you are very good at research and have been doing a lot of reporting into the groups and organisations that are best and most effective in helping and providing aid, and he'd like some suggestions from the folks here and I'd be happy to take those," Ms Sanders told reporters.
Mr Trump, a real estate magnate, has been blasted in the past for giving far less of his income to charitable causes than other multi-billionaires.
Harvey came ashore over the weekend as the most powerful hurricane to hit Texas in a half-century.
Vice President Mike Pence flew to Texas on Thursday to survey the wreckage. He landed in Corpus Christi, near where Harvey made landfall last Friday, and travelled to Rockport – a small coastal city of about 10,000 people that had also been hit by the storm.
"You've inspired the nation by your resilience and by your courage and we just came here to commend you and to encourage you and to assure you that we will be there," Mr Pence told Rockport residents, according to ABC.
Mr Pence later said the Trump administration expects Congress to "move quickly" to send federal cash to people and businesses in Hurricane Harvey's disaster zone, adding that more than 300,000 people have registered for disaster aid.
The Vice President said that the White House will support Harvey victims, pledging to "be with you every day until Texas rebuilds stronger and better than before".
Mr Trump, who also visited hurricane-ravaged Texas earlier this week, is expected to return to the region on Saturday.
Ms Sanders said he is likely to visit Houston – which was paralysed by the storm earlier this week – and Lake Charles, Louisiana, where Harvey headed after dumping record rainfall on Texas.
The aftermath of Hurricane Harvey

Show all 19
The Lone Star State is still reeling from unprecedented flooding caused by the storm.
Soldiers and police in helicopters and special high-water trucks on Thursday rescued thousands of Texans stranded by floodwater. The confirmed death toll has crept up to 37 people.
In Beaumont, Texas, doctors and nurses evacuated some 190 people from a hospital that halted operations after water service in the city of almost 120,000 people was knocked out by the storm.
"We don't have any water. Water shut down. We can't run (kidney) dialysis," and other procedures, said hospital security guard Devan Campbell, standing outside as about 190 patients were led out.
Houston-area hospitals are bracing for an influx of patients as record flooding from Tropical Storm Harvey recedes, an effort likely to be complicated by potential staff shortages because of the storm's disruption of employees' lives.
More than two dozen hospital administrators met in Houston on Thursday to discuss how to coordinate care in anticipation of more patients visiting medical facilities in coming days as roadways became more accessible.
About 1,500 patients had to be evacuated from 20 facilities, including hospitals, nursing homes and assisted-living facilities, said Darrell Pile, chief executive of the Southeast Texas Regional Advisory Council, whose catastrophic medical operations center is coordinating hospital response.
Overall, some 779,000 Texans had been ordered to evacuate their homes and another 980,000 had fled on their own amid concerns that swollen reservoirs and rivers could bring new flooding even as Harvey, downgraded to a tropical depression, headed inland, according to Department of Homeland Security acting Secretary Elaine Duke.
In Houston, firefighters conducted a block-by-block search of homes to rescue stranded survivors and recover bodies.
The flooding also caused a series of explosions at a chemical factory northeast of Houston, where officials warned that more blasts were likely to come.
Orange County, which borders Beaumont around 50 miles (80 kms) east of Houston, on Thursday ordered remaining residents to evacuate the area amid a forecast that the Neches River would crest on Friday, threatening homes.
"We're having some issues with flooding on the Neches," Orange County Judge Stephen Brint Carlton said. "It could certainly affect thousands of homes, but we're not sure how many people are still inside of them."
Reuters contributed to this report
Register for free to continue reading
Registration is a free and easy way to support our truly independent journalism
By registering, you will also enjoy limited access to Premium articles, exclusive newsletters, commenting, and virtual events with our leading journalists
Already have an account? sign in
Join our new commenting forum
Join thought-provoking conversations, follow other Independent readers and see their replies