Donald Trump to undergo first medical exam as questions swirl about his mental and physical fitness
There has been quite a bit of talk about his mental stability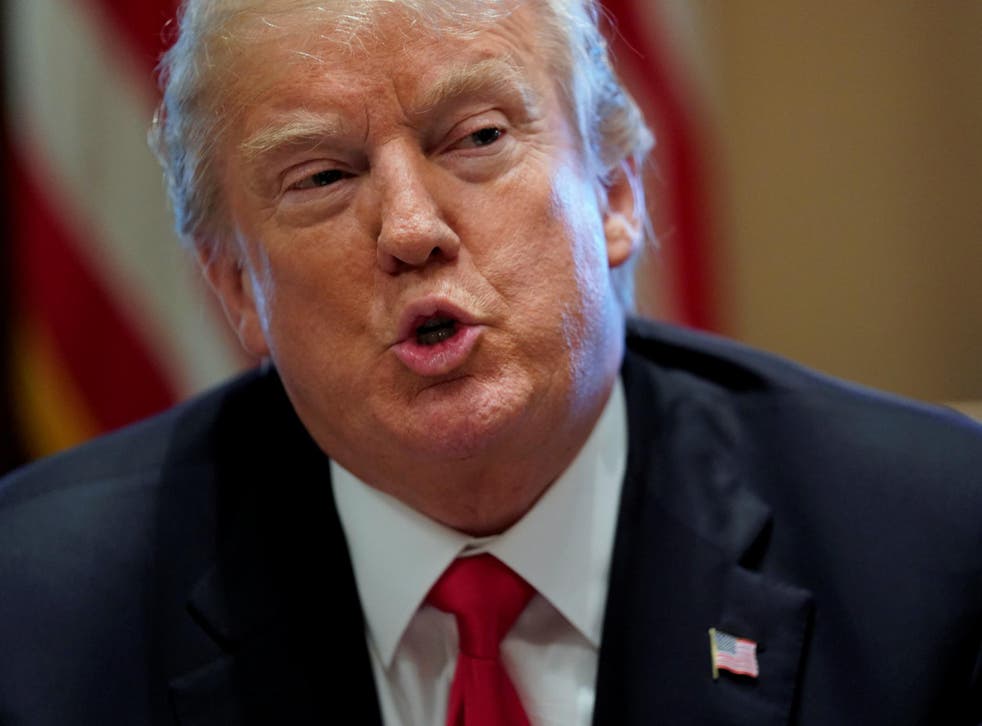 President Donald Trump is expected to undergo his first medical checkup since taking office, as questions surrounding his mental stability swirl in the wake of a bombshell book about his approach to governance.
Mr Trump, who declined to release a detailed report on his health while running in 2016 — though his doctor did release a letter then vouching for his good shape — is the oldest person in history to be elected to America's highest office.
The 71-year-old has repeatedly claimed to be in immaculate health himself, and ramped up that defence following the release of reports last week that suggested he was mentally unfit.
Mr Trump will fly on Friday to the Walter Reed National Military Medical Centre in Bethesda, Maryland, for his annual exam.
There is no formal requirement for presidents to undergo such a physical, but modern holders of the office have tended to undergo them anyway and receive doctors' notes indicating they are "fit to serve" as president.
The President is therefore also under no obligation to publish his full medical results, but White House doctor Ronny Jackson is expected to give what the administration has called a "readout".
After Barack Obama's last physical in office in March 2016, Dr Jackson released a two-page summary of the results which revealed a set of figures like Mr Obama's weight (175 pounds), his cholesterol levels and a series of "normal" examinations of his heart, lungs and other bodily functions. A summary said Mr Obama's "overall health remains excellent".
Speculation surrounding Mr Trump's mental health has been fuelled, not for the first time, by last week's publication of the book Fire and Fury: Inside the Trump White House by journalist and author Michael Wolff.
Donald Trump's least presidential moments so far...

Show all 30
White House officials said that Mr Trump would not undergo a psychiatric exam. They did not say if he would undergo other screenings, such as cognitive and neurological exams.
But Mr Trump as boasted of being "smart" and having "mental stability" in tweets over the past week. "Now that Russian collusion, after one year of intense study, has proven to be a total hoax on the American public, the Democrats and their lapdogs, the Fake News Mainstream Media, are taking out the old Ronald Reagan playbook and screaming mental stability and intelligence…" he wrote.
"…Actually, throughout my life, my two greatest assets have been mental stability and being, like, really smart. Crooked Hillary Clinton also played these cards very hard and, as everyone knows, went down in flames. I went from VERY successful businessman, to top T.V. Star to President of the United States (on my first try). I think that would qualify as not smart, but genius....and a very stable genius at that!" he concluded.
Mr Trump himself sparked a storm of speculation last month when he appeared to slur words during a nationally televised address. White House Press Secretary Sarah Huckabee Sanders responded to the questions that arose from that incident by saying he was merely parched, and that speculation about his mental stability were "frankly, pretty ridiculous".
The President, who was inaugurated at the age of 70, was a year older at the time that Ronald Reagan was when he was inaugurated. Reagan, it was later determined, suffered from early stages of Alzheimer's while in office.
Mr Trump, on the campaign trail in 2016, repeatedly questioned whether his opponent, Hillary Clinton, possessed the mental acumen to be president. Ms Clinton would have also been the oldest elected president.
Join our new commenting forum
Join thought-provoking conversations, follow other Independent readers and see their replies