Trump says Obamacare should be repealed even if it's not replaced with anything
Senators from different wings of the Republican party disagree with key parts of the Obamacare repeal and replacement bill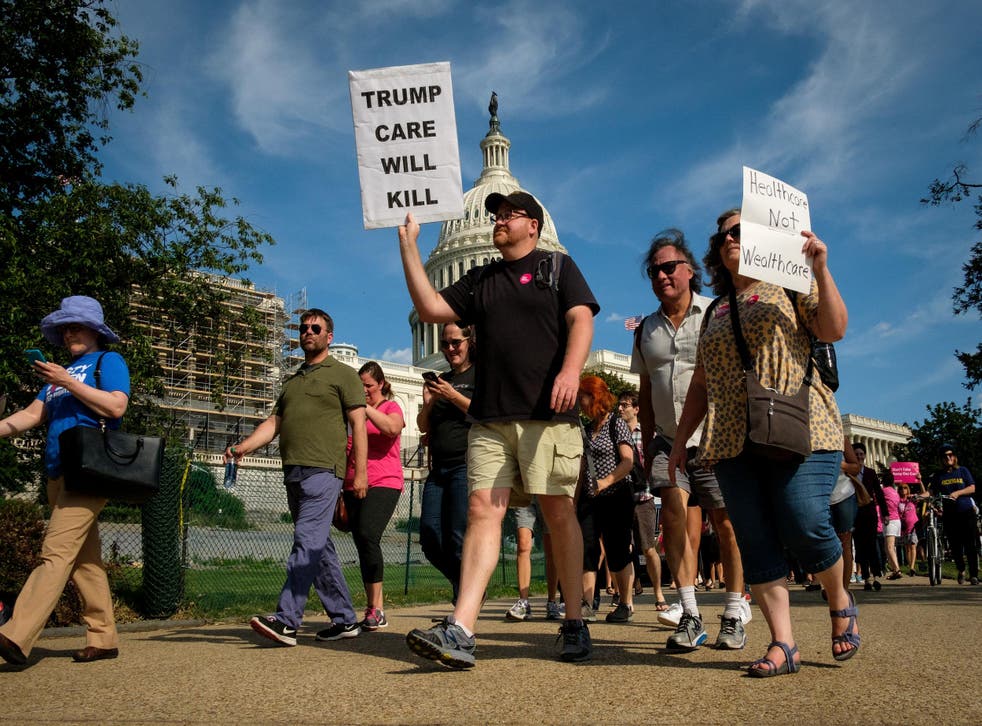 Donald Trump is calling for Senate Republicans to repeal Obamacare – even if they have no bill to replace it with.
A proposal to repeal and replace Obamacare, officially known as the Affordable Care Act, has struggled in the Senate, with senators from different wings of the Republican party disagreeing on key aspects of the plan.
Moderate senators worry that millions of people would lose their insurance following cuts to Medicaid – a healthcare programme for the poor – while conservatives assert that the bill does not do enough to erase Democratic former President Barack Obama's signature domestic legislation.
The senators' efforts were complicated on Thursday when the nonpartisan Congressional Budget Office reported that the Senate proposal would cut spending on government Medicaid by 35 per cent come 2036.
"If Republican Senators are unable to pass what they are working on now, they should immediately REPEAL, and then REPLACE at a later date!" Mr Trump wrote on Twitter.
Republican Senator Ben Sasse, who said this week that he was not satisfied with the Senate healthcare measure, appeared to welcome Mr Trump's suggestion.
"Sounds great, Pres. @realDonaldTrump," Mr Sasse wrote in a response on Twitter. "We are agreed. We need to break the logjam."
However, the prospect of not having an alternative to Obamacare in place has raised concerns that insurance markets would collapse and people not insured under the ACA would be left with few or no options for coverage, hitting the poor particularly hard.
Thousands march against Donald Trump in LGBT rights parade

Show all 8
Senator Rand Paul, a leading voice on the conservative wing, wants to ditch more parts of Obamacare and supports splitting the Senate healthcare bill into two – one for repeal and one for spending.
"You can repeal the taxes, you can repeal some of the regulations – I prefer all of them – and you can also do some Medicaid reform. That could be in a repeal bill, and it will be a much narrower and much cleaner repeal," he told MSNBC.
Asked about that option, White House adviser Kellyanne Conway said, "That's a very strong possible alternative strategy."
She told Fox News that the White House was confident healthcare reform can get done this summer, followed by tax reform.
Mr Trump's proposal for the Senate to just repeal Obamacare comes after he told reporters earlier this week that "healthcare is working along very well...we're gonna have a big surprise. We have a great healthcare package."
The President also told Republican senators during a meeting at the White House that "this will be great if we get it done."
But appearing to recognise the opposition the healthcare bill faces, he added: "And if we don't get it done, it's just going to be something that we're not going to like. And that's okay, and I understand that very well."
With a majority of 52 senators, Senate Majority Leader Mitch McConnell can only afford two defections on the bill and still be able to pass it. No Democrats are expected to vote in favour of the legislation.
Mr McConnell is trying to send a revised version of their healthcare bill to the Congressional Budget Office so that the nonpartisan group can measure the legislation's impact on coverage levels and federal spending by the time senators return to Washington DC in mid-July.
Join our new commenting forum
Join thought-provoking conversations, follow other Independent readers and see their replies