Hillary Clinton claims American democracy is "in crisis" in searing critique of Donald Trump
'Our democratic institutions and traditions are under siege,' former candidate writes in new essay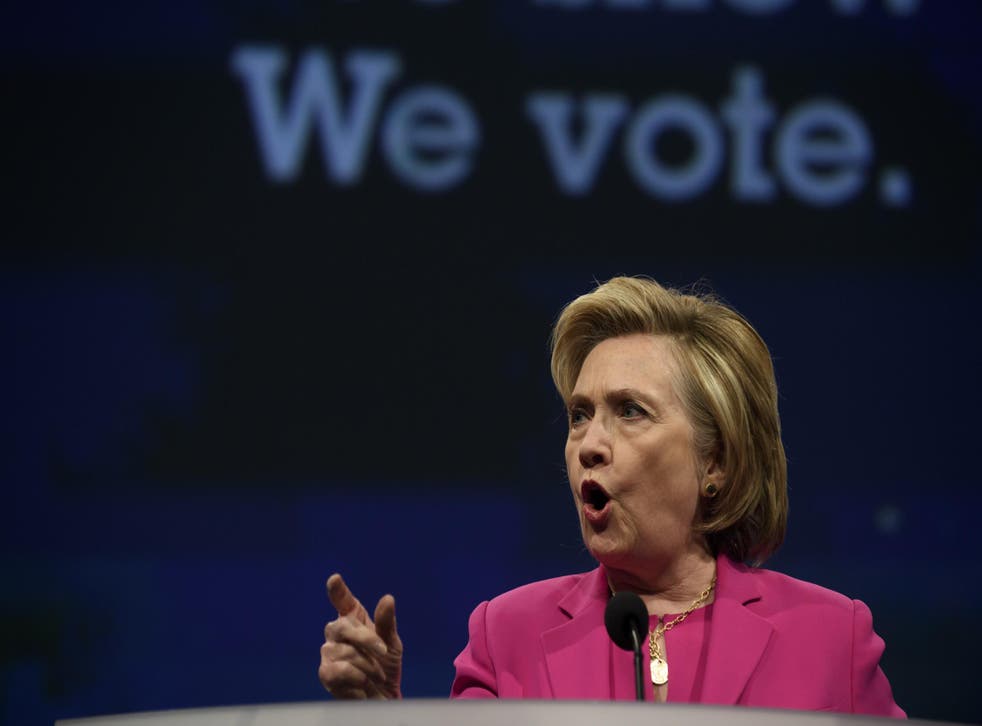 Hillary Clinton has launched a fresh attack on President Donald Trump, claiming American democracy is in crisis under his presidency – though not because of it.
In a recently released afterward to What Happened – Ms Clinton's memoir chronicling her 2016 loss to Mr Trump – the former Democratic candidate claims the president has "sunk far below the already-low bar he set for himself in his ugly campaign".
"The administration's malevolence may be constrained on some fronts – for now – by its incompetence," she writes in the afterward, published on Monday in the Atlantic. "But our democratic institutions and traditions are under siege. We need to do everything we can to fight back."
Among other things, Ms Clinton claims the president has assailed American democracy by attacking the rule of law, waging a "war on truth and reason", and undermining national unity with his racially charged statements.
As evidence, she cites his policies – like the forced separation of migrant families at the border – and his statements, like his claim that some attendees at a white supremacist rally were "very fine people".
Hillary Clinton mocks President Trump with a Russian hat during her speech at Yale University
But Ms Clinton blames this "assault on our democracy" not on Mr Trump, but on members of his party. Right-wing billionaires, she writes, have spread misinformation and paranoia, while Republican politicians have demonised Democrats and demeaned the government.
"Whether it was abusing the filibuster and stealing a Supreme Court seat, gerrymandering congressional districts to disenfranchise African Americans, or muzzling government climate scientists, Republicans were undermining American democracy long before Trump made it to the Oval Office," she writes.
Mr Trump has launched his own share of criticism at his former campaign rival since the election, referring to her frequently as "Crooked Hillary" and urging his Justice Department to investigate her for colluding with Russia, among other alleged crimes.
The White House did not respond to a request for comment on Ms Clinton's editorial.
The biggest names involved in the Trump-Russia investigation

Show all 17
Ms Clinton's essay comes as members of both parties seek to mobilise voters for the November midterm elections. Along with publishing the afterward, Ms Clinton has headlined events with Democratic Senators Kirsten Gillibrand and Kamala Harris, and is is reportedly scheduled to host three Democratic National Committee fundraisers in the coming months.
Former President Barack Obama has also stepped back into the ring, delivering a searing assessment of Mr Trump in a speech at the University of Illinois at Urbana-Champaign earlier this month – the first time he criticised the president by name since the 2016 election.
Mr Obama also turned his comments on the president into a larger critique of his party, claiming Republicans were part of a "backlash to progress" taking place in America.
"It did not start with Donald Trump – he is a symptom, not the cause. He is just capitalising on resentment that politicians have fanning for years," Mr Obama said.
Register for free to continue reading
Registration is a free and easy way to support our truly independent journalism
By registering, you will also enjoy limited access to Premium articles, exclusive newsletters, commenting, and virtual events with our leading journalists
Already have an account? sign in
Register for free to continue reading
Registration is a free and easy way to support our truly independent journalism
By registering, you will also enjoy limited access to Premium articles, exclusive newsletters, commenting, and virtual events with our leading journalists
Already have an account? sign in
Join our new commenting forum
Join thought-provoking conversations, follow other Independent readers and see their replies