Man who started 'lock her up chant' about Clinton now heads an EPA office
He is a veteran of the agriculture lobbying and oil industries, once working for a company that spilled thousands of gallons of oil in California
Mythili Sampathkumar
New York Comments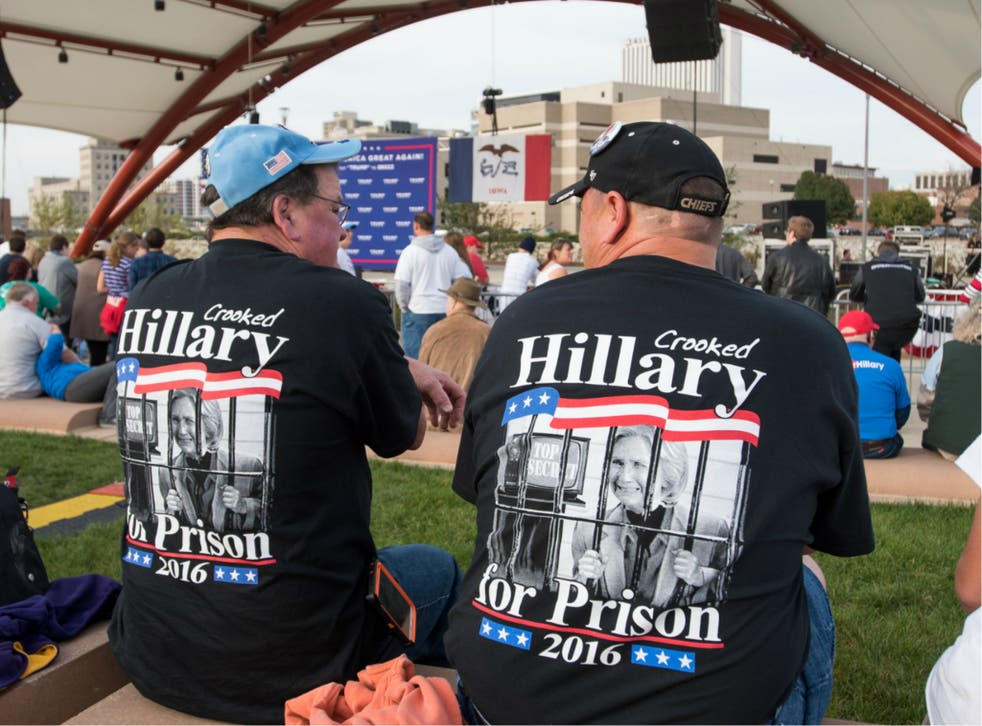 The man who began the political rally chant "lock her up" about Hillary Clinton is now leading an office at the federal environment agency.
Michael Stoker has been credited with coining the infamous saying calling for Ms Clinton to be put in prison for using a private email server while she was Secretary of State. He reportedly began the chant at Republican National Convention in 2016 while a state delegate and it went on to be heard at numerous political rallies of US President Donald Trump - followed by signs, t-shirts, and the president himself saying it on stage. Mr Stoker is now head of the Pacific southwest regional office of the Environmental Protection Agency (EPA).
The Hill newspaper obtained the email announcing the appointment within the agency in which chief of staff Ryan Jackson said Mr Stoker had "spent his career serving the public and working as an attorney specialising in agriculture, labour, land use, and environmental law".
In a move that is in line with the way EPA administrator, Scott Pruitt has hired replacements after the departure of several consulting scientists and advisory board members, Mr Stoker is from "industry". He most recently worked for UnitedAg, a lobbying firm where he was as director of government affairs. He also served as California deputy secretary of state from 2000 to 2002 under Republican governor Arnold Schwarzenegger.
News outlet ThinkProgress reported that Mr Stoker also once worked for Greka Oil and Gas Inc, a company with numerous complaints of environmental regulation non-compliance in its history. According to the Associated Press, the company had spilt more than 500,000 gallons of oil in southern California. An agency employee told the outlet that Greka was the "worst oil company".
The position, which Mr Stoker took over on 21 May, is based in the agency's San Francisco office but the newspaper reported that he will likely work from the satellite office in Los Angeles, according to the LA Times. This prompted a letter from Senator Dianne Feinstein, who hails from northern California, to Mr Pruitt which cautioned him from allowing Mr Stoker to be an "absentee" leader in state where environmental issues are important.
EPA Chief Scott Pruitt suggests global warming could be good for humans
Mr Pruitt tweeted his support for his latest appointee in a tweet: "Mike Stoker is highly qualified and well-equipped to lead Region 9. Through his public service and career in law, he understands the environmental challenges facing the region and will bring a wealth of experience and expertise to EPA".
The position has been vacant since Mr Pruitt took over the agency in February 2017 and the administration reportedly had difficulty in finding someone to take it. "In January it was widely expected that Ryan Flynn, an oil and gas lobbyist from New Mexico, would take on the role but he later told the LA Times that he was staying put," The Hill reported.
10 photographs to show to anyone who doesn't believe in climate change

Show all 10
The purview of his office will be over 700 agency employees in California, Nevada, Arizona, Hawaii, and the US Pacific Islands. A main goal of the agency under Mr Pruitt has become to de-regulate the agency in order to hand off the responsibility of regulation to states, except when it comes to California establishing its own fuel-efficiency standards as the administration rolls them back at the federal level.
Mr Pruitt has come under fire recently for what some in Congress have deemed excessive spending to the tune of $3m a year on his personal security detail based on threats made well after the detail was established, his use of a house in Washington DC which he gets at a heavily discounted rate from an oil and gas lobbyist with matters in front of the agency, and his spending of taxpayer money on first-class plane tickets.
The agency has dismantled large pieces of legislation like the Clean Power Plan, which would have reduced carbon emissions from power plants in the US, and having Mr Trump begin the withdrawal process from the global Paris Agreement on climate change. California has filed 26 lawsuits against the Trump administration, many targeting environmental issues.
Register for free to continue reading
Registration is a free and easy way to support our truly independent journalism
By registering, you will also enjoy limited access to Premium articles, exclusive newsletters, commenting, and virtual events with our leading journalists
Already have an account? sign in
Join our new commenting forum
Join thought-provoking conversations, follow other Independent readers and see their replies