Donald Trump vows 'no more DACA deal' as he pushes for Mexico border wall in Easter tweet barrage
After blaming Democrats, president blasts Mexico and threatens to dissolve North American Free Trade Agreement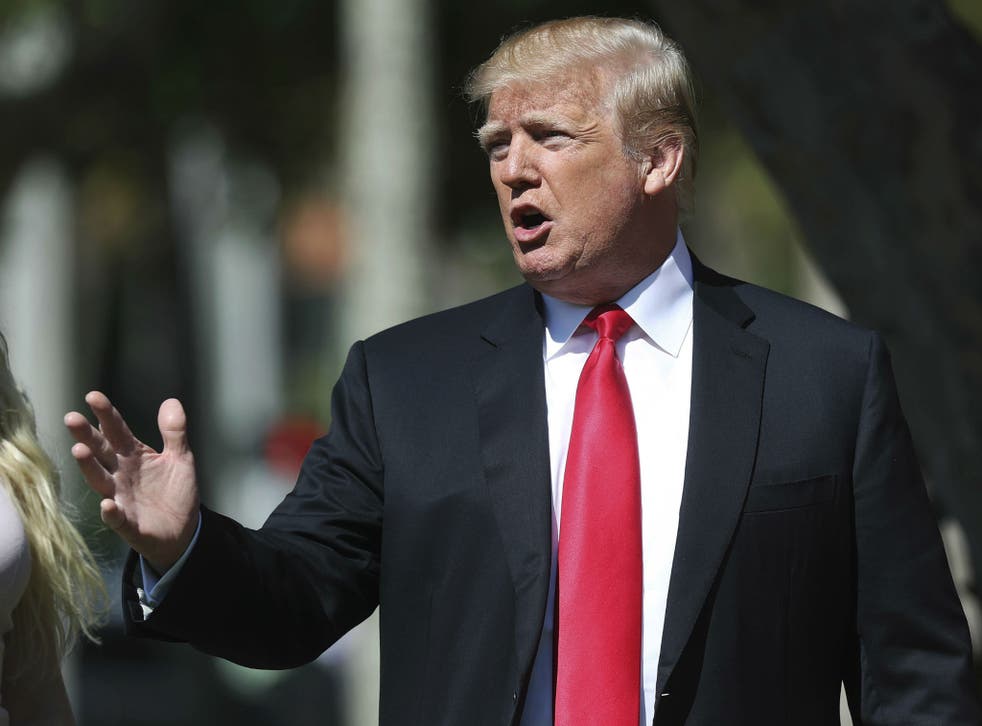 Donald Trump renounced a push to give young unauthorised immigrants legal status as he lashed out at Democrats and Mexico in an Easter morning Twitter barrage.
"Republicans must go to Nuclear Option to pass tough laws NOW. NO MORE DACA DEAL"! Mr Trump tweeted in reference to an Obama-era programme called Deferred Action for Childhood Arrivals that he allowed to lapse.
After blasting "ridiculous liberal (Democrat) laws" for making the border unsafe - an apparent reference to Obama-era immigration rules, which his administration has the power to alter - Mr Trump turned his fire on Mexico.
He threatened to scrap the North American Free Trade Agreement, a deal he has assailed as unfair to the United States and that is in the process of being re-negotiated.
"Mexico is doing very little, if not NOTHING, at stopping people from flowing into Mexico through their Southern Border, and then into the U.S. They laugh at our dumb immigration laws", he said. "They must stop the big drug and people flows, or I will stop their cash cow, NAFTA. NEED WALL"!
In the months since he moved to end DACA, which offered deportation protection and work permits to immigrants who are in the country illegally and arrived as children - the president has oscillated between conciliatory and hardline stances.
World news in pictures

Show all 50
But he has also sought to tether any legal relief for young immigrants to funding for a promised border wall with Mexico and to sharp restrictions on legal immigration.
Both of those proposals have failed to gain traction in Congress. Majorities of legislators have not embraced Mr Trump's proposed tightening of legal rules, and after ignoring his request for $18bn (£13bn) in border wall funding they passed a budget bill that included $1.6bn (£1.1bn) for border security but not for the wall.
Donald Trump: 'if you don't have a wall system, we're not going to have a country'
In remarks to reporters as he entered an Easter service in Florida, Mr Trump again faulted the opposition party.
"The Democrats blew it", Mr Trump said.
Democrats have accused the president of negotiating in bad faith and abruptly switching his positions. Rep Don Beyer of Virginia responded to Mr Trump's latest tweet by saying he was reverting to his true beliefs.
"The mask of deceptions and lies with which Trump has tried to gaslight the country for months just fell away", Mr Beyer said in a tweet. "His true position was always anti-immigrant".
Often referred to as "Dreamers", young immigrants who are living in the United States illegally but have often known no other home have been at the centre of a prolonged immigration fight in Washington.
The president and other Republicans have embraced giving the Dreamers legal status and some measure of stability, reflecting polling that finds the public is largely sympathetic to their situation.
But Mr Trump has sought to leverage the Dreamers to secure funding for the border wall and to make major changes to legal immigration rules, including dissolving a visa lottery program and restricting family-based immigration.
Democrats and immigrant activists have blasted that tactic, saying Mr Trump is cruelly leaving Dreamers in limbo by using them as a bargaining chip. They have demanded a so-called "clean" bill that would resolve the Dreamers issue while deferring other immigration debates.
Join our new commenting forum
Join thought-provoking conversations, follow other Independent readers and see their replies