After a year of Trump's immigration crackdown, migrants living in fear are using WhatsApp to avoid deportation
'I don't eat well, I don't sleep well because I'm worried about being deported'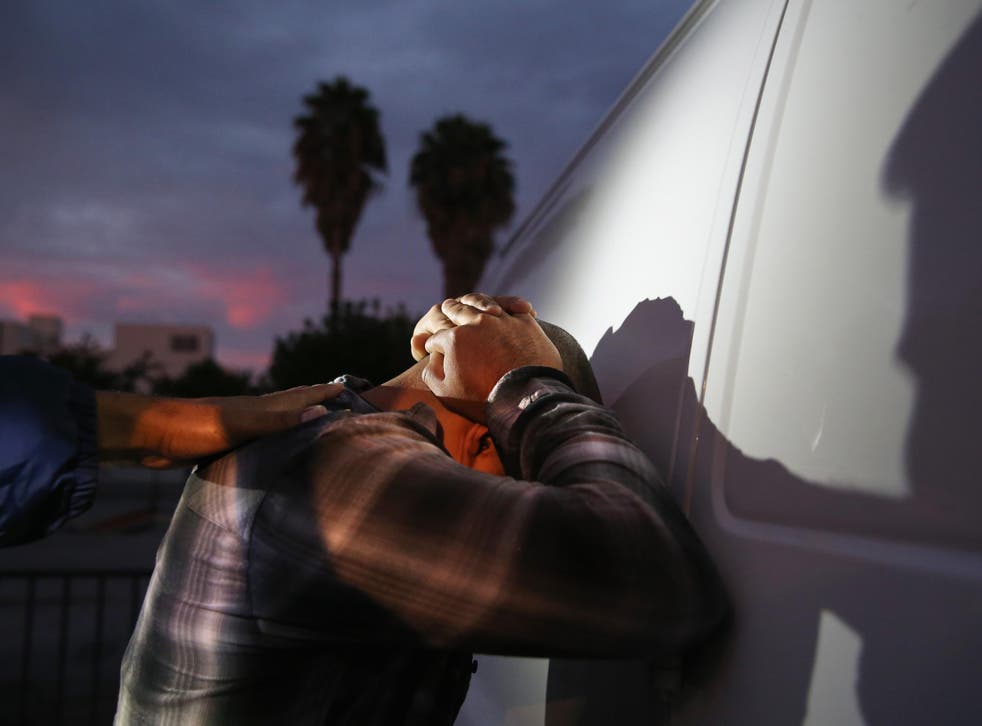 These days, when immigrants living on Long Island see a police checkpoint or immigration official, they all know about it.
While President Donald Trump was preparing to take the oath of office last January, immigrants were thinking ahead to what was to come: raids, deportations, roadside checkpoints, stakeouts, and — for a now-burgeoning group of people — constant uncertainty.
So, they started WhatsApp messaging groups to keep everyone informed, instantaneously.
Spot a roadside checkpoint? Everyone in the group gets the notification. See an Immigration and Customs Enforcement vehicle parked outside an apartment complex? Same deal. Spot an arrest in progress? Photos and videos are on the way, as are lawyers.
One year out, immigrants say that those preparations are a final line of defence as the Trump administration ramps up its anti-immigrant policies. And, with the Trump administration's recent decision to terminate Temporary Protected Status (TPS) for people from El Salvador — and, before that, Haiti — the threat of deportation has put even more people into the uncomfortable circumstance of needing such a safety network.
"They generalise us Salvadorans as gang members," Crisanto Andrade, a 45-year-old who came to the United States in 2000, told The Independent at a community centre tucked into the second floor of a nondescript office building. "Most of us come here to work. We're honest people."
Mr Andrade, who works on a golf course, says that he came to the US to help provide for his wife and children back home. When it comes to deportation, he's more worried that his only son — who is the only child of his living with him in America — will be caught up and sent back to El Salvador, a country he was forced out of in 2014 after the gangs that have led to the country having one of the highest homicide rates in the world repeatedly tried to recruit him.
"He's definitely safer here than in El Salvador," Mr Andrade said of his 20-year-old son. "Even in the small, rural place where my family lives in El Salvador, they were trying to recruit him. So, this was the only opportunity to save him."
People strike across America for A Day Without Immigrants

Show all 16
The Trump administration announced earlier this month that it would end Temporary Protected Status for people from El Salvador — which was first added to the list in 2001 after a devastating earthquake struck the country and killed nearly 1,000 people — leaving nearly 200,000 people potentially vulnerable to deportations as soon as March 9.
That announcement followed a similar declaration form the administration for Haiti last year, where 59,000 TPS beneficiaries came from after the earthquake there in 2010, which killed upwards of 200,000 people.
Mirna Pareillo, who came to the United States 18 years ago from El Salvador with her two children to reunite with her husband, says that she is, like Mr Andrade, primarily concerned for her two adult children — both of whom are Deferred Action for Childhood Arrival recipients, another program in the crosshairs — and that the national conversation describing Salvadorans as gang members is ignoring the valuable contributions those communities are making.
"Everybody here pays taxes, pays into retirement, pays for medicine," Ms Pareillo, 47-year-old employee of Suffolk County, told The Independent. "I'm very scared, of course. This president is crazy, and you don't know what's coming next."
Individuals with TPS designations from El Salvador, Haiti, and Honduras have a higher labour force participation rate (between 81 and 88 per cent) than the US population as a whole (63 per cent), and of the entire foreign-born population (66 per cent). Honduran TPS designations have not been terminated by the Trump administration.
They bolster the ranks of crucial industries in America, with more than 50,000 of them working in construction, more than 32,000 working in the food service industry, nearly 16,000 working in landscaping, 10,000 in child day care services, and just over 9,000 working at grocery stores.
Together, they make up 206,000 households — roughly one-third of which are owned by the families living them. And, the population has roughly 273,000 US citizen children who were born in America.
"You're asking people who have been here for 10 years, or more, to leave. You're asking people who have had children," Ricot Dupuy, a political radio host for Radio Soleil, a station that broadcasts out of Flatbush, Brooklyn, told The Independent. "You're asking them to go where?"
Mr Dupuy says that a sense of resignation has set in amongst the Haitians he broadcasts to: "They've been told that a madman is in the White House, what can you do?"
But, he says that he tries to broadcast something of a reassuring, that this is not normal. Even with that reassurance, though, people are aware of what terminating TPS means. People came out of the shadows eight years ago when they were told to apply for TPS, and they gave all of their information directly to the US government.
Now — even though Haiti is by all accounts far from recovered following the earthquake — they're being told that they need to start packing their bags to go home. Still, the Trump administration says things have gotten better in Haiti, so it is time to go, even though millions remain in need of aid and the exodus off the island hasn't stopped.
"Which Haiti has recovered?" Mr Dupuy asked. "To some degree, they have worsened."
Last year, Mr Trump visited Brentwood, New York, promising that his administration would crack down on the estimated 10,000 members of the Salvadoran gang MS-13, which has caught headlines for brutal murders on Long Island. He spoke of the fearsome crimes that have shaken the communities there — including the many Salvadorans — and promised to bring law and order.
For many of those immigrants who have been come to be defined by the administration as a threat, though, the biggest threat is that they'll be forced to go back to a country where their children are actively recruited by those same savagely murderous gangs.
So, they're limiting their exposure, and staying home when they can. And, they're hoping a free, encrypted messaging app can help them avoid that danger.
Aminta Romero says she came to the US 20 years ago from El Salvador so that she could get a send money home to her daughters to get them through school. She hasn't seen them since 2005, but says that she's been able to send enough money back from her Nassau County Parks Department job to get one of them through university, and the other is currently enrolled.
Even though she desperately wants to see her daughters again, and be a physical part of their lives, she says she has to stay and work, so that second daughter can graduate.
But, with the Trump administration vowing to deport immigrants, it comes with a cost.
"I've been worried. I've been having nervous breakdowns," Ms Romero said. "I don't eat well, I don't sleep well because I'm worried about being deported."
Register for free to continue reading
Registration is a free and easy way to support our truly independent journalism
By registering, you will also enjoy limited access to Premium articles, exclusive newsletters, commenting, and virtual events with our leading journalists
Already have an account? sign in
Register for free to continue reading
Registration is a free and easy way to support our truly independent journalism
By registering, you will also enjoy limited access to Premium articles, exclusive newsletters, commenting, and virtual events with our leading journalists
Already have an account? sign in
Join our new commenting forum
Join thought-provoking conversations, follow other Independent readers and see their replies