'People are going deep underground': Immigrants and their year of anxiety under Trump
Immigrants are avoiding medical treatment out of fear for Border Patrol and deportation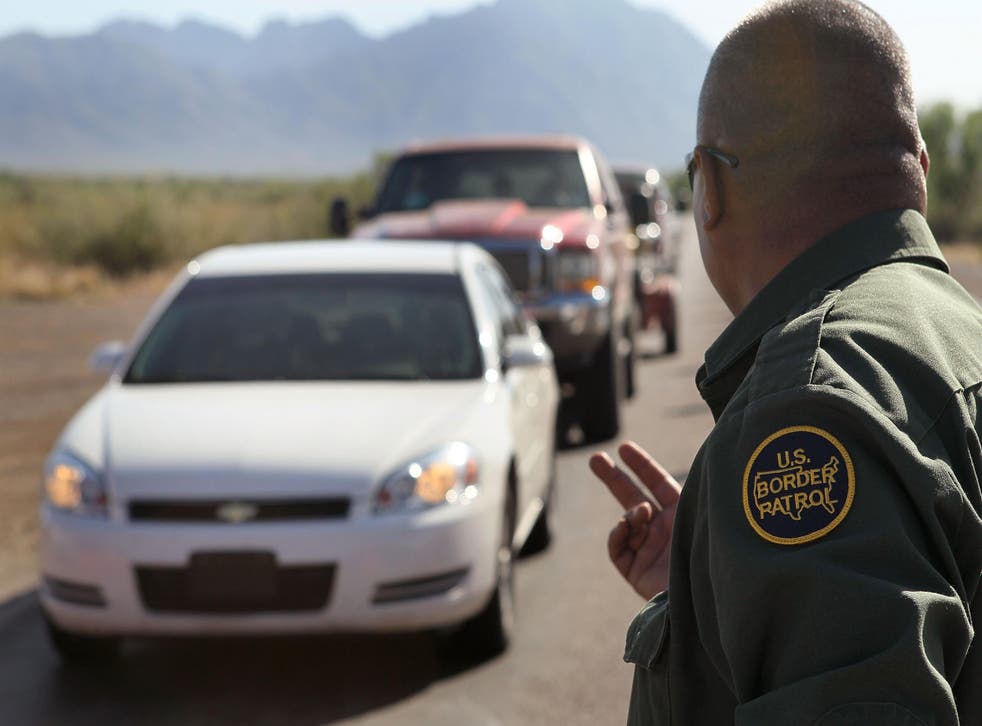 Nearly a year into the presidency of Donald Trump, new immigration detention directives and policies are creating an atmosphere of fear in immigrant communities across America – which experts and critics say is deterring people from seeking much-needed medical care and treatment that could save lives.
Among the undocumented communities in poorer border towns, where advanced medical treatments aren't always readily available, families have been forced to decide between treatment for serious disease, or the risk of passing through inland Border Patrol checkpoints where agents enjoy less professional discretion under the Trump administration on who they detain.
And, in what has been seen as a troubling development, federal agents are following people to hospitals, which have traditionally been considered sensitive locations that law enforcement should avoid, absent extenuating circumstances.
The arrests are leading people to try to avoid going out in public altogether, US Representative Joaquin Castro, a Texas Democrat who serves in a district near San Antonio, said: "People are going deep underground, avoiding all kinds of institutions."
"Domestic violence victims are avoiding the police or the courts. People with serious health problems are avoiding hospitals and doctors."
"This is having an incredibly harmful impact on communities," he continued.
Earlier this year, the issue was thrown into stark relief when Rosa Maria Hernandez, a 10-year-old girl with cerebral palsy, was followed by Border Patrol from an inland checkpoint as she made her way in an ambulance from Laredo, Texas, to Corpus Christi for emergency gal bladder surgery – which Laredo physicians didn't have the capacity to perform.
Once at the Corpus Christi hospital, agents refused to let the little girl out of their sight, citing flight risk concerns. They ultimately took her into federal custody in San Antonio where the confused girl repeatedly asked for her mother, who was unable to travel with or to her daughter, fearing deportation herself.
Tactical inland border patrol checkpoints are located within 25 to 75 miles of the US-Mexico border, and are a layer of defence Homeland Security says helps fight terrorism, drug trafficking and illegal immigration. While the checkpoints have been criticised as violating the Fourth Amendment, which prohibits unwarranted search and seizure, the United States Supreme Court upheld their constitutionality in the 1970s, saying in part that it would be impractical for Border Patrol to perform its function if it needed individual warrants for every car at a checkpoint.
The Trump administration has overseen a sharp increase in inland immigrant arrests (40 per cent) in its first year compared to the Obama administration, even though overall deportations themselves are down somewhat (by 6 per cent).
New York City bodegas strike to protest Trump's travel ban

Show all 27
To get to those arrest numbers, the Trump administration has been targeting undocumented immigrants without criminal backgrounds – a group of people the Obama administration said should not be prioritised. In the first year, the number of immigrants arrested for civil violations has jumped by 30 per cent, and the number of immigrants without criminal records arrested more than doubled, according to a US Immigration and Customs Enforcement report.
Targeting individuals without criminal histories is causing people to avoid using public services. In addition, stories of people getting snagged while requiring critical health care aren't helping the cause.

"The problem is precisely when we see Border Patrol can exercise discretion, when we know they can but they don't," Astrid Dominguez, the Texas policy strategist at the American Civil Liberties Union of Texas, said. "Border Patrol needs to change its policies regarding people who cross the checkpoints seeking medical attention."
With that loosening of priorities and seeming lack of discretion, many families and individuals (just like Rosa Maria), are making difficult decisions when it comes to whether or not to seek treatment. This is backed up in interviews of undocumented immigrants and by people familiar with their cases, alongside previously reported situations.
Sergio Puente, for instance, says he encountered the problem in March of this year, when a trip to the local hospital in Laredo with his mother revealed she had an advanced form of brain cancer that needed treatment they could only get in San Antonio. Border Patrol waved their ambulance through the checkpoint that evening but followed them to the destination where Mr Puente said they eventually moved his mother to a different part of the hospital, and refused to update him on her condition – leaving him wondering if she were even alive for three days.
Now, safely back in Laredo, Mr Puente says he can't take her back to see her doctors in San Antonio for fear that agents will once again pick her up and, potentially, deport her back to her hometown in Mexico where he says is rife with violence.
Another undocumented immigrant, Evelyn Garza, says the Border Patrol checkpoint has kept her and her son, who suffers with rubella syndrome, from seeking treatments and training that would help her communicate and care for him in Houston. She says that no doctor in her area has specialised training to treat the disease, which has made her 23-year-old son deaf and blind.
Ms Garza said that she's stuck in the border town where she lives because of the checkpoints, and can't take her son a bigger city to see a doctor because of them. She said that there isn't a doctor in her town who can prescribe the medication her son needs, and that those drugs are a primary factor in his behaviour and learning.
These cases, alongside many others that have been reported to activists, paint a portrait of heightened fear – and uncertainty – that has only gotten worse in the past year.
Rosa Maria was later released into the custody of a family member, and is still waiting on her case to proceed.
Mr Puente now says that they're doing the best with what they can access in their border town because risking deportation to seek more input on potentially life-saving treatments isn't worth the risk of his mother being deported back to Mexico, where home resembles a "war zone".
And Ms Garza, who has been raising her son on her own since 2013, when she left an abusive relationship, says she'd like to move to get her child better care where she could connect with him, but she is constantly living in fear.
"I feel afraid. I don't want to get caught by immigration if I take him," she said. "Then he would be alone."
Join our new commenting forum
Join thought-provoking conversations, follow other Independent readers and see their replies