Trump immigration plan criticised by tech industry
'Arbitrarily and drastically cutting legal immigration is not the answer to fixing our immigration system'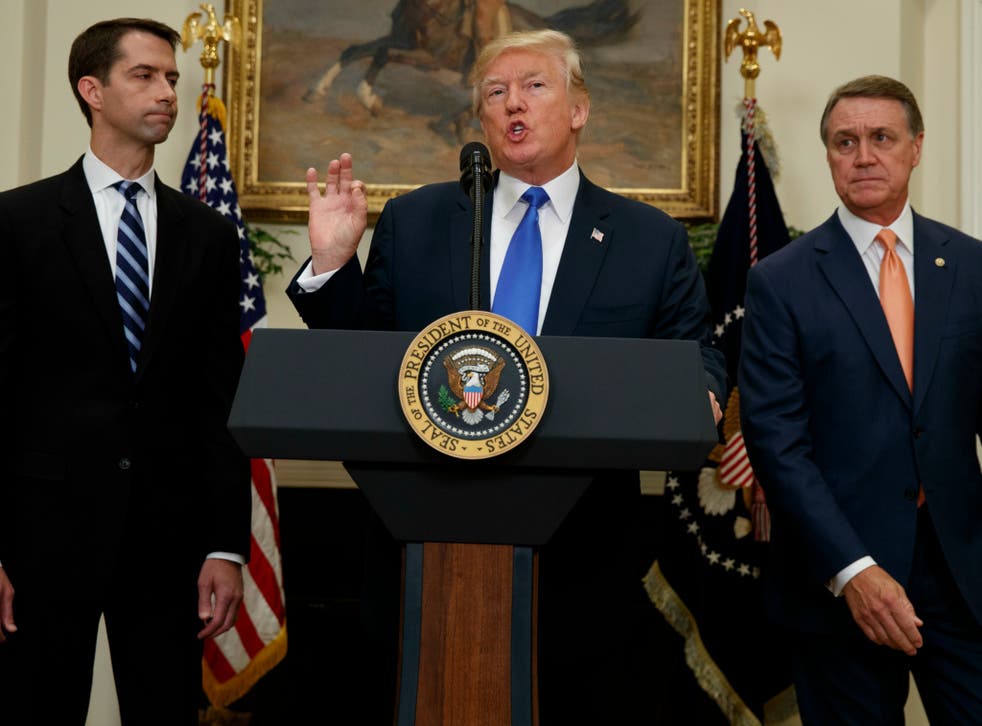 The tech industry has largely spurned Donald Trump's immigration proposal, saying it failed to deal with the shortage of qualified foreign workers.
Mr Trump and his congressional allies framed the bill as a way to recruit more skilled workers and transition away from an immigration system that is focused on family unity.
The bill would curtail the annual allowance for refugees, do away with immigration preferences for extended family members and institute a system that prioritizes applicants for permanent residency, or green cards, with attributes that include English fluency and education.
It would not alter the annual number of H1-B visas, a key pipeline for skilled tech workers that has drawn criticism from some quarters for squeezing out American workers even as technology industry leaders have urged expanding the program.
Tech lobbying organizations disavowed Trump's proposal, saying it would not help them to recruit more skilled, foreign-born workers.
TechNet, whose leadership includes representatives of Apple, Microsoft and Oracle, said in a statement that the legislation failed to address the current shortage.
"Arbitrarily and drastically cutting legal immigration is not the answer to fixing our immigration system, and neither is a government-dictated immigration approach to determining what kind of high-skilled worker U.S. companies need," the statement said.
"Congress should instead prioritize efforts to reform our high-skilled immigration system to curb abuses and ensure that more green cards and visas are available to address the high-skilled labor shortage now facing the U.S. economy."
Dean Garfield, president of the Industry Technology Council, a tech trade group, echoed that tone, saying the proposal "does not address the challenges tech companies face, injects more bureaucratic dysfunction, and removes employers as the best judge of the employee merits they need to succeed and grow the U.S. economy".
Executive director Scott Corley of Compete America, a business coalition that has pressed for immigration reform, praised the bill's aim of expanding high-skilled immigrants but said it failed by slashing the overall number of visas and creating a points system decoupled from employer needs.
"There's a certain absurdity for Republicans in particular to say 'hey, we think the government is a better arbiter of who you need to hire,'" Corley said in an interview, adding that "by not expanding" the number of visas available, the proposal is "missing the fundamental point of necessary reform."
Similarly, Randy Johnson of the U.S. Chamber of Commerce, an organization with formidable clout in Washington that has backed overhauling immigration, lauded Mr Trump's effort to boost skills-based immigration but cautioned in a statement that "dramatically reducing overall immigration levels won't raise the standard of living for Americans. In fact, it will likely accomplish the opposite, making it harder for businesses, communities, and our overall economy to grow, prosper, and create jobs for American workers."
Tech industry representatives have had an uneven relationship with Mr Trump, whose foundational belief in the need for tighter immigration controls has clashed with a globally oriented sector that is heavily populated with foreign workers. Disagreements go beyond immigration policy, with Tesla CEO Elon Musk removing himself from presidential advisory councils in response to Mr Trump pulling the United States from the Paris climate accord.
CES 2017: A round-up of some of the best technology
Register for free to continue reading
Registration is a free and easy way to support our truly independent journalism
By registering, you will also enjoy limited access to Premium articles, exclusive newsletters, commenting, and virtual events with our leading journalists
Already have an account? sign in
Register for free to continue reading
Registration is a free and easy way to support our truly independent journalism
By registering, you will also enjoy limited access to Premium articles, exclusive newsletters, commenting, and virtual events with our leading journalists
Already have an account? sign in
Join our new commenting forum
Join thought-provoking conversations, follow other Independent readers and see their replies