Trump impeachment: White House lawyer 'told top security official not to discuss Ukraine call' after expressing concerns
Testimony comes as House investigators approved formal rules for impeachment, which could yield public hearings this month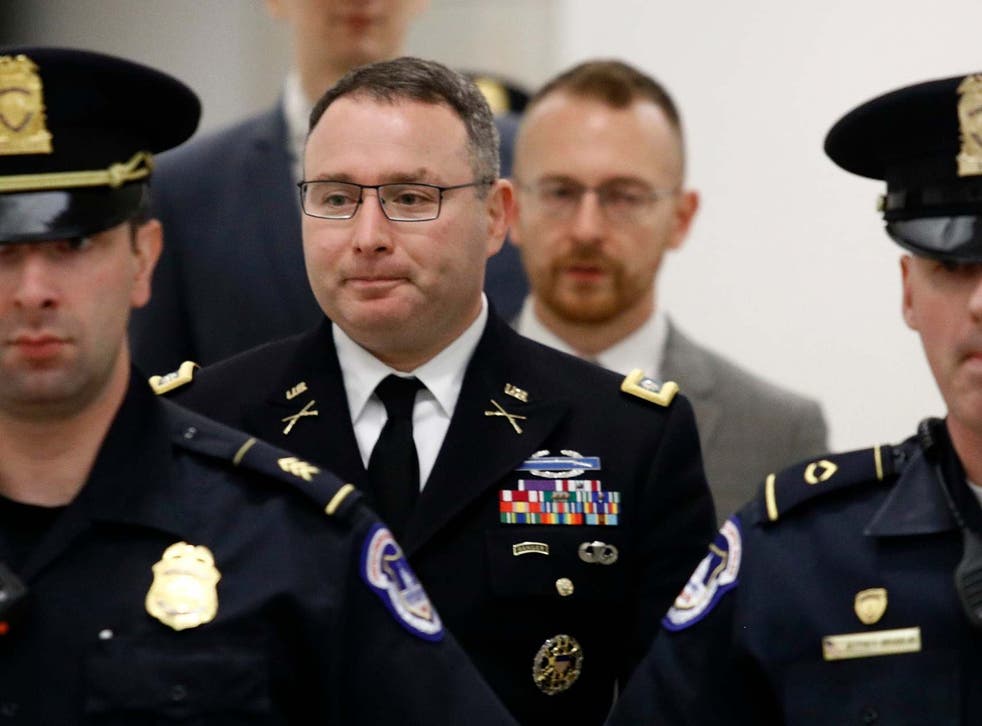 A decorated Army officer who was on Donald Trump's infamous July phone call with the leader of Ukraine says he was instructed by a White House lawyer not to tell anyone about that call, days after he brought forward his concerns about that conversation.
Lt Col Alexander Vindman, a decorated Army officer who was previously the National Security Council director for Ukraine, told Congress during closed-door testimony this week that he had originally gone to White House lawyer John Eisenberg to express concerns about the 25 July phone call, in which Mr Trump appeared to ask Ukrainian president Volodymyr Zelensky to investigate Joe Biden in exchange for the release of American security aide for the country.
In response, Mr Vindman told House investigators, records from the phone call were moved onto a top secret server system. Then, days later, Mr Vindman says that Mr Eisenberg approached him and asked him not to tell anyone about the phone call — which concerned him further since his job was to coordinate interagency processes related to Ukraine.
Mr Vindman's testimony this week — which has been detailed by individuals in the room to several media outlets — included an affirmation that he believed Mr Trump wanted a quid pro quo agreement in relation to Ukraine, meaning that he was willing to withhold congressionally allocated aide in order to compel Mr Zelensky to investigate Mr Biden, a potential 2020 rival.
But Mr Vindman also said that he did not believe Mr Trump's behaviour on the matter was illegal or inappropriate.
Trump impeachment: Who's who in the Ukraine scandal

Show all 26
His testimony comes as Democrats are building a case against Mr Trump, and moving forward on impeachment.
Other testimony from witnesses has indicated that the Trump administration undertook an effort to bypass ordinary diplomatic measures in its dealings with Ukraine, including by having the president's personal lawyer, Rudy Giuliani, act as something of a quasi-government representative even though he was not on the US government's payroll.
Those efforts included an alleged conspiracy to drum up discontent between Mr Trump and the former ambassador to Ukraine, Marie Yovanovitch, who was ultimately fired from her post even though she says she was told she had done nothing wrong. Ms Yovanovitch is among those who have testified.
The impeachment efforts have now entered a new stage, following after the House voted on Thursday to officially lay out ground rules for the inquiry. The House may begin holding open hearings as soon as later this month.
Join our new commenting forum
Join thought-provoking conversations, follow other Independent readers and see their replies