Who is Marie Yovanovitch? What to expect from the next Trump impeachment hearings
Former ambassador says Rudy Giuliani orchestrated smear campaign to remove her from Ukraine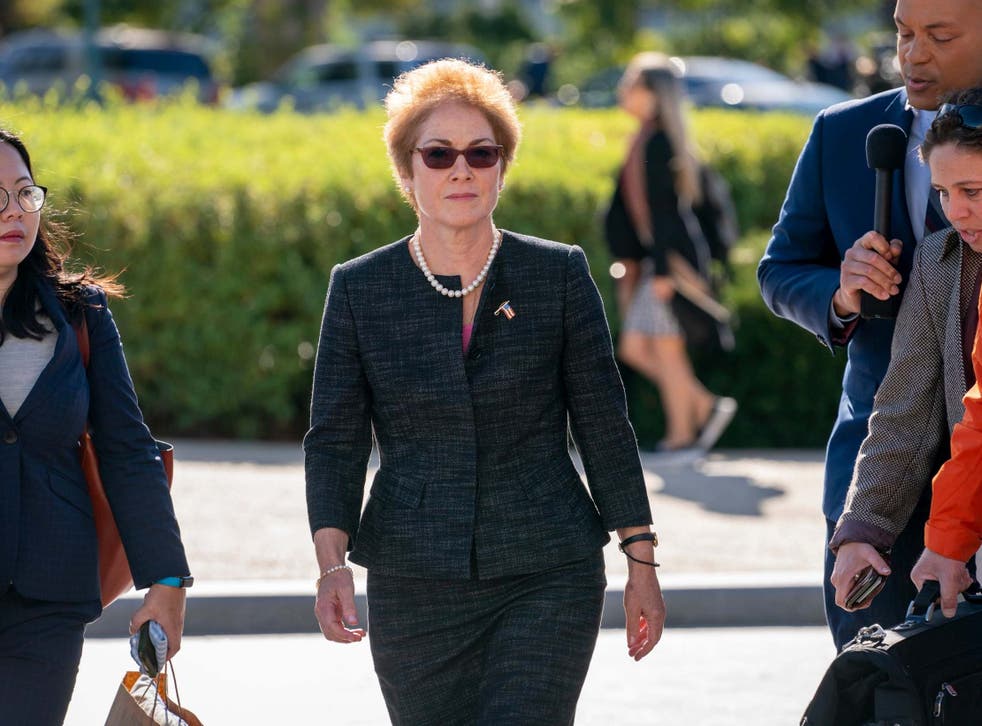 Marie Yovanovitch is expected to become the third public witness called before the House Intelligence Committee, as it pursues an investigation into whether Donald Trump abused his power as president to coerce a foreign leader to dig up dirt on his political rivals.
Ms Yovanovitch will speak to Congress on Friday, two days after the first round of public testimony from George Kent, a senior State Department employee, and William Taylor, the top US diplomat to Ukraine.
Her testimony is expected to detail her knowledge about the Trump administration's approach to Ukraine relations, and her eventual ouster from her post as US ambassador to the country.
Read on below for everything you need to know.
Trump impeachment: Who's who in the Ukraine scandal

Show all 26
Who is she?
Ms Yovanovitch is a career diplomat and a senior official in the United States Foreign Service.
She has served as an ambassador under Republican and Democratic presidents, That includes serving several years as the ambassador to Kyrgyzstan during the administration of George W Bush, and then as ambassador to Armenia at the end of that administration into the presidency of Barack Obama.
From there she became the ambassador to Ukraine in the final year of Mr Obama's presidency, and served during the first two years of Mr Trump's first term. She was removed from the post in April.
What was she known for during her time as ambassador to Ukraine?
By all accounts, Ms Yovanovitch is well regarded in the diplomatic community. She pursued American policy of bolstering Ukraine amid its ongoing conflict with Russia, which forcibly annexed the Crimean peninsula in 2014. Her efforts included diplomatic efforts, as well as ensuring financial backing for Ukraine's defence.
How is she involved in this scandal?
Ms Yovanovitch was forced out of her post as ambassador unceremoniously earlier this year, when she was told to get on the next plane back to Washington. She was later told that she was not removed because she failed in her duties.
According to her previous closed door testimony, Ms Yovanovitch's removal followed after a concerted smear campaign undertaken by Mr Trump's personal lawyer, Rudy Giuliani, and others. That campaign included allegations that Ms Yovanovitch had spoken negatively about the president — which she denies.
Some accounts indicate that Ms Yovanovitch was viewed by Mr Giuliani and others as an obstacle to their efforts to shape Ukraine policy — including, apparently, the president's desire to compel Ukraine president Volodymyr Zelensky to publicly announce an investigation into Joe Biden and the 2016 election.
Why does this matter?
Removing an official in order to pursue corrupt means is considered to be very bad, and the founders believed that such an act would even be impeachable.
Democrats will seek to prove that Ms Yovanovitch was removed as a part of an effort to bring in Trump-allied officials who would help him to push for those political investigations, which could have helped him during the 2020 campaign.
Other testimony has indicated that, following her departure, Mr Giuliani led an effort to compel Mr Zelensky to announce the investigation, and that the president even withheld military aide to the country as those negotiations were underway.
Join our new commenting forum
Join thought-provoking conversations, follow other Independent readers and see their replies