More Americans want to see Donald Trump impeached than would vote for him in 2020, poll finds
The majority of Americans now say they'd rather vote for a Democrat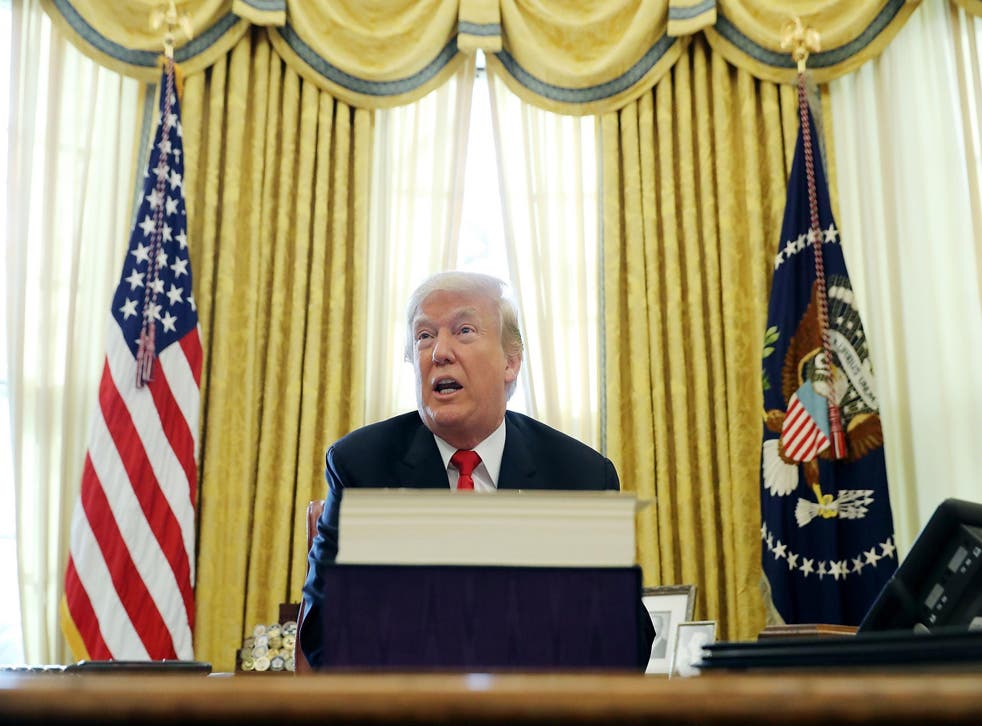 Donald Trump has once again shattered records with his historically low approval rating.
More voters would like to watch impeachment hearings for Mr Trump than would vote for him in the next presidential election, a new NBC News/Wall Street Journal survey found.
The December 2017 poll surveyed public opinion of Mr Trump, his policies, and his party as he moved towards the end of his first year in office.
Only 36 per cent of voters said they would "definitely" or "probably" vote for Mr Trump if he ran for re-election in 2020. Fifty-two per cent said they would vote for a Democrat. Forty-one per cent of Americans, meanwhile, said they would like to see Congress hold impeachment hearings for the President. Fifty-four per cent said they would not.
Previous polls have found support for impeaching Mr Trump at 49 per cent.
Donald Trump's least presidential moments so far...

Show all 30
Articles of impeachment for Mr Trump have already been introduced in the US House, with little effect. Representative Al Green forced a vote on his articles of impeachment earlier this month, claiming Mr Trump had committed "high misdemeanours" stemming from his "bigotry, hatred and hostility". A large, bipartisan majority of Representatives voted to "table," or kill, the legislation.
Representative Steve Cohen introduced five articles of impeachment against Mr Trump last month, but has not forced a vote. He acknowledged at the time that impeaching Mr Trump would be nearly impossible in a Republican-controlled Congress.
"I don't expect the House Judiciary Committee, which is operated like a branch of the administration, to take up hearings," he said.
Impeaching the President requires a majority vote in the House, and a two-thirds vote in the Senate.
US Representative Al Green presents articles of impeachment against Donald Trump
Mr Trump took office as the least popular incoming President in at least four decades, and continued to break records with his historically low approval rating. In October, he hit the wrist approval ratings for any first-year President in recent memory. A CNN poll from this month found his approval rating was the lowest of any President at the end of their first year since at least 1981.
But Mr Trump has repeatedly urged supporters not to pay attention to mainstream polling, claiming the majority of Americans are satisfied with his leadership.
"The Tax Cut/Reform Bill, including Massive Alaska Drilling and the Repeal of the highly unpopular Individual Mandate, brought it all together as to what an incredible year we had," he tweeted this week.
"Don't let the Fake News convince you otherwise," he added. "...and our insider Polls are strong!"
Join our new commenting forum
Join thought-provoking conversations, follow other Independent readers and see their replies