Trump impeachment: Lindsey Graham to give president's lawyer platform in Senate for widely debunked Ukraine conspiracy theory
Invitation comes as Republicans have attempted to cast House impeachment inquiry as illigitimate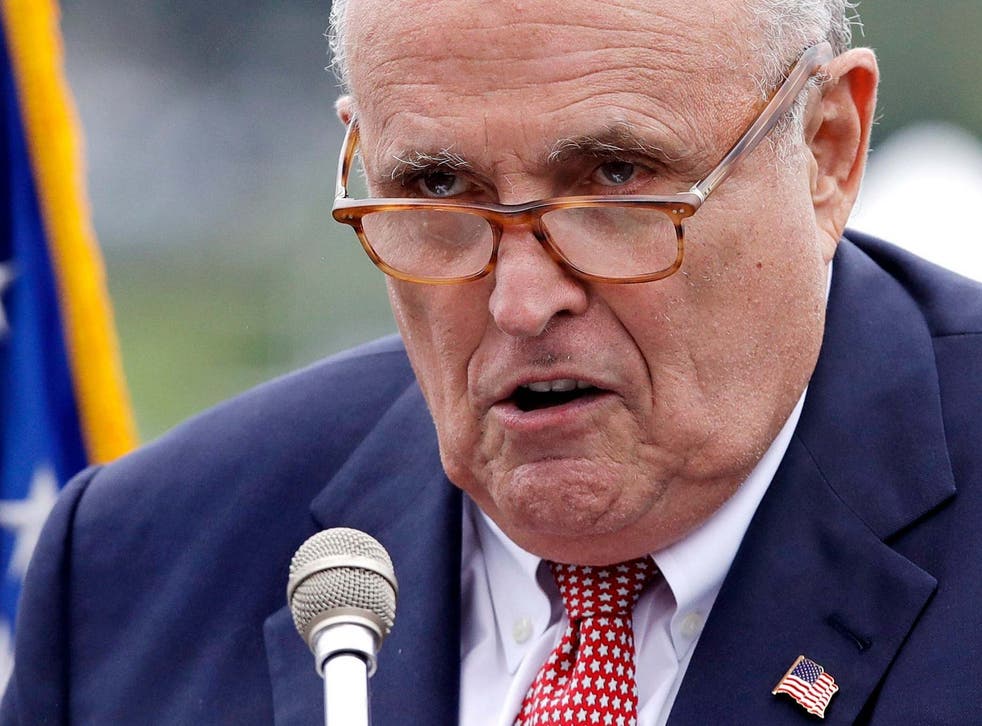 Lindsey Graham has invited Donald Trump's personal attorney, Rudy Giuliani, to testify before the Senate, citing an interest in providing a counterweight to the impeachment inquiry being run by House Democrats.
The invitation was announced Tuesday on Twitter by the South Carolina Republican, with a message in which he appears to reference unfounded allegations made by the president that Joe Biden used his clout as vice president to pressure the Ukrainian government to fire former prosecutor general Viktor Shokin.
"Given the House of Representatives' behaviour, it is time for the Senate to enquire about corruption and other improprieties involving Ukraine," Mr Graham wrote.
He continued: "Therefore I will offer to Mr Giuliani the opportunity to come before the Senate Judiciary Committee to inform the committee of his concerns."
The invitation comes on the heels of Mr Giuliani's frequent claims on national television that Mr Biden had acted inappropriately by pressuring Ukraine to fire Mr Shokin, who was then investigating a company with ties to Hunter Biden, the former vice president's son. At the time, however, Mr Biden was taking part in what was an international consensus between the Obama administration and several western allies that Mr Shokin needed to be removed because he was slowing down anti-corruption efforts in Ukraine.
Everyone Trump has fired or forced out

Show all 13
Mr Graham's interest in interviewing Mr Giuliani was announced just after Gordon Sondland, the US ambassador to the European Union, told House investigators that he would not testify to committees investigating Mr Trump's dealings with Ukraine. Mr Sondland was reportedly instructed by Mr Trump to take a lead role in relations between the US and Ukraine, and Democrats see him as a key witness to what happened between the two countries leading up to the president's July phone call with Ukraine's leader, in which he asked for an investigation into Mr Biden.
In response to that snub, House Intelligence Committee chairman Adam Schiff said that the State Department is withholding messages that are deemed relevant to the impeachment enquiry. He also warned that by blocking Mr Sondland's testimony, the White House was participating in obstruction of the committees' investigation.
"Not only is the Congress being deprived of his testimony, and the American people are being deprived of his testimony today, but we are also aware that the ambassador has text messages or emails on a personal device which have been provided to the State Department," Mr Schiff said.
Support free-thinking journalism and attend Independent events
He continued: "Although we have requested those from the ambassador and the State Department is withholding those messages as well. Those messages are also deeply relevant to this investigation and the impeachment enquiry."
Mr Trump also weighed in, claiming that he would like Mr Sondland to be allowed to testify — but casting the House investigation as illegitimate.
"I would love to send Ambassador Sondland, a really good man and great American, to testify," Mr Trump tweeted Tuesday morning, "but unfortunately he would be testifying before a totally compromised kangaroo court, where Republican's rights have been taken away."
Join our new commenting forum
Join thought-provoking conversations, follow other Independent readers and see their replies