'Europe has to put up money for Ukraine also' Trump asks why European countries aren't spending more on foreign aid
Trump Ukraine whistleblower 'to give evidence to Congress' as impeachment pressure builds
Intelligence official spoke to Director of National Intelligence
The US intelligence official who "blew the whistle" on Donald Trump's phone call with the leader of Ukraine reportedly wants to testify before Congress.
House intelligence committee chairman Adam Schiff said the official who first made the complaint about the July 25 phone call between Mr Trump and president Volodymyr Zelensky had made contact with Joseph Maguire, the acting Director of National Intelligence (DNI).
"We have been informed by the whistleblower's counsel that their client would like to speak to our committee and has requested guidance from the acting DNI as to how to do so," Mr Schiff tweeted.
He added: "We're in touch with counsel and look forward to the whistleblower's testimony as soon as this week."
On Tuesday, as Mr Trump defended his call to Ukraine's leader and said there was not quid pro quo when he asked him to proceed with a probe into Joe Biden and his son, more and more Democrats appeared to have come around to the idea of formal censure.
Ukraine Elections 2019 in pictures

Show all 26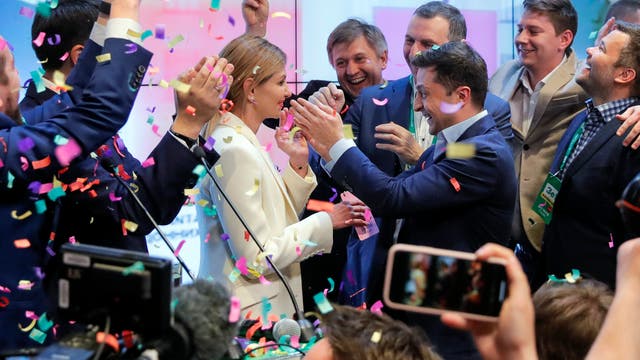 Attention focused on House speaker Nancy Pelosi, who has resisted calls for an impeachment inquiry for months. But as more members of her caucus pressed for a probe — including crucial moderates in political swing districts — the speaker planned to huddle with her members late Tuesday afternoon. Advisors said she would make a statement on the path forward at 5pm.
In an appearance ahead of that meeting, Ms Pelosi, 79, sidestepped questions about whether she believed Mr Trump's actions were impeachable, but she said it would be wrong for the president to ask a foreign leader for help investigating Biden, a leading contender for the Democratic presidential nomination.
Pelosi snaps at reporter over AOC feud about 'singling out women of colour'
"We don't ask foreign governments to help us in our election," Ms Pelosi said.
An impeachment inquiry into a president in the middle of his reelection campaign is virtually certain to exacerbate the nation's partisan divides.
Mr Trump has all but dared Democrats to take that step, confident that the specter of impeachment led by the opposition party would bolster his political support.
Ms Pelosi has shared that concern and has spent months trying to hold off liberals in her caucus pushing for impeachment.
Additional reporting by Associated Press
Join our new commenting forum
Join thought-provoking conversations, follow other Independent readers and see their replies