Why did Iran issue an arrest warrant for Trump?
US president among 36 people wanted for killing of Iranian general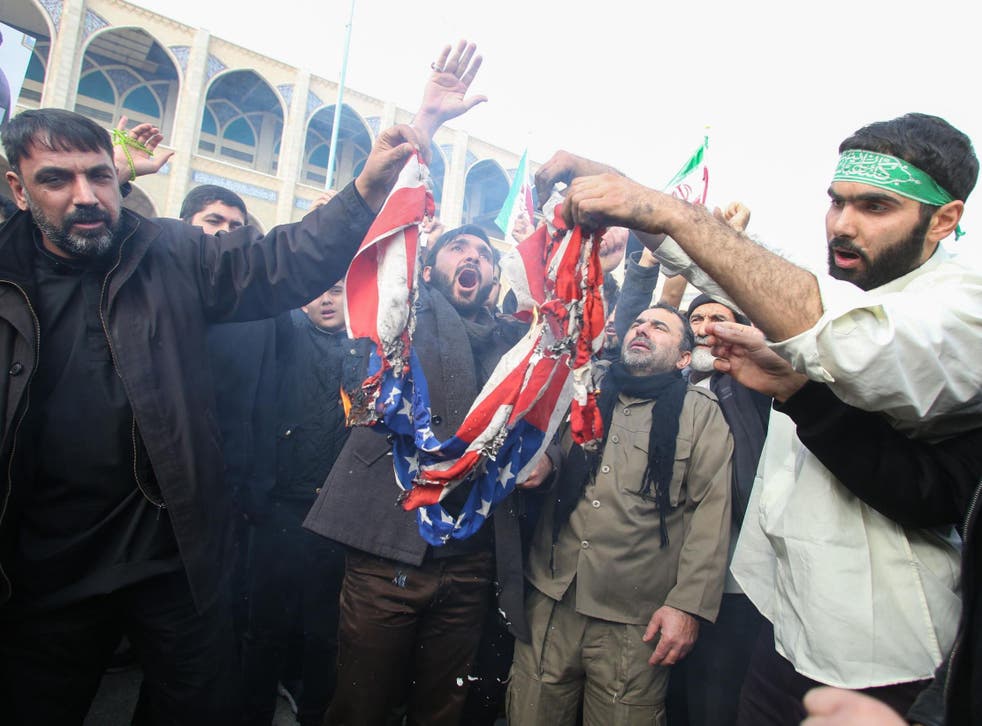 Iran has issued an Interpol arrest warrant for Donald Trump for a drone strike that killed General Qassem Soleimani, commander of Iran's clandestine overseas paramilitary force, the official Islamic Republic News Agency (IRNA) reported on Monday.
Mr Trump is among 36 people who have been issued warrants by Iran in relation to the targeted killing in January this year. Soleimani, who was killed by a US drone strike in Baghdad, was the commander of the Islamic Revolution Guard Corps (IRGC) group, Quds Force.
Tehran prosecutor Ali Alqasimehr said that Iran plans to prosecute Mr Trump at the end of his time as president, and clarified that he is their priority target.
Iran asked Interpol to issue a "red notice", which allows local authorities to make an arrest on behalf of a country.
But the request was quickly denied by Interpol, which said in a statement that guidelines for notices forbids it from "any intervention or activities of a political" nature.
Who was Qasem Soleimani?
Mr Soleimani, who died at the age of 62, gained notoriety during Iran's war with Iraq during the 1980s, where he became known for bravery and military nous, according to the Daily Beast.
Qassem Soleimani became the commander of the IRGC's Quds Force in 1998, after he moved up the ranks of the Revolutionary Guard, and served in the role until his assassination in 2020.
In that role, he crisscrossed the Middle East to direct various Iran-backed militias in Syria, Lebanon and Iraq. He is believed to have played a crucial role in the Syrian government's brutal suppression of the uprising that threatened the rule of president Bashar al-Assad.
He was seen as the country's second most powerful man, behind only the supreme leader of Iran, Ali Khamenei, according to Reuters.
Why did Iran issue an arrest warrant for US president Donald Trump?
Mr Soleimani, along with four members of the Popular Mobilisation Forces (PMF), was killed in an air strike at the Baghdad International Airport on 3 January, after Mr Trump approved the assassination.
The White House accused Mr Soleimani of being responsible for the deaths of hundreds of US forces and allies in the months prior to his killing, and claimed he had more attacks planned.
The killing reignited tensions between the two countries, and at the time of his assassination, Iran said there would be "severe revenge."
It retaliated by launching ballistic missiles at two US bases in Iraq.
On Monday, Iran issued a warrant for president Donald Trump's arrest, as they want to try him and the other 35 people they believe to have been involved in the drone strike.
Mr Alqasimehr said that Iran wants Mr Trump and dozens of others to face "murder and terrorism charges" for the killing of their top general, who had been in his role for 22 years.
Iran is currently struggling economically, because of sanctions by the US that have been tightened by the Trump administration, which makes it difficult for them to do business with US allies.
The coronavirus has also hit them hard, and they are currently facing a dramatic rise in deaths and cases after they reopened early to try and restart their struggling economy.
The other 35 individuals issued a warrant have not yet been revealed by Iran.
Register for free to continue reading
Registration is a free and easy way to support our truly independent journalism
By registering, you will also enjoy limited access to Premium articles, exclusive newsletters, commenting, and virtual events with our leading journalists
Already have an account? sign in
Register for free to continue reading
Registration is a free and easy way to support our truly independent journalism
By registering, you will also enjoy limited access to Premium articles, exclusive newsletters, commenting, and virtual events with our leading journalists
Already have an account? sign in
Join our new commenting forum
Join thought-provoking conversations, follow other Independent readers and see their replies