Trump's lack of Iran information is 'deeply concerning', top Democrats warn in letter to defence secretary
Senior party figures demand more information after being kept out of the loop on two high-profile targeted killings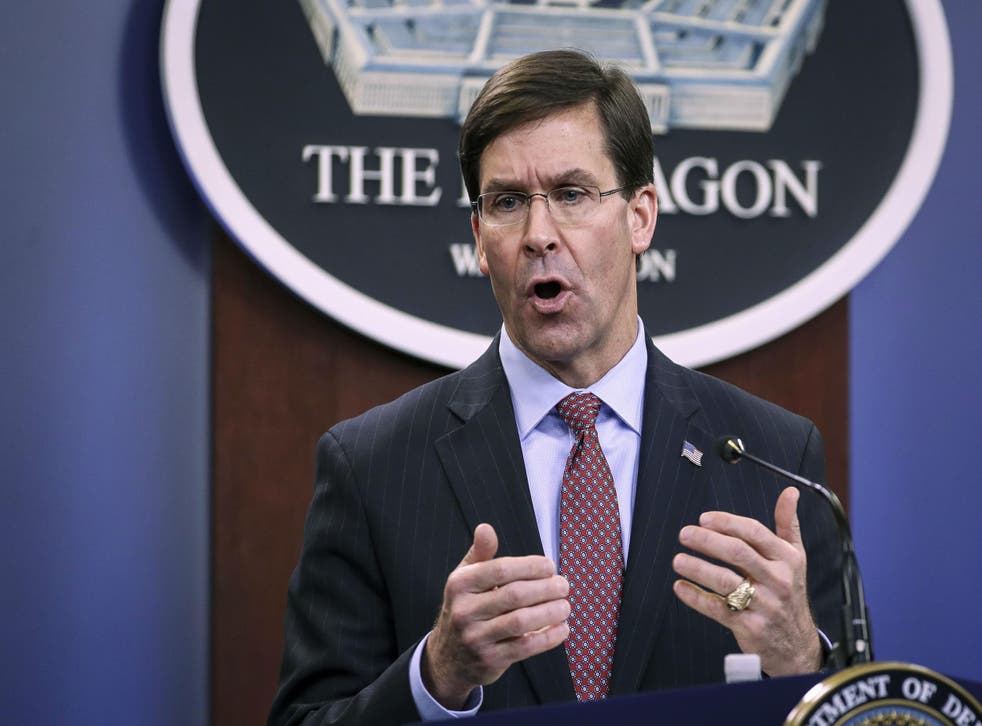 Top Senate Democrats are demanding the Trump administration keep them in the loop on the Iran crisis.
In a letter to Defence Secretary Mark Esper and Joint Chiefs of Staff Chair General Mark Milley, party leaders expressed "deep concern over the lack of information from the Department of Defence as it concerns the potential threat from Iran and what the Department is doing in response".
Senate Minority Leader Chuck Schumer, Defence Appropriations Committee Ranking Member Dick Durbin and Senate Armed Services Committee Ranking Member Jack Reed also condemned Donald Trump's previous threat to attack Iran's cultural sites .
"As the Department's leaders, we urge you to correct the few, incomplete, and evasive updates that the Department has provided, as well as make clear to the chain of command that they may only execute lawful orders", the senators wrote, adding that the classified notification the administration provided regarding last week's targeted killing of Iranian General Qassem Soleimani "is generic, vague, and entirely inconsistent in its level of detail when compared with prior notifications by this and earlier administrations".
They says they want Mr Esper and Gen Milley to provide "regular briefings and documents detailing the military units and members" of US forces who have been deployed or are in the process of being deployed to support any contingency plans for Iran, who are being notified of possible deployment, and who are having existing tours of duty in the Middle East extended, as well as any civilian Defence Department employees or contractors who are being deployed to support US forces in the region.
While previous administrations have generally kept members of Congress from both parties informed of military actions, Mr Trump has in recent months been reluctant to comply with US law requiring him to inform the so-called "gang of eight" – consisting of the chairs and ranking members of the House and Senate intelligence committees, and majority and minority party leaders in the House and Senate – of major actions.
US airstrike kills Iran's Qassem Soleimani: Fallout in pictures

Show all 35
In particular, Mr Trump failed to notify top Democrats of both the strike on Soleimani and the Delta Force raid which resulted in the death of Isis leader Abu Bakr al-Baghdadi last year.
In the wake of the raid against Baghdadi, Mr Trump claimed – without providing evidence – that notifying House Speaker Nancy Pelosi or Intelligence Committee Chair Adam Schiff ahead of time would have created a security risk.
"We were going to notify them last night but we decided not to do that because Washington leaks like I've never seen before," Mr Trump said at the time.
Top Trump adviser Kellyanne Conway reiterated the president's baseless claim on Monday when she was asked why top Democrats weren't told of the strike against Soleimani.
"Could you imagine telling the chairman of the Intel Committee, one Adam Schiff, that this was going to happen? Could you imagine? The man goes to bed with his [TV] earpiece and microphone on," she said.
Register for free to continue reading
Registration is a free and easy way to support our truly independent journalism
By registering, you will also enjoy limited access to Premium articles, exclusive newsletters, commenting, and virtual events with our leading journalists
Already have an account? sign in
Register for free to continue reading
Registration is a free and easy way to support our truly independent journalism
By registering, you will also enjoy limited access to Premium articles, exclusive newsletters, commenting, and virtual events with our leading journalists
Already have an account? sign in
Join our new commenting forum
Join thought-provoking conversations, follow other Independent readers and see their replies