Trump's power over military actions will be limited after Iran strike, Pelosi says
House Speaker says White House 'does not have a coherent strategy' and urges de-escalation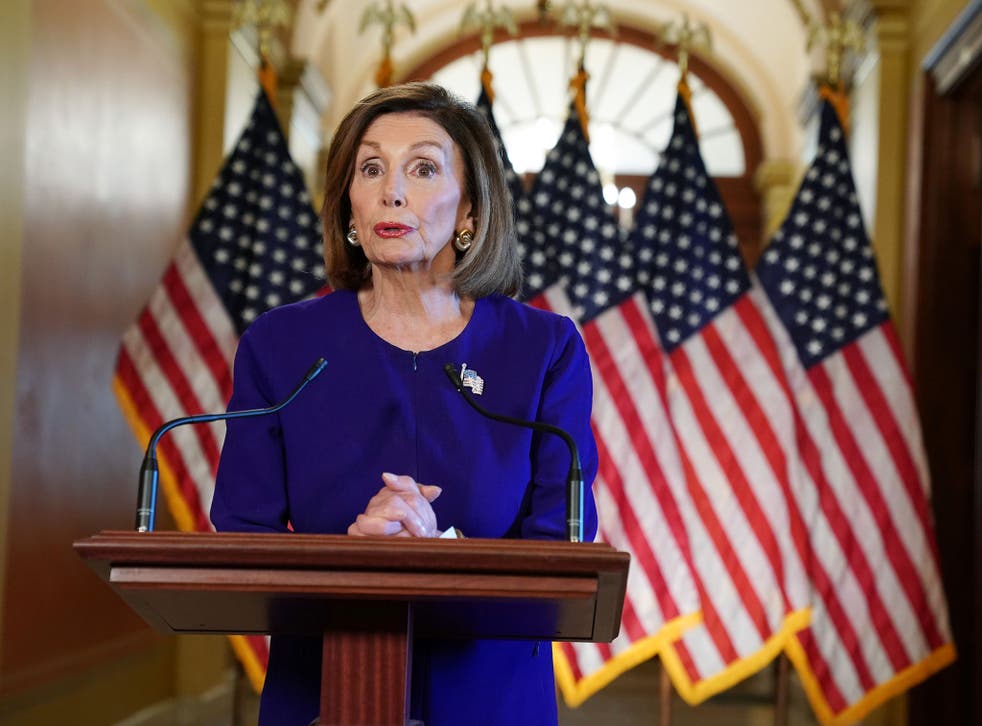 House Speaker Nancy Pelosi plans to move forward with a resolution to limit Donald Trump's military actions with Iran, urging the administration to "advance an immediate, effective de-escalatory strategy that prevents further violence".
The House Rules Committee will discuss the resolution on Wednesday, and the full House is expected to take up a vote on the measure on Thursday.
Congress's War Powers Resolution will be led by Michigan Democrat Elissa Slotkin, a former CIA and Pentagon analyst.
Speaker Pelosi says the Trump administration's "provocative and disproportionate military air strike" killing Iranian General Qassem Soleimani "endangered our service members, diplomats and others by risking a serious escalation of tensions with Iran."
She said that the president "does not have a coherent strategy to keep the American people safe, achieve de-escalation with Iran and ensure stability in the region."
Qassem Soleimani: Mourners fill Iran streets for funeral

Show all 24
At a White House address, the president claimed that Iran — which hit two US bases in Iraq last night — is "standing down". Mr Trump threatened the country with additional sanctions but appeared to signal his withdrawal from military escalation.
The resolution is sure to ignite debate over the president's war powers, as members of Congress and the Senate finally heard from the administration about its decision to kill Iran's top military commander.
Democrats and some Republicans left the hearings seething, with Utah Senator Mike Lee calling the debriefing "probably the worst briefing at least on a military issue I've seen". Kentucky Senator Rand Paul said the administrations' justification for military action was "insulting to logic and the Constitution".
"The death of Soleimani is the death of diplomacy" he said.
Mr Paul and Mr Lee plan to support a War Powers resolution to limit additional action in Iran.
Virginia Congressman Gerry Connolly called the hearings "sophomoric and utterly unconvincing".
The House also may vote on two other measures to limit the president's war-making efforts, including an amendment from California Democrat Ro Khanna that would require Congressional approval before the administration uses funds earmarked for further Iran attacks.
Barbara Lee of California also aims to repeal a 2002 measure that granted then-president George W Bush authorization to use military force in Iraq.
The speaker said Congress has "serious, urgent concerns about the administration's decision to engage in hostilities against Iran and about its lack of strategy moving forward. Our concerns were not addressed by the President's insufficient War Powers Act notification and by the Administration's briefing today."
Mr Trump must work with Congress to "advance an immediate, effective de-escalatory strategy that prevents further violence. America and the world cannot afford war."
Register for free to continue reading
Registration is a free and easy way to support our truly independent journalism
By registering, you will also enjoy limited access to Premium articles, exclusive newsletters, commenting, and virtual events with our leading journalists
Already have an account? sign in
Register for free to continue reading
Registration is a free and easy way to support our truly independent journalism
By registering, you will also enjoy limited access to Premium articles, exclusive newsletters, commenting, and virtual events with our leading journalists
Already have an account? sign in
Join our new commenting forum
Join thought-provoking conversations, follow other Independent readers and see their replies