Trump sends son-in-law Jared Kushner to Middle East to try and broker peace
The President has previously declared that the Palestinians are 'ready to reach for peace'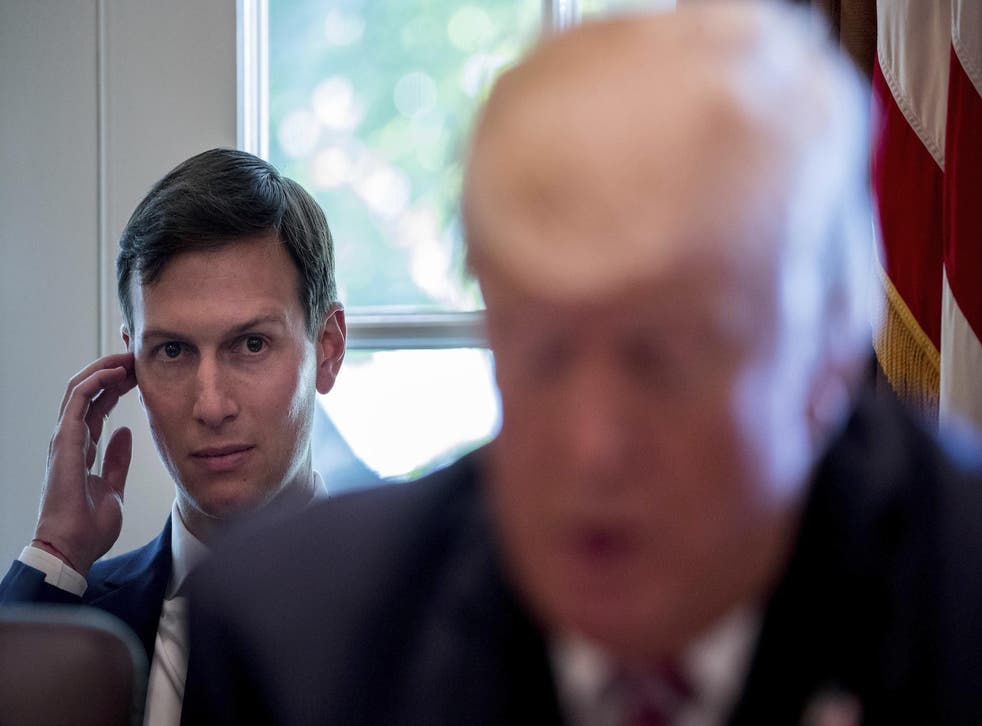 Donald Trump is sending his top White House adviser, son-in-law Jared Kushner to the Middle East this week to discuss possible next steps for brokering peace talks between Israel and the Palestinians.
The meetings in Jerusalem and Ramallah follow Mr Trump's discussions in May with Israeli Prime Minister Benjamin Netanyahu and Palestinian President Mahmoud Abbas. Appearing at a press conference with Mr Netanyahu in Jerusalem, Mr Trump declared that the Palestinians are "ready to reach for peace".
In February, Mr Trump had warned Israel that building more homes in Jewish settlements was not "good for peace", reversing comments he had made earlier on the topic.
Mr Kushner, along with Jason Greenblatt, a top national security aide, will travel to Jerusalem and Ramallah to meet with members of both Israeli and Palestinian leadership, according to White House officials.
"Excited to be traveling back to Israel and the Pal. Territories to continue the discussion about the possibility of peace", Mr Greenblatt tweeted on Sunday night.
The biggest names involved in the Trump-Russia investigation

Show all 17
A White House official told Reuters that "forging a historic peace agreement will take time and to the extent that there is progress, there are likely to be many visits by both Mr Kushner and Mr. Greenblatt, sometimes together and sometimes separately, to the region and possibly many trips by Israeli and Palestinian negotiators to Washington DC or other locations as they pursue substantive talks."
Mr Kushner, who has been one of the President's main go-to-guys for Israeli-Palestinian peace talks, has faced recent controversy after it was revealed that he had discussed setting up a secret back channel between the Kremlin and the Trump transition team.
Mr Kushner is also said to have had at least three previously unreported interactions with Russian Ambassador Sergey Kislyak both during and after the 2016 campaign, and to have met with Russian banker Sergey Gorkov.
Federal and congressional investigators are currently probing whether Trump campaign officials colluded with the Russian government to influence the 2016 US election.
Despite the reports of him and Mr Kushner being on shaky ground, Mr Trump has publicly remained completely supportive of his son-in-law.
Join our new commenting forum
Join thought-provoking conversations, follow other Independent readers and see their replies