Trump reveals he regrets hiring Jeff Sessions as Attorney General
President defends his frustration with attorney general's decision to recuse himself from Russia investigation
Emily Shugerman
New York
Wednesday 30 May 2018 15:02 Comments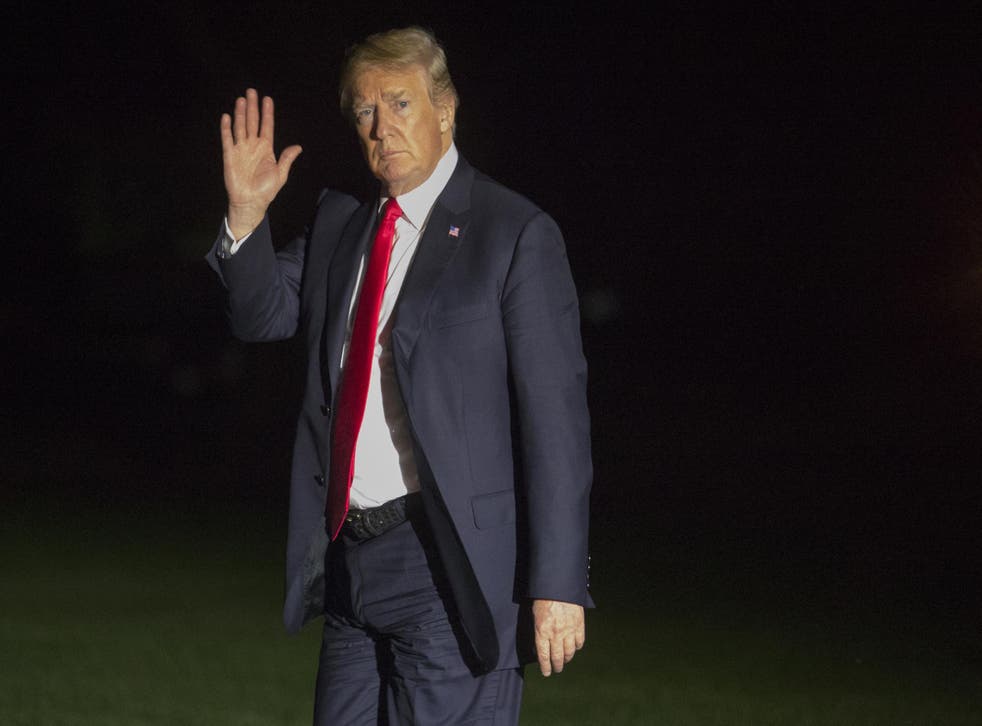 Donald Trump has said that he wishes he picked a different Attorney General than Jeff Sessions, who the president faults for recusing himself from a Justice Department investigation into whether the Trump campaign colluded with Russia.
The president lashed out amid reports that he had tried to reverse Mr Sessions' decision to recuse himself last year. He quoted Republican Representative Trey Gowdy's defence of his actions in a Wednesday-morning tweet.
"If I were the President and I picked someone to be the country's chief law enforcement officer, and they told me later, 'oh by the way I'm not going to be able to participate in the most important case in the office, I would be frustrated too," the president quoted Mr Gowdy as saying. "...There are lots of really good lawyers in the country, he could have picked somebody else!"
"And I wish I did!" Mr Trump added.
The president has repeatedly expressed his displeasure with Mr Sessions' decision to recuse himself, which the attorney general did last year after it was revealed he had made undisclosed contact with the Russian ambassador to the US. Mr Trump previously called the decision "extremely unfair," and said he would not have nominated Mr Sessions had he known what he would do.
The biggest names involved in the Trump-Russia investigation

Show all 17
But a recent report from the New York Times claims Mr Trump further, asking Mr Sessions to reverse his decision in a private meeting last March. The president reportedly told aides he needed a loyalist overseeing the Justice Department inquiry. Mr Sessions refused.
Mr Gowdy defended the president's reported actions in an appearance on CBS This Morning on Wednesday, saying Mr Trump was simply expressing his frustration with Mr Sessions' lack of transparency around the rescusal.
"That's how I read that, as: 'Senator Sessions, why didn't you tell me before I picked you?'" Mr Gowdy said of the report.
Donald Trump on Jeff Sessions: 'Everything I've done is 100% proper'
Special counsel Robert Mueller, who is leading the Justice Department probe, is reportedly investigating the incident. Mr Trump has grown increasingly critical of the Mr Mueller and his team in recent weeks, accusing them of "meddling" in the upcoming midterm elections and claiming the FBI planted a "spy" in his campaign.
Neither allegation has been proven. Mr Gowdy said he believed the FBI acted appropriately when sending an informant to speak with members of the Trump campaign.
Mr Sessions recused himself from overseeing the investigation last March, after it was revealed that he did not disclose his conversations with Russian ambassador Sergey Kislyak during his Senate confirmation hearing. Deputy Attorney General Rod Rosenstein took over the probe from Mr Sessions, and appointed Mr Mueller as special counsel several months later.
Mr Trump has previously threatened Mr Rosenstein as well, tweeting that he may have to "use the powers granted to the Presidency and get involved" in a dispute over the Justice Department's refusal to hand over certain unredacted documents to Congress.
Mr Sessions has reportedly said he will resign if Mr Rosenstein is fired.
Register for free to continue reading
Registration is a free and easy way to support our truly independent journalism
By registering, you will also enjoy limited access to Premium articles, exclusive newsletters, commenting, and virtual events with our leading journalists
Already have an account? sign in
Join our new commenting forum
Join thought-provoking conversations, follow other Independent readers and see their replies