Donald Trump set to recognise Jerusalem as Israel's capital and relocate US embassy
Palestinian President warns Mr Trump that relocating the US embassy would have 'dangerous consequences'
Alexandra Wilts
Washington DC
Tuesday 05 December 2017 17:01 Comments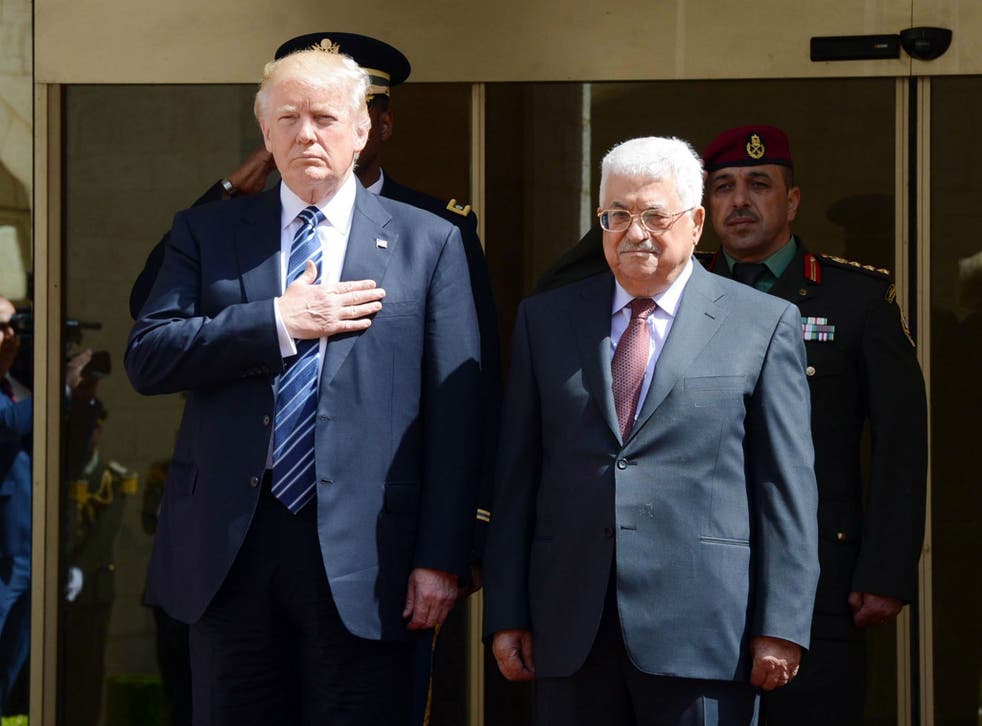 US officials have said President Donald Trump will today recognise Jerusalem as Israel's capital and will instruct the State Department to begin the years-long process of moving the American embassy from Tel Aviv to the holy city.
The officials say recognition of Jerusalem as Israel's capital will be an acknowledgement of "historical and current reality" rather than a political statement. They note that almost all of Israel's government agencies and parliament are in Jerusalem, rather than Tel Aviv, where the US and other countries maintain embassies.
The officials say moving the embassy, a campaign pledge that Mr Trump has insisted he must fulfil, will not happen immediately. Earlier, Donald Trump told Palestinian President Mahmoud Abbas and a number of regional leaders that he "intends to move" the US embassy in Israel to Jerusalem, setting the stage for today's announcement and seeing the US President turn his back on decades of American diplomacy by recognising the city as the country's capital.
A declaration that Jerusalem is Israel's capital, as well as relocating the embassy from Tel Aviv, is sure to spark protests across the Middle East and fan the flames of the Israel-Palestinian conflict – despite the Trump administration's efforts to broker a peace agreement in the region.
During a call ahead of a speech by Mr Trump on Wednesday, Mr Abbas warned the US President that moving the embassy to Jerusalem would have "dangerous consequences" – adding his name to a growing list of nations decrying the move, including Egypt, Turkey, Jordan, Iraq and Saudi Arabia. Turkey's President Recep Tayyip Erdogan has gone as far as saying that the issue of Jerusalem is a "red line for Muslims".
As well as Mr Abbas, Mr Trump delivered the same embassy message in calls to Jordan's King Abdullah and Egypt's President Abdel Fattah al-Sisi, although no timeframe for the move was laid out. Both leaders urged the US President to avoid any statements that would undermine Middle East peace efforts – while King Abdullah warned the embassy move would bring "dangerous repercussions". Mr Trump later spoke to Israel's Prime Minister Benjamin Netanyahu about the move.
Mr Trump will deliver a speech that is expected to recognise Jerusalem as Israel's capital, another break with US diplomatic tradition that itself is highly controversial, with the official Washington position having been that the city's status should be decided in talks between the Israelis and Palestinians.
Mr Trump has also so far failed to sign a waiver that blocks moving the embassy from Tel Aviv. Each president since 1995 – when the US Congress initially passed a law mandating the move to Jerusalem – has signed the waiver every six months. However, the latest deadline passed on Monday with Mr Trump not having put pen to paper.
It is believed that he is likely to defer the moving of the embassy while recognising the new status of Jerusalem, but order aides to start planning for a future relocation immediately. Mr Trump – under pressure from Arab leaders – deferred a decision on relocation in June by signing the waiver, even though he said during his election campaign that it would be one of his first acts as president.
Ahead of the speech - with protests expected - the US consulate in Jerusalem has ordered American personnel and their families to avoid visiting Jerusalem's Old City or the West Bank, and urged American citizens in general to avoid places with increased police or military presence.
Donald Trump's least presidential moments so far...

Show all 30
While Israeli officials have mostly stayed quiet as speculation over the move has grown, Israel's mayor of Jerusalem, Nir Barkat, said that moving the embassy could take "two minutes".
Mr Barkat said the United States would only have to convert one of its existing assets in the city, such as its consulate located in West Jerusalem.
Israeli intelligence minister Yisrael Katz, who met US officials in Washington last week, told Israel's Army Radio: "My impression is that the President will recognise Jerusalem." Asked if Israel was preparing for a wave of violence over such a move, he said: "We are preparing for every option. Anything like that can always erupt. If Abu Mazen [Mr Abbas] will lead it in that direction, then he will be making a big mistake".
Jared Kushner: Trump is still yet to make decision on recognising Jerusalem as Israel capital
Following the call with Mr Trump on Tuesday, Mr Abbas appealed to the Pope and the Russian, French and Jordanian leaders to intervene to block the proposed embassy move, according to his spokesman. In a later call to Russian President Vladimir Putin, Mr Abbas was said to have been assured by the Russian leader that Moscow backed the resumption of talks between the Israelis and the Palestinians.
Along with the embassy shift, the diplomatic status of Jerusalem is one of the world's thorniest issues, and any change could have vast repercussions across the Middle East. The city's holy sites are sacred to Jews, Christians and Muslims, with both Israel and the Palestinians claiming it as their capital. The Palestinians want a number of areas of the city as part of any future state.
Israel occupied the area in the 1967 Middle East war and regards the entire city as its indivisible capital, while the Palestinians claim East Jerusalem. According to the 1993 Israel-Palestinian peace accord, the city's final status is meant to be discussed in later peace talks.
Israeli sovereignty over Jerusalem has never been recognised internationally, which would change with Mr Trump's announcement. The anticipated move has left several Middle Eastern leaders scrambling to dissuade him from altering the city's status and has kicked up resistance in his own administration.
Senior officials in the State Department's Near Eastern Affairs bureau (NEA), which deals with that area, have "expressed their deep concern" about the move, a US official told Reuters on condition of anonymity. The official said the concerns focused on "security" of US assets.
Asked for comment on this report, a State Department official told The Independent that "the President has always said it is a matter of when, not if", regarding the change of Jerusalem's diplomatic status.
"The President is still considering options and we have nothing to announce," the official said.
Mr Trump cannot say he has not been warned over the implications of moving the embassy, or recognising Jerusalem as Israel's capital, thanks to an outpouring of dismay across the region and beyond.
As well as the fierce criticism of Turkey's President Erdogan, Germany's foreign minister Sigmar Gabriel said that recognising the capital of Israel as Jerusalem would be "a very dangerous development".
"[This] does not calm a conflict, rather it fuels it even more," Mr Gabriel said.
French President Emmanuel Macron and the EU's top diplomat, Federica Mogherini, have also spoken out against the change.
During a phone call with the US leader, Mr Macron expressed his concern over the possibility of the US "unilaterally designating Jerusalem as capital of the state of Israel", according to a statement issued by the French government.
It said: "Mr Macron reaffirmed that the status of Jerusalem must be resolved through peace negotiations between Israelis and Palestinians, and particularly those relating to the establishment of two states, Israel and Palestine, living side by side in peace and security with Jerusalem as their capital."
Standing beside Secretary of State Rex Tillerson in Brussels on Tuesday, Ms Mogherini, also publicly voiced opposition to Mr Trump's expected announcement on Jerusalem.
"During our bilateral meeting we discussed ... the Middle East peace process, the European Union support [and] the resumption of a meaningful peace process towards a two-state solution," she said. "We believe that any action that would undermine these efforts must absolutely be avoided. A way must be found through negotiations to resolve the status of Jerusalem as the future capital of both states so that the aspiration of both parties can be fulfilled."
Register for free to continue reading
Registration is a free and easy way to support our truly independent journalism
By registering, you will also enjoy limited access to Premium articles, exclusive newsletters, commenting, and virtual events with our leading journalists
Already have an account? sign in
Join our new commenting forum
Join thought-provoking conversations, follow other Independent readers and see their replies