Pence faces complicated trip to Middle East in wake of Trump Jerusalem decision
Vice President becomes first major Trump administration official to visit the region since US announcement to designate Jerusalem Israel's capital sparked mass protests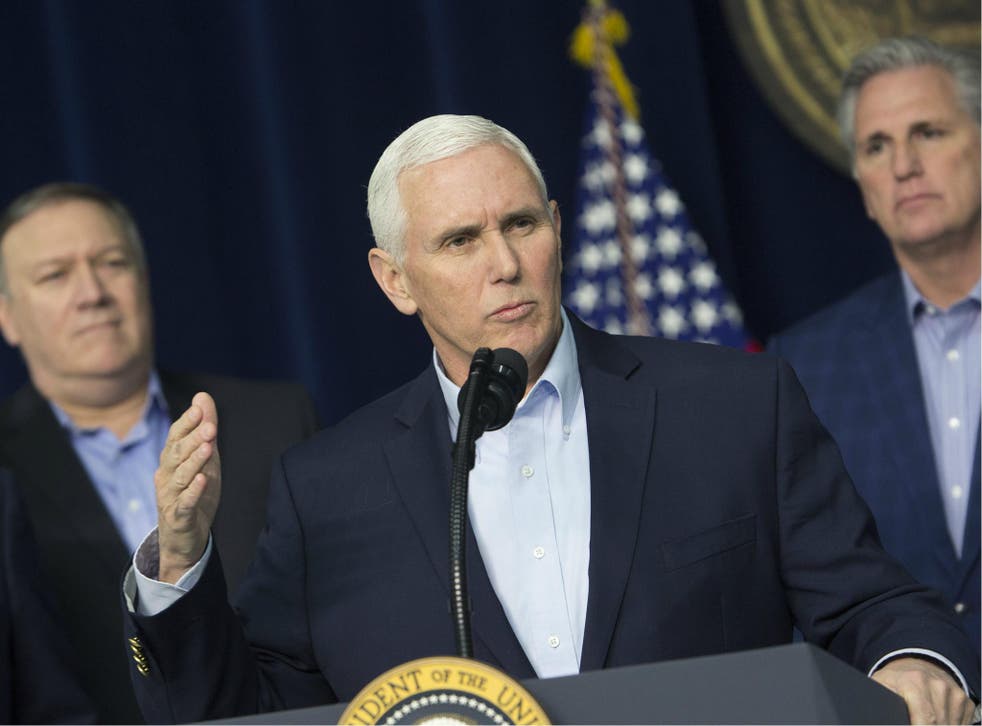 Vice President Mike Pence can expect a "hero's welcome" in Israel but but a distinctly colder welcome in Jordan, and Egypt as he becomes the first administration official to visit the region since Donald Trump's highly controversial Jerusalem decision.
In December, Mr Trump announced the US would recognise Jerusalem as the capital of Israel and would would move its embassy there from Tel Aviv, breaking with 70 years of US foreign policy and sparking anger across the Middle East and beyond. The Trump administration then announced this week that it was withholding $65m from the UN agency that assists Palestinian refugees.
Zaha Hassan, a Human rights attorney and Middle East Fellow at think tank New America, told The Independent it is "difficult to understand what [Mr Pence] can achieve" besides rub "salt in the wound" on this trip given the recent decisions.
In Israel however, Mr Pence will receive a "hero's welcome" in the Israeli national legislature - known as the Knesset - according to Ms Hassan.
Mr Trump said the decision was "long overdue" and "nothing more or less than recognition of reality."
Rabbi Joseph Berman, Manager of Government Affairs for Jewish Voice for Peace, told The Independent the monumental recognition was "immoral and irresponsible."
Mr Trump's announcement has sparked protests in the region and a vote in the United Nations to declare it "null and void."
Only nine countries voted with the US, while 128 voted against it, citing that it would make a peace deal nigh impossible.
Mr Trump's tweets from 2 January only exacerbated matters for Palestinians, who Ms Hassan said have all but taken the US out of the running as a broker for a peace deal.
Following through on the tweet, the US announced earlier this week that it will give a United Nations agency $60m in aid for Palestinians but will withhold another $65m "for future consideration."
In 2016, the US contributed $335m to the relief agency and a similar sum was planned for 2018.
The cut in so much funding to the UN Relief and Works Agency (UNRWA) was done in order to force Palestinian National Authority President Mahmoud Abbas into coming to the negotiating table to hash out a peace deal with Israel.
"It is time other countries, some of them quite wealthy, step in and do their part to advance regional security and stability," an administration official told Reuters as another reason for the cut.
"This is not aimed at punishing" anyone, State Department spokeswoman Heather Nauert said.
The United Nations General Assembly votes 128-9 to declare the United States' Jerusalem capital recognition 'null and void'
However, Ms Hassan argued that Mr Pence's visit with King Abdullah II of Jordan will be problematic because both decisions negatively impact the country which has hosted more than a million Palestinian refugees in camps for several decades.
Jordan is also the custodian of holy sites in the city of Jerusalem, per an agreement with Israel.
Both decisions are fairly "harsh" for Jordan, she noted.
There will "no open arms" in the Arab Muslim world for Mr Pence given that his trip is unlikely to yield anything positive for Jordan, Ms Hassan said.
"Putting the Jerusalem decision aside, he is an inflammatory figure," she noted.
Mr Pence, a staunch Evangelical Christian, had purported to want to be a "champion of Middle East Christians," Ms Hassan explained.
However if Egypt, with its relatively good US relationship, is supposed to be a place for Mr Pence to make some headway in the region he may be in for a rude awakening.
In the wake of the Jerusalem recognition, the country's Coptic Christian leaders refused to meet with Mr Pence, whose trip was originally scheduled for December.
Protests erupt after Trump recognises Jerusalem as Israel's capital

Show all 22
The White House nor the Coptic leaders have announced a change to that.
Also, Egypt had led the charge in the UN Security Council to condemn the US for its recognition of Jerusalem as the Israeli capital.
The decisions also appeared to ignore the concerns of Christians living in Palestinian territory as well.
Prime Minister Benjamin Netanyahu, a family friend of Mr Kushner's, hailed the Jerusalem decision and has frequently said UNRWA was biased against Israel.
Evangelicals in the US have long supported the causes of the Israeli government and Mr Berman said the purpose of Mr Pence's trip could simply be to pander to his "far right-wing, zionist base."
He pointed to evidence to support that in White House adviser and Mr Trump's son-in-law Jared Kushner's family who have funded Israeli settlements in disputed territories.
Mr Berman explained, the "interest in Jews [by evangelicals] is getting us to return to the holy land and bring about armageddon…which is a fundamentally anti-semitic relationship."
Mr Pence is due to leave on the trip the evening of 19 January and will be overseas for four days.
Register for free to continue reading
Registration is a free and easy way to support our truly independent journalism
By registering, you will also enjoy limited access to Premium articles, exclusive newsletters, commenting, and virtual events with our leading journalists
Already have an account? sign in
Register for free to continue reading
Registration is a free and easy way to support our truly independent journalism
By registering, you will also enjoy limited access to Premium articles, exclusive newsletters, commenting, and virtual events with our leading journalists
Already have an account? sign in
Join our new commenting forum
Join thought-provoking conversations, follow other Independent readers and see their replies