Donald Trump moving US embassy to Jerusalem may 'needlessly spark mass protests', says Nancy Pelosi
Top Senate Democrat Chuck Schumer says he advised the President to declare Jerusalem Israel's 'undivided' capital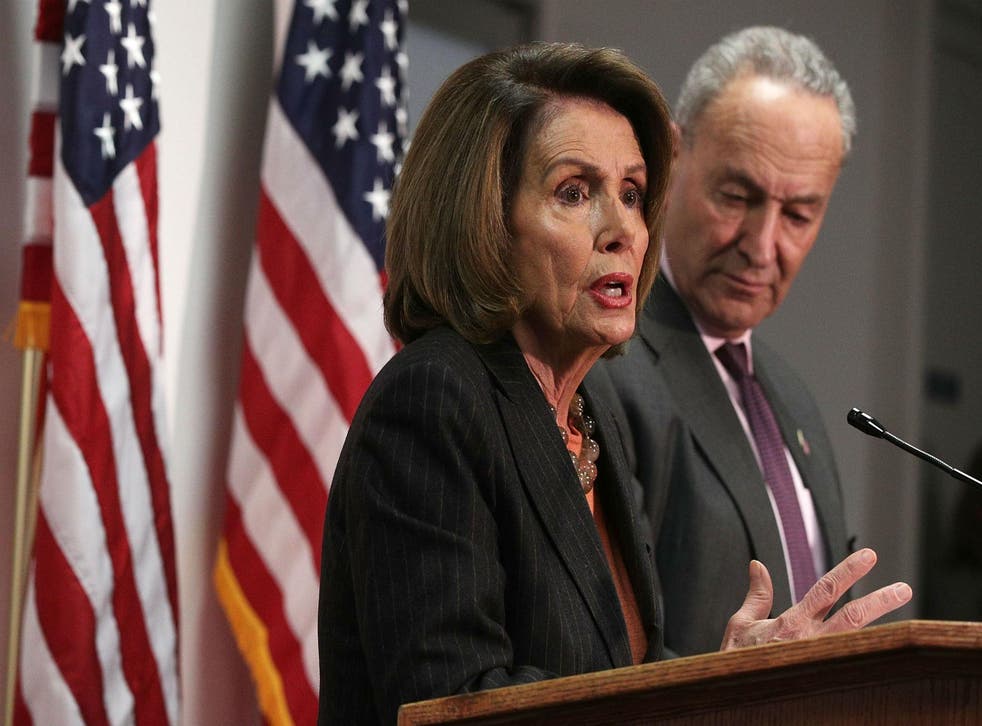 President Donald Trump has been accused of putting the wants of his evangelical Christian voters ahead of US national interests with his decision to designate Jerusalem as the capital of Israel and move the US embassy there.
Democratic Senator Sheldon Whitehouse said the announcement "makes good theatre" for elements of the President's base but that it constituted a "dangerous" move.
"For really strong evangelicals, this is part of the biblical prescription that Jerusalem shall return and all of that," Mr Whitehouse said. "I think it's a dangerous idea to let those religious beliefs get ahead of our national interests and our diplomatic interests."
Elsewhere, the decision has drawn mixed reactions in Washington. Top House Democrat Nancy Pelosi called Jerusalem "the eternal capital of the Jewish homeland" but said that the embassy relocation may needlessly spark unrest.
"In the absence of a negotiated settlement between Israel and the Palestinians, moving the US embassy to Jerusalem now may needlessly spark mass protests, fuel tensions, and make it more difficult to reach a durable peace," Ms Pelosi said in a statement.
Her counterpart in the Senate, meanwhile, supported the move, with Mr Trump having also received robust approval from several other Democrats and Republicans.
Senate Minority Leader Chuck Schumer told The Weekly Standard that he recommended Trump declare Jerusalem the "undivided" capital of Israel.
Through his announcement this week on the Jerusalem issue, Mr Trump abruptly broke with decades of US foreign policy, leading to protests and condemnation from world leaders. The President called the change in Israel's diplomatic status "a step to advance the peace process" between Israel and the Palestinians.
Congress had adopted the Jerusalem Embassy Act in 1995, urging the federal government to relocate the American embassy in Israel to the holy city. Every president since then – including Mr Trump – has signed waivers delaying that move for six months at a time.
Mr Trump signed a new waiver straight after his announcement but made clear that the embassy move would happen.
"There's a reason why all past US administrations have not made this move, and why leaders around the world have warned Trump against it: it would undermine the prospects for an Israeli-Palestinian peace agreement and severely, perhaps irreparably, damage our ability to broker it," Independent Senator Bernie Sanders posted on Twitter.
Protests erupt after Trump recognises Jerusalem as Israel's capital

Show all 22
Democratic Senator Dianne Feinstein, who was among those who voted for the 1995 law, had penned a letter to Mr Trump urging him not to move the embassy because it would "spark violence, further alienate the United States and undermine the prospects of a two-state solution."
"The future of Jerusalem is an issue that should be decided by Israel and the Palestinians, not unilaterally by the United States," Ms Feinstein wrote.
Republican Senator Chuck Grassley, however, praised Mr Trump for the move in a tweet that the President later retweeted.
"Jerusalem Embassy Act of '95 (Senate vote 93-5 & I voted for it) states embassy should be in Jerusalem by 5/31/99. For 18 yrs, Rep + Dem presidents waived. Congrats Pres Trump for making this move. Amen!!!" Mr Grassley wrote.
Republican Senator James Lankford, who visited Israel twice this year to meet with Israel Prime Minister Benjamin Netanyahu and other diplomats, also welcomed the President's decision.
"The government of Israel officially resides in Jerusalem; ignoring the obvious physical location of the Israeli Knesset and the office of the Prime Minister in west Jerusalem does not bring the region closer to peace, it only placates those that want to destabilise the region," Mr Lankford said in a statement.
Donald Trump officially recognises Jerusalem as Israel's capital
House Speaker Paul Ryan said Mr Trump's announcement "is a recognition of reality that in no way inhibits efforts to reach a lasting peace between Israelis and Palestinians." Palestinian President Mahmoud Abbas said that with the move, the US was making a "declaration of withdrawal" from its mediation role during the peace process.
The leaders of the Senate's Foreign Relations Committee – chairman Bob Corker and ranking Democrat Ben Cardin – applauded the President's decision.
"Jerusalem is the capital of the State of Israel and the location of the US embassy should reflect this fact," Mr Cardin said.
He added that "going forward, it is critical that all religious and ethnic groups continue to have access to Jerusalem."
But Mr Whitehouse had a different stance.
"I think what's really dangerous is what this means for our relationship with Turkey, which we still depend on for a lot of basing for our military efforts in the Middle East, and with the Saudis, who the Trump White House have bent over backwards to accommodate as our new best friend in the region," Mr Whitehouse told CNN.
Before Mr Trump's announcement, Turkish President Recep Tayyip Erdogan warned that Ankara could cut diplomatic ties with Israel if the US declared Jerusalem the capital. Mr Erdogan also called the issue a "red line for Muslims".
Saudi Arabia's Royal Court issued a statement calling the move "unjustified and irresponsible".
Register for free to continue reading
Registration is a free and easy way to support our truly independent journalism
By registering, you will also enjoy limited access to Premium articles, exclusive newsletters, commenting, and virtual events with our leading journalists
Already have an account? sign in
Register for free to continue reading
Registration is a free and easy way to support our truly independent journalism
By registering, you will also enjoy limited access to Premium articles, exclusive newsletters, commenting, and virtual events with our leading journalists
Already have an account? sign in
Join our new commenting forum
Join thought-provoking conversations, follow other Independent readers and see their replies