Donald Trump Jr hinted at deal with Russian lawyer for Clinton dirt
Individuals associated with the Trump campaign have claimed they did not collude with the Russian government during the 2016 election cycle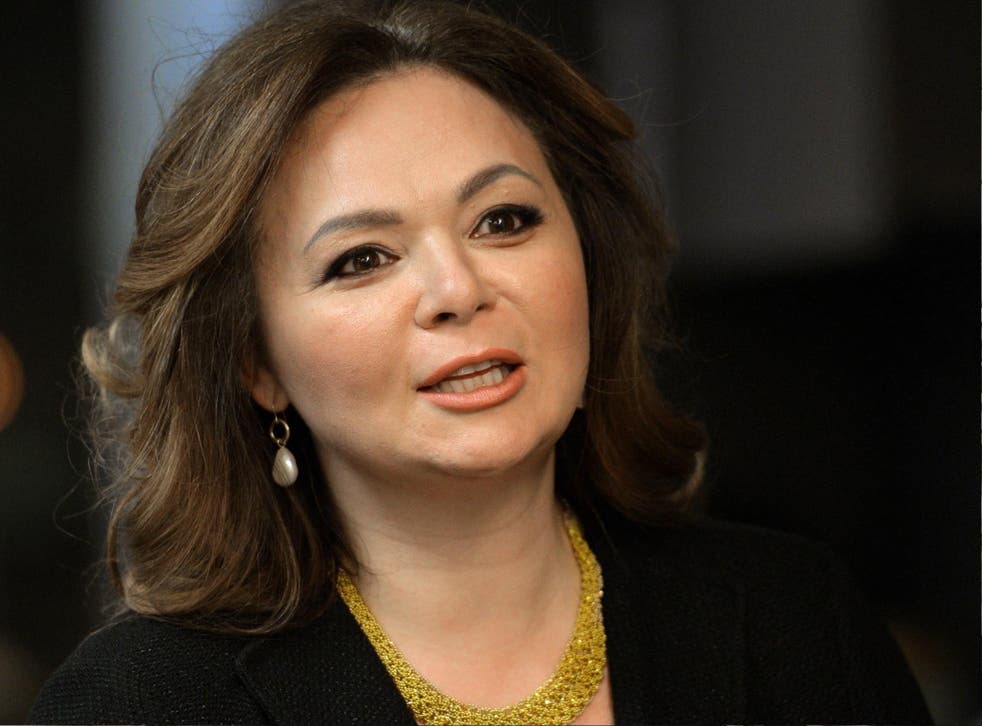 A Russian lawyer says that Donald Trump Jr told her during the 2016 campaign that his father's potential administration could review laws that target Russia if she gave them evidence that Hillary Clinton's campaign had received illegally-sourced funds.
Natalia Veselnitskaya, a Kremlin-linked lawyer, says that she sent a memo to the Trump campaign before a June 9 meeting that informed the Americans she had evidence that major Democratic donors had evaded US taxes on income made in Russia, and had passed along those savings to Ms Clinton's campaign.
Team Trump, apparently eager for any dirt they could find on Ms Clinton, appeared to offer up a reward for the information.
"Looking ahead, if we come to power, we can return to this issue and think what to do about it,'' Ms Veselnitskaya told Bloomberg that Mr Trump Jr. had told her of the 2012 Magnitsky law, she recalled. "I understand our side may have messed up, but it'll take a long time to get to the bottom of it," he added, according to her
But, the meeting quickly derailed after Ms Veselnitskaya couldn't provide written financial records that the Clinton campaign had received funds from the billionaire Ziff brothers, who she had alleged were evading taxes.
The suggestion that the Trump administration would take a look at the Magnitsky law, which targets Russian officials financially, in exchange for dirt from the Kremlin is the latest development in a saga that many see as one of the strongest examples of potential collusion between the Trump administration and Russia in the 2016 election.
The biggest names involved in the Trump-Russia investigation

Show all 17
The meeting was set up after British publicist Rob Goldstone sent an email to Mr Trump Jr on behalf of Ms Veselnitskaya, and promising that the lawyer had documents that could incriminate Ms Clinton.
"This is obviously very high level and sensitive information but is part of Russia and its government's support for Mr Trump," Mr Goldstone wrote in that email.
Mr Trump Jr, who has released these emails publicly, responded enthusiastically at the prospect of getting dirt on Ms Clinton, even if Mr Goldstone had explicitly said the information was coming as a part of Russia's preference for one American candidate over another.
"If it's what you say I love it especially later in the summer," Mr Trump Jr responded.
Ms Veselnitskaya says that she was acting in a private capacity during her meeting with Mr Trump Jr, then campaign chairman Paul Manafort, and Donald Trump's son-in-law Jared Kushner. But, the four page memo was structured similarly to a list of talking points written by Russian government sources, according to Bloomberg, which reviewed the documents.
Mr Manafort was one of the first recipients of an indictment passed down by special counsel Robert Mueller's investigation into Russia's meddling in the 2016 election.
Mr Trump Jr and Mr Kushner say they did nothing wrong, and did not collude with the Russian government during the 2016 campaign.
Join our new commenting forum
Join thought-provoking conversations, follow other Independent readers and see their replies