Russian lawyer who met with Trump Jr 'shared talking points with Kremlin beforehand'
Donors to Hillary Clinton's campaign have been accused of evading Russian taxes 
Mythili Sampathkumar
New York
Friday 27 October 2017 22:44 Comments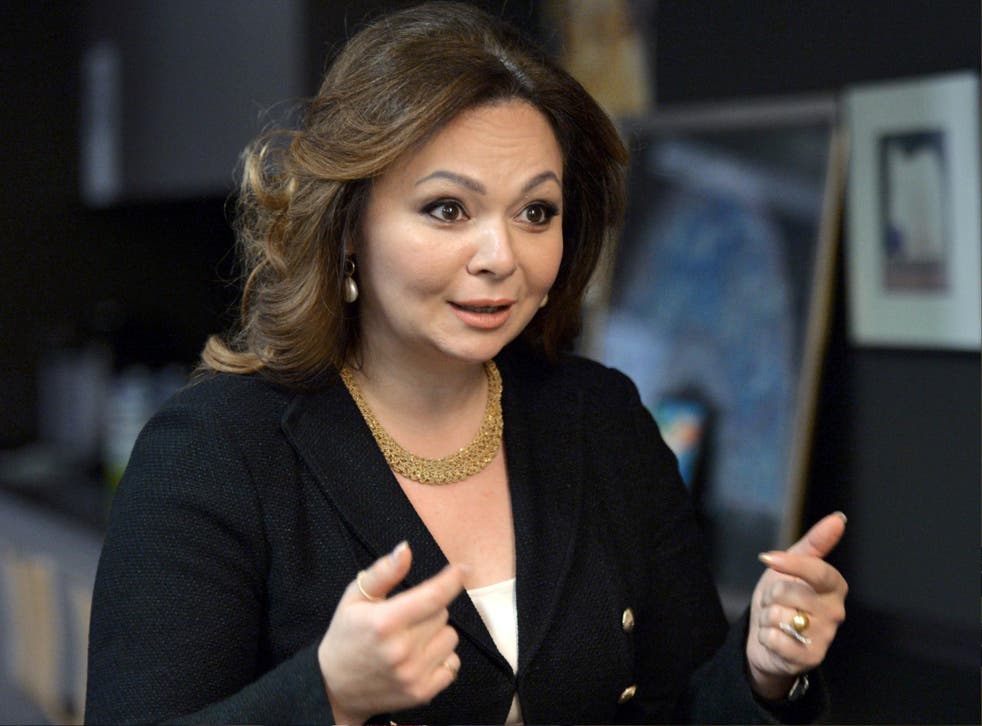 The Russian lawyer who met with Donald Trump Jr in June 2016 shared the information she was going to give the campaign with the Kremlin first.
According to the New York Times, Natalia Veselnitskaya was reportedly going to give President Donald Trump's son information she thought would be disparaging to then-candidate Hillary Clinton.
It was a memo she had apparently shared with Russian prosecutor general Yuri Chaika months before.
The document allegedly contained information about two major Democratic donors to the Clinton campaign who reportedly tried to illegally purchase shares in a Russian company and evade millions in Russian taxes.
Russian President Vladimir Putin has been repeating that claim as well and state-controlled media outlets have run special news reports on the claims, interviewing the lawyer and Mr Chaika.
That revelation is contradictory to Ms Veselnitskaya's claim she was acting independent of the Kremlin when she had a third party reach out to the Trump family and ultimately met with the younger Trump, son-in-law Jared Kushner, and then-campaign manager Paul Manafort.
Donald Trump says he hopes Russia probe finding will be "truly honest"
As the newspaper reported: "It also suggests that emails from an intermediary to [Mr Trump Jr] promising that Ms Veselnitskaya would arrive with information from Russian prosecutors were rooted at least partly in fact — not mere "puffery," as the president's son later said."
The donor being accused is Ziff Brothers Investments, two of the three brothers who run the company are on record with making campaign contributions to several Democrats, including Ms Clinton.
The firm is also connected to Bill Browder through some of its investments.
The biggest names involved in the Trump-Russia investigation

Show all 17
Mr Browder, a financier, has received the ire of the Kremlin since he helped pass a US law passed in 2012 that imposed sanctions of Russians accused of human rights abuses.
The Magnitsky Act resulted in frozen bank accounts of Russian officials, including an associate of Mr Chaika and barred entry into the US as well as business dealings with US entities.
The law was named after Mr Browder's colleague Sergei Magnitsky, a tax lawyer who died in a Moscow jail after exposing the fraud that involved the sanctioned Russian officials.
Another part of the story is that Mr Chaika passed whole portions of Ms Veselnitskaya's memo to Republican Congressman Dana Rohrbacher in April 2016.
Mr Rohrbacher recently met with controversial Wikileads chief Julian Assange, who told the legislator he had information to clear Russia of charges alleging interference with the 2016 US election.
Investigations into the suspected meddling are ongoing in the FBI and Congress.
Ms Veselnitskaya has called the New York Times' report "lies and false claims".
Register for free to continue reading
Registration is a free and easy way to support our truly independent journalism
By registering, you will also enjoy limited access to Premium articles, exclusive newsletters, commenting, and virtual events with our leading journalists
Already have an account? sign in
Register for free to continue reading
Registration is a free and easy way to support our truly independent journalism
By registering, you will also enjoy limited access to Premium articles, exclusive newsletters, commenting, and virtual events with our leading journalists
Already have an account? sign in
Join our new commenting forum
Join thought-provoking conversations, follow other Independent readers and see their replies