White House staffers 'to be interviewed by Robert Mueller' over Donald Trump Jr's Russia meeting
The President's son also spoke to Senate investigators on Capitol Hill about the meeting 
Alexandra Wilts
Washington DC
Thursday 07 September 2017 23:45 Comments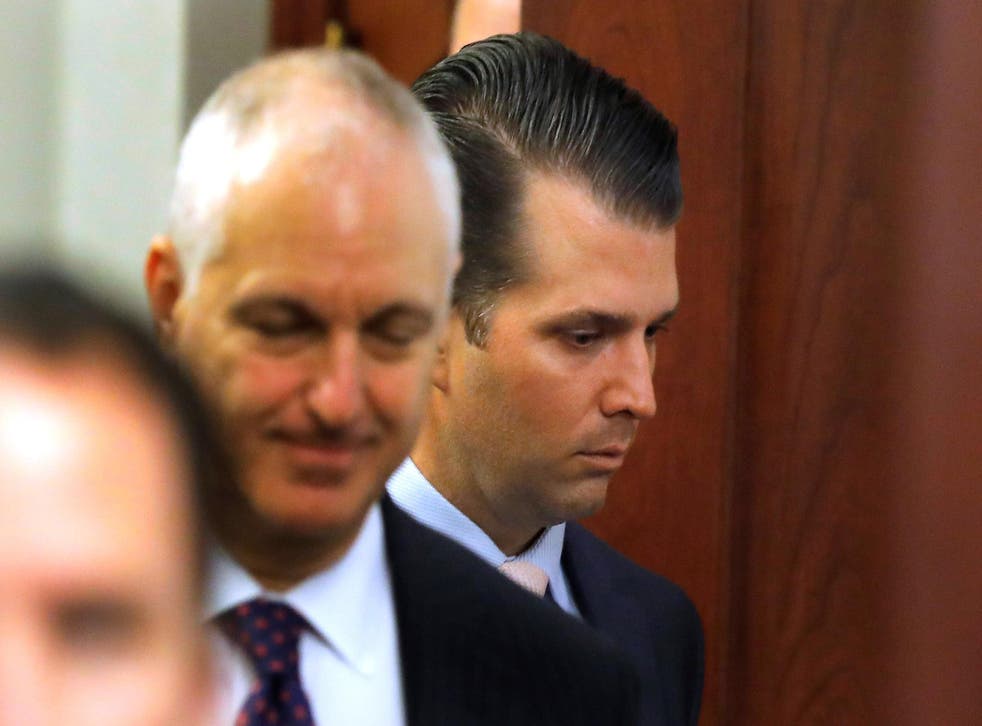 Special Counsel Robert Mueller's team reportedly wants to interview White House staffers who could know details about the writing of a statement regarding Donald Trump Jr's meeting with a Russian lawyer.
Mr Mueller is examining the alleged links between Donald Trump's election campaign and the Russian government, and has apparently turned his attention to the President's son.
Mr Trump Jr told Senate investigators on Thursday that he met with Natalia Veselnitskaya, a Kremlin-connected lawyer, last summer because he was intrigued that she might have damaging information on Hillary Clinton, his father's campaign opponent, according to the New York Times. It was important to learn about Ms Clinton's "fitness" to be president, he said.
In a statement, Mr Trump Jr declared that he believes the five-hour interview he gave the Senate Judiciary Committee on Thursday "satisfied" investigators' inquiry into the meeting he took with Ms Veselnitskaya.
Along with Mr Mueller, congressional investigators are also looking into Russian meddling in the 2016 election.
"I answered every question posed by the committee related to this topic as well as all of their questions on other topics, until both sides had exhausted their line of questioning," the President's eldest son said.
But it seems the inquiry isn't over yet.
This summer, in his response to a report about his meeting at Trump Tower, Mr Trump Jr claimed in a statement that Ms Veselnitskaya primarily focused on a programme about the adoption of Russian children.
The biggest names involved in the Trump-Russia investigation

Show all 17
Emails later released by Mr Trump Jr revealed that he believed the lawyer would provide him with incriminating information about Ms Clinton on behalf of the Russian government.
The President is reported to have helped draft his son's initial statement regarding the meeting, and Mr Mueller, according to CNN, wants to talk with the staffers who were aboard Air Force One when it was written.
"The President weighed in as any father would, based on the limited information he had," White House Press Secretary Sarah Huckabee Sanders said in August, adding that Mr Trump "certainly didn't dictate" his son's statement, but did offer suggestions.
The comments came after the Washington Post reported that Mr Trump had dictated the statement, citing anonymous sources with knowledge of the deliberations. Mr Trump's lawyer, Jay Sekulow, had previously said the President "wasn't involved in the statement drafting at all".
According to CNN, Mr Mueller wants to know how the statement aboard Air Force One was put together, whether information was intentionally left out and who was involved.
Register for free to continue reading
Registration is a free and easy way to support our truly independent journalism
By registering, you will also enjoy limited access to Premium articles, exclusive newsletters, commenting, and virtual events with our leading journalists
Already have an account? sign in
Join our new commenting forum
Join thought-provoking conversations, follow other Independent readers and see their replies