Donald Trump Jr 'in contact with Wikileaks' during election campaign, leaked messages reveal
Contact reported between Trump campaign and anti-secrecy group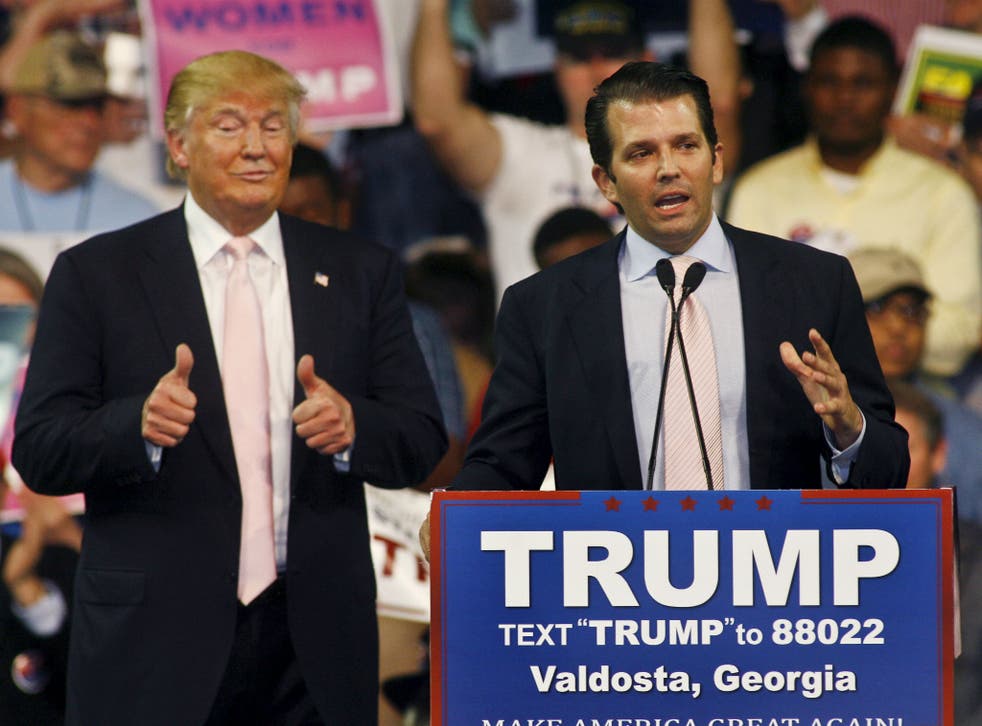 WikiLeaks was reportedly in direct contact with Donald Trump Jr, the son of the US President, just weeks before the 2016 election, a report has revealed.
The organisation's steady release of hacked emails revealed Hillary Clinton's use of a private email server and had a considerable impact on the shape the 2016 presidential campaigns.
According to a report in The Atlantic, the WikiLeaks Twitter account sent a series of direct messages to Donald Trump Jr, who is the son of President Donald Trump. Those messages have since been shared with congressional investigators who are exploring potential links between the Trump campaign and the Russian government.
While Donald Trump Jr did not respond to many of the messages, The Atlantic reported, he did at times write back, including saying he would "ask around" about when Wikleaks mentioned a new political action committee opposed to his father's candidacy.
Alan Futerfas, an attorney for Donald Trump Jr, did not respond to The Independent's request for comment. In a statement to The Atlantic, he said "we have worked cooperatively with each of the committees and have voluntarily turned over thousands of documents in response to their requests".
"Putting aside the question as to why or by whom such documents, provided to Congress under promises of confidentiality, have been selectively leaked, we can say with confidence that we have no concerns about these documents and any questions raised about them have been easily answered in the appropriate forum", Mr Futerfas said.
After The Atlantic's story was published, WikiLeaks founder Julian Assange said on Twitter that he "could not confirm" the magazine's account of Donald Trump Jr's direct messages, adding that the story lacked "the full context".
The biggest names involved in the Trump-Russia investigation

Show all 17
"WikiLeaks can be very effective at convincing even high profile people that it is their interest to promote links to its publications", Mr Assange wrote.
Donald Trump Jr being in contact with WikiLeaks would establish a connection between the Trump campaign and an anti-secrecy organisation that aligned with Donald Trump through its voluminous disclosures of emails from Democratic National Committee figures and Democratic nominee Hillary Clinton's campaign chairman John Podesta.
American intelligence officials have concluded that those emails were initially stolen by Russian hackers as part of a Russian government-directed campaign to interfere with the 2016 election - an effort that favoured Donald Trump. Mr Assange has said his organisation did not receive the leaked emails it published from Russia.
During the election, Donald Trump proclaimed "I love WikiLeaks" in response to one of those disclosures. Mr Assange confirmed in October that he was approached by Cambridge Analytica, a political data firm used by the Trump campaign, and said he rejected the entreaty. In response to that story, a Trump campaign spokesman downplayed Cambridge Analytica's role in the 2016 cycle.
The younger Mr Trump demonstrated a willingness to work with outside parties who could buoy his father's prospects. It emerged earlier this year that he had accepted a meeting with a Russian lawyer who promised damaging information on Ms Clinton, writing "I love it" in response to an email proposing the introduction. After the meeting was revealed, Donald Trump Jr dismissed the furor as an overreaction to the common campaign practice of conducting opposition research.
While Mr Trump has not been formally accused of any wrongdoing in taking that meeting, its broad contours parallel a meeting that helped lead to a criminal charge for former campaign aide George Papadopoulos. He pled guilty to lying to federal agents about a meeting with an emissary of Russia who said he had "dirt" on Ms Clinton in the form of "thousands of emails".
Trump-Russia investigation: who has been charged in the Mueller probe
Months after the April 2016 meeting in which Mr Papadopoulos was offered the emails, WikiLeaks began publishing hacked communications from Democratic officials. Court documents laying out the case against Mr Papadopoulos did not detail whether the proffered emails were the same as those later published by WikiLeaks.
Join our new commenting forum
Join thought-provoking conversations, follow other Independent readers and see their replies