Trump may look like he's failing, but he's getting powerful right-wing judges installed at an unprecedented rate
Trump has set a record for the most appellate judges confirmed in a president's first year in office
Alexandra Wilts
Washington DC
Monday 25 December 2017 23:00 Comments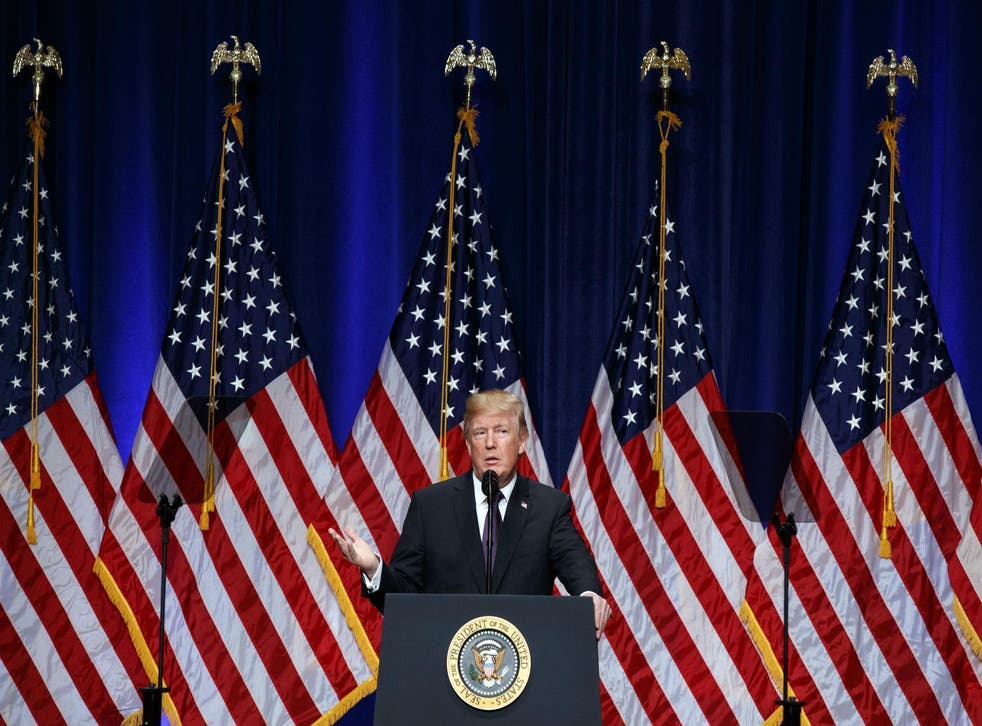 While President Donald Trump for most of the year struggled on the legislative front, his administration was quietly succeeding at nominating and installing powerful right-wing judges at an unprecedented rate for a president's first year in office.
With the US Senate's confirmation of a 12th circuit court judge earlier this month, Mr Trump set a record for the most appellate judges confirmed in a president's first year. His predecessor, former President Barack Obama, was able to get three confirmed during his first year as President.
Each nomination seems to be aimed at shifting the US's judiciary system ideologically to the right. And the administration's ability to have gotten so many of its appellate nominees confirmed is particularly important given that appellate courts are where thousands of cases in the federal courts meet their ends because they will never make it onto the Supreme Court's limited docket.
It should be kept in mind that even though Mr Trump has succeeded in getting at least 12 appellate judges confirmed this year, there are 179 appellate court judgeships overall. He has changed the composition of the US's appellate courts by only 6.7 per cent.
He also hasn't managed yet to tip the balance on a single appellate court from majority-Democratic appointees to majority-Republican appointees, according to Vox, meaning the Trump administration's effects on particular courts have been minimal so far.
But the situation could worsen for liberals if Republicans maintain their Senate majority during next year's mid-term elections. By the end of his first term, Mr Trump could conceivably have handpicked more than 30 per cent of the nation's federal judges, experts say.
Democrats have accused Republicans of "rubber-stamping" Mr Trump's judicial nominees and say the party has made it easier for the President to stack the courts in their advantage.
Dan Goldberg, the legal director of the Alliance for Justice – a progressive judicial advocacy group in the US – told The Independent that Republicans have "bent over backward" to change Senate rules and customs in order "to prevent careful vetting of these nominees".
He noted that this is evidenced by the decision of Senator Charles Grassley, the Republican chairman of the Senate Judiciary Committee, to ignore the century-old "blue-slip" practice. While the informal practice was never added to the written committee or chamber rules, for about the past 100 years it has allowed senators to block nominees slated for judgeships in their home states.
"Grassley's move undermines Democrats' parliamentary ability to block Trump nominees in the Senate – even when the American Bar Association (ABA) deems Trump's picks unqualified for the bench, as has happened with four of 58 nominees," wrote Sarah Binder, a political science professor at George Washington University and a senior fellow at the left-leaning Brookings Institution, in an op-ed for The Washington Post.
"As a result, Trump is likely to nominate candidates more quickly than previous presidents," she added.
World news in pictures

Show all 50
This month, the Senate narrowly confirmed Leonard Steven Grasz to serve on the US Court of Appeals for the Eighth Circuit – despite a rare "not qualified" rating from the ABA.
In a speech on the Senate floor, Democratic Senator Elizabeth Warren said the association had reached that conclusion in part after speaking with many of Mr Grasz's peers who expressed concerns about how he held deeply rooted political allegiances that would "make it impossible for him to have an unbiased and open mind on critical issues".
Mr Grasz served for more than 11 years as Nebraska's chief deputy attorney general and was general counsel to the Nebraska Republican Party.
In one opinion he helped write, he said the legacy of the landmark abortion rights ruling Roe v Wade was its "moral bankruptcy". Another opinion he aided in crafting warned of the "grave danger" of the Nebraska Supreme Court recognising same-sex marriages from other states, and he advised that legislation refusing to recognise same-sex marriages could be defended against a constitutional challenge.
Ms Warren said Mr Grasz was just one "of the many nominees whose records show that they cannot fairly and impartially dispense equal justice under law".
But it has not been smooth-sailing for all of Mr Trump's judicial picks.
On Monday, Matthew Petersen withdrew his name from consideration after a video went viral of him failing to answer basic legal questions posed by Republican Senator John Kennedy.
Mr Petersen is a member of the Federal Election Commission and was one of five of the President's nominees for US District Court for the District of Columbia.
"Just because you've seen My Cousin Vinny doesn't qualify you to be a federal judge," Mr Kennedy told WWL-TV. "And he has no litigation experience. And my job on the judiciary committee is to catch him. I would strongly suggest he not give up his day job."
Mr Kennedy said Mr Trump called him over the weekend to talk about the nominee. He said Mr Trump did not personally interview Mr Petersen and the nominations were chosen by the President's staff.
"He has told me, 'Kennedy, when some of my guys send someone who is not qualified, you do your job,'" Mr Kennedy said on Monday.
The White House has also given up on two other judicial nominees after questions were raised about their qualifications and controversial statements.
Steven Calabresi, a law professor at Northwestern University, told The Independent that the fact that some of Mr Trump's picks won't be approved because they're unqualified shows the system of checks and balances "is working the way it's supposed to".
Mr Calabresi is a co-founder and current board chairman of the conservative Federalist Society.
Several of the Mr Trump's appellate nominees have ties to the group, and its executive vice president, Leonard Leo, is said to be a White House adviser on judicial nominations. Mr Leo reportedly played a key role in Mr Trump's nomination of Neil Gorsuch to fill the vacancy on the Supreme Court.
Mr Calabresi noted that while a couple of the President's judicial picks have been unqualified, many nominated have clerked for Supreme Court justices and made top grades in law school, he said.
Register for free to continue reading
Registration is a free and easy way to support our truly independent journalism
By registering, you will also enjoy limited access to Premium articles, exclusive newsletters, commenting, and virtual events with our leading journalists
Already have an account? sign in
Join our new commenting forum
Join thought-provoking conversations, follow other Independent readers and see their replies