Donald Trump shares gushing letter from Kim Jong-un praising him
The note is a follow up to the pair's 12 June summit in Singapore about ending North Korea's nuclear weapons programme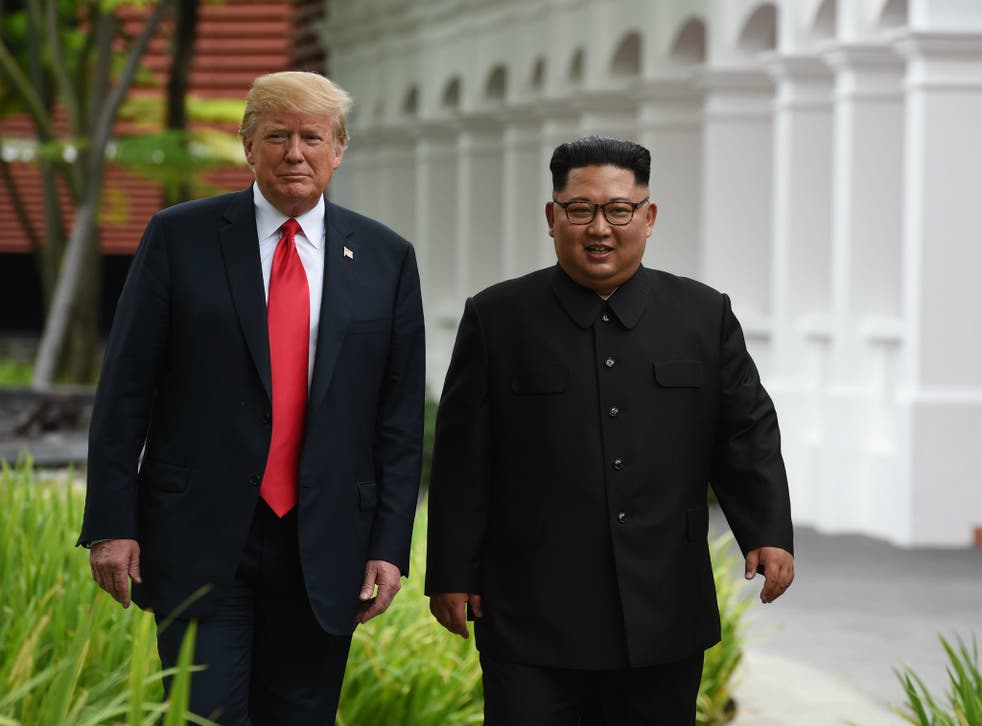 President Donald Trump has shared a gushing letter from Kim Jong-un in which the North Korean leader
The letter is a follow-up to the pair's 12 June summit in Singapore during which the two leaders discussed Pyongyang's nuclear weapons programme and sanctions placed on the hermit kingdom by the US and the United Nations.
Mr Kim had written he "deeply appreciate[s] the energetic and extraordinary efforts by your Excellency Mr President" during the summit to improve relations between the adversaries.
He also wrote that Pyongyang has "invariable trust and confidence" in Mr Trump and hoped it will "be further strengthened in the future process of taking practical actions".
Mr Trump called the missive "a very nice note" and said "great progress" is being made towards ending North Korea's nuclear programme.
While in Singapore, Mr Trump quickly declared the first meeting between the mercurial leaders a success. He tweeted on 13 June: "everybody can now feel much safer than the day I took office. There is no longer a Nuclear Threat from North Korea. Meeting with Kim Jong Un was an interesting and very positive experience. North Korea has great potential for the future!"
The pair had signed a document which said the US "committed to provide security guarantees to [North Korea], and Chairman Kim Jong Un reaffirmed his firm and unwavering commitment to the complete denuclearisation of the Korean peninsula".
Despite Mr Trump's apparent excitement and declaring North Korea would destroy a nuclear testing site after Mr Kim had returned home, critics of the agreement said it was too vague to guarantee compliance by Mr Kim's regime and did not adequately define what denuclearisation should look like to both sides.
Defence Secretary James Mattis warned late last month: "we're obviously, at the very front end of the process. The detailed negotiations have not begun. I wouldn't expect [any progress on denuclearisation] at this point". 
He did not specify if the Trump administration has a timeline in mind for the process, however, and detractors pointed out the agreement signed did not either. 
Recent differences in perception of US Secretary of State Mike Pompeo's follow up with meeting in Pyongyang with North Korean officials have also fuelled critics of giving too much leeway to Mr Kim's regime.
North Korea – South Korea relations: in pictures

Show all 21
Mr Pompeo said his meetings were "productive" and "in good faith". North Korea, however, thought his tone was "very concerning" because it has led to a "dangerous phase that might rattle our willingness for denuclearisation that had been firm". They also said the US was using "gangster-like" diplomatic tactics to get North Korea to stop developing its programme.
"If those requests were gangster-like, the world is a gangster," Mr Pompeo said after the meetings concluded, noting that the US is not the first country to make such demands of Pyongyang and that the sanctions were agreed to by several members of the United Nations.
Recent intelligence reports have suggested North Korea has not taken any steps to end its nuclear weapons development programme despite Mr Trump's previous assurances to the American public.
Register for free to continue reading
Registration is a free and easy way to support our truly independent journalism
By registering, you will also enjoy limited access to Premium articles, exclusive newsletters, commenting, and virtual events with our leading journalists
Already have an account? sign in
Register for free to continue reading
Registration is a free and easy way to support our truly independent journalism
By registering, you will also enjoy limited access to Premium articles, exclusive newsletters, commenting, and virtual events with our leading journalists
Already have an account? sign in
Join our new commenting forum
Join thought-provoking conversations, follow other Independent readers and see their replies