Trump shoots journalists and rival politicians in fake church video 'shown to supporters at his Florida resort'
'Vile and horrific' clip based on movie massacre scene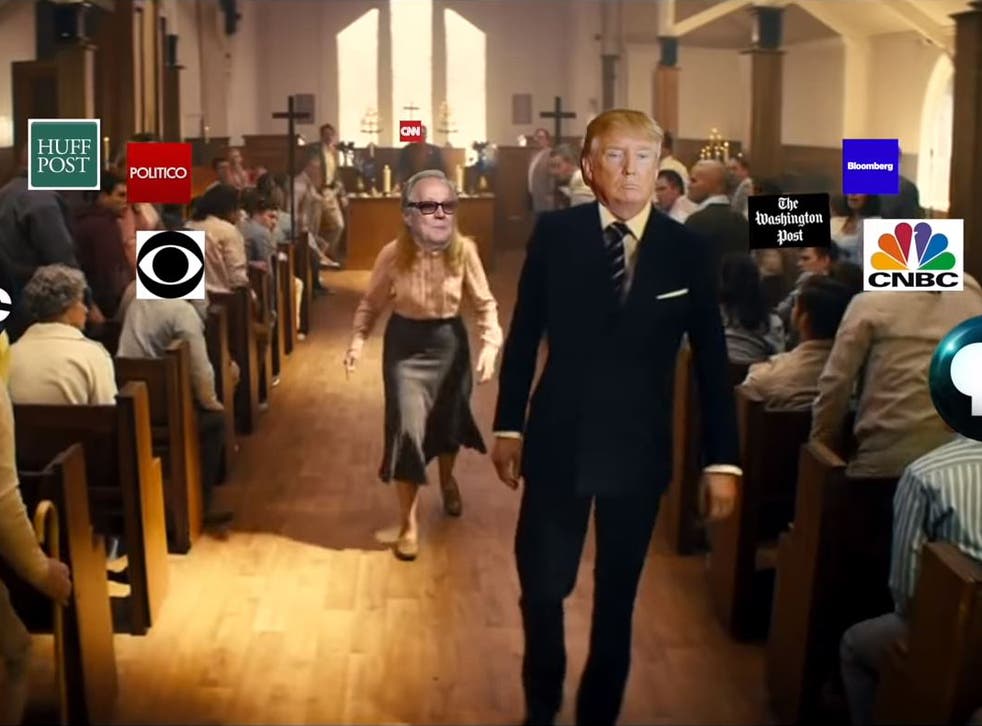 A mocked-up video showing Donald Trump slaughtering media companies and left-wing campaign groups was reportedly shown at the president's Doral golf resort.
The clip, in which Mr Trump's face is superimposed on the secret agent played by Colin Firth in the film Kingsman: The Secret Service, shows the president killing people with the logos of news organisations such as CNN, the BBC and Politico on their heads.
Logos for Buzzfeed, the Washington Post, Black Lives Matter and Barack Obama's presidential campaign were also pasted onto victims of Firth's character in the film's church massacre scene – rebranded the "church of fake news".
The faces of individuals with whom Mr Trump has feuded, including Mr Obama, Mitt Romney, Bernie Sanders and Hillary Clinton, also appear.
According to the New York Times, the four-minute clip was shown during a conference at Doral resort in Miami, Florida, by the American Priority campaign group. Organisers said the video was not seen or sanctioned by them.
Everyone Trump has fired or forced out

Show all 13
Donald Trump Jr and Sarah Huckabee Sanders, the former White House press secretary, reportedly attended the conference but told the newspaper they did not see the video.
In a separate report, CNN also said it had confirmed the clip had been shown at the conference. The broadcaster condemned the video as "vile and horrific", adding: "Sadly, this is not the first time that supporters of the president have promoted violence against the media."
Mr Trump has frequently complained of "fake news" when reports are published that he dislikes, and has labelled journalists "the enemy of the people".
The altered Kingsman clip is similar in style to – though much more violent than – a video the president tweeted in 2017 of him attacking Vince McMahon with a CNN logo superimposed on the WWE mogul's face.
In a statement on Twitter, American Priority said: "This video was not approved, seen, or sanctioned by the #AMPFest19 organizers.
"We find it shocking that the New York Times would not report on any of the sanctioned events ... including our panel conversation LITERALLY condemning political violence, while claiming to be upset over a meme that was not sanctioned, shown on stage, or approved."
Stephanie Grisham, the White House press secretary, said Mr Trump "strongly condemns this video".
Join our new commenting forum
Join thought-provoking conversations, follow other Independent readers and see their replies