Donald Trump's lawyer 'boasted about getting prosecutor fired: 'He will get you'
Mr Bharara was one of the most high-profile prosecutors in the country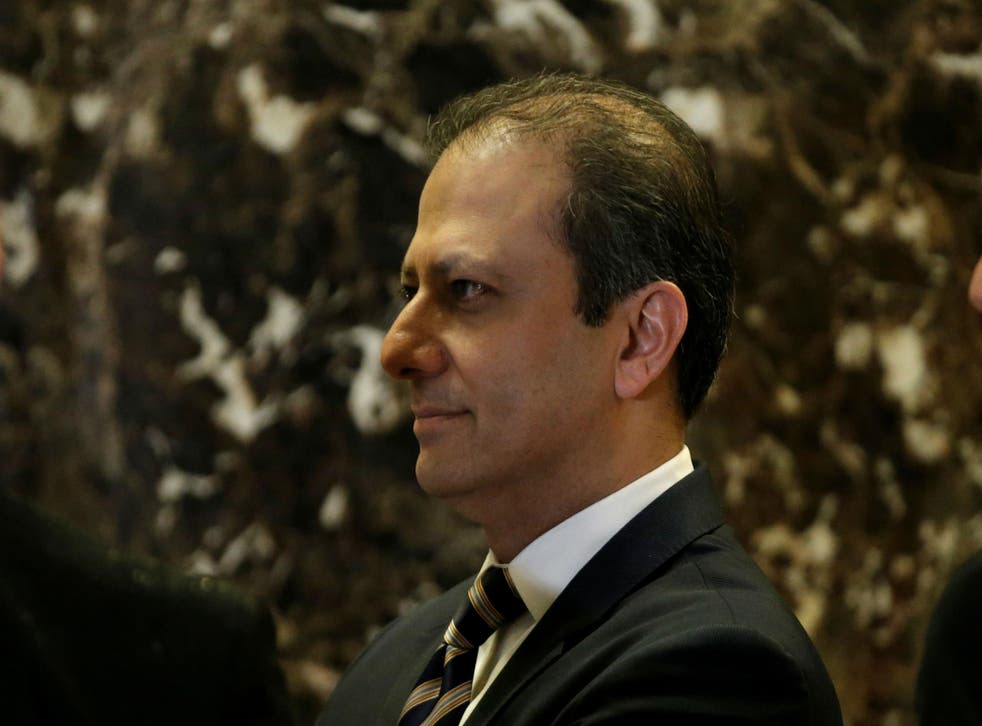 Donald Trump's personal lawyer reportedly bragged that he ensured the firing of a New York prosecutor who was probing the man who would join the President's cabinet.
Marc Kasowitz, a New York lawyer who has over the years been retained frequently by Mr Trump who is currently helping him with the Russia investigation, is said to have bragged to friends and colleagues of the central role he had in the decision to get rid of Preet Bharara, the United States Attorney for the Southern District of New York.
ProPublica said that Mr Kasowitz told his friends he had informed the President: "This guy is going to get you."
It in typical for incoming presidents to ask US Attorneys to resign, as part of the clear out of so-called political appointments. Yet there was speculation that Mr Trump may ask the high-profile Mr Bharara to stay on, after they met in Trump Tower during the transition period.
As it was, Mr Bharara was asked to leave with all the other US Attorneys. When he refused, he was fired on March 1. Among other investigations being handled by Mr Bharara's office, aas an inquiry into stock trades by Tom Price, Mr Trump's Health and Human Services Secretary.
Donald Trump invites Cabinet members to offer message of praise
Last week, Mr Bharara, who is currently a guest academic at the New York University School of Law, told an interviewer hat he was fired after a series of "uncomfortable" telephone calls that made him feel that Mr Trump might be trying to compromise his independence.
World news in pictures

Show all 50
Mr Trump, who was then president-elect, first telephoned in December, "ostensibly to shoot the breeze and asked me how I was doing and wanted to make sure I was OK", Mr Bharara told ABC.
"It appeared to be that he was trying to cultivate some kind of relationship," said Mr Bharara, who has been a frequent critic of the President on social media.
"I'm not the FBI director, but I was the chief federal law enforcement officer in Manhattan with jurisdiction over a lot of things including, you know, business interests and other things in New York."
Neither Mr Kasowitz or Mr Bharara immediately responded to inquiries.
Join our new commenting forum
Join thought-provoking conversations, follow other Independent readers and see their replies