Donald Trump's 'Make America Great Again' hats sold through a Canadian company
The administration was just recently celebrating 'Made in America' week
Mythili Sampathkumar
New York
Tuesday 25 July 2017 15:47 Comments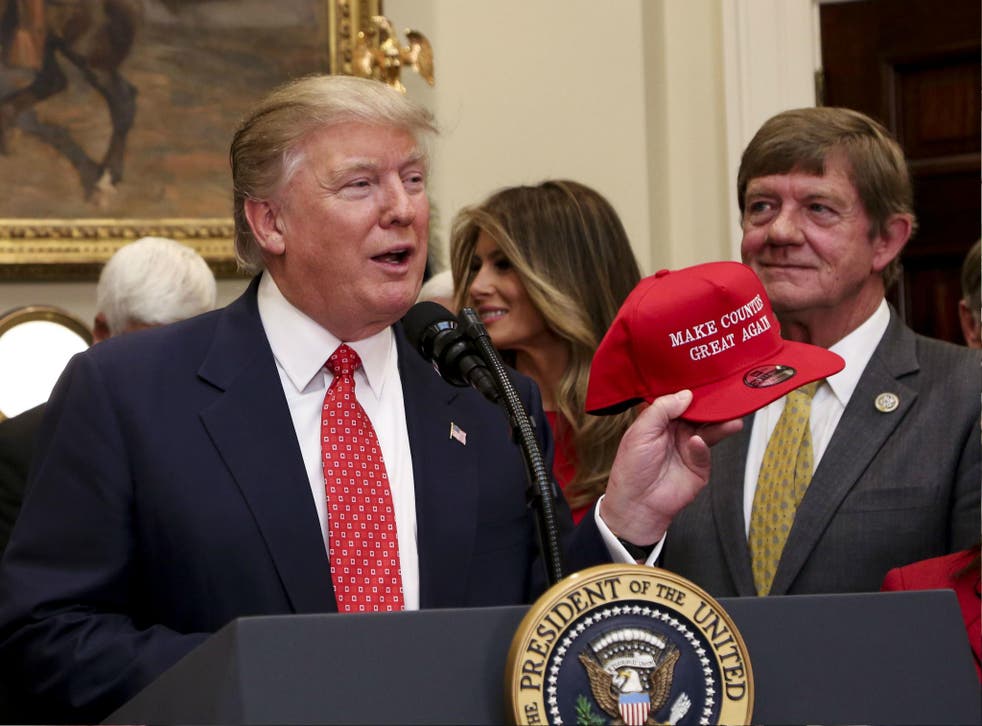 Donald Trump's signature red hats emblazoned with his "Make America Great Again" slogan are actually being sold through a Canadian company.
When looking for MAGA gear, one can go to Shop.DonaldJTrump.com, but a closer look at the site shows it is run by Shopify - an Ottawa-based company founded by German-born Tobias Lütke and Daniel Weinand in 2004.
The Daily Dot reported that the source code and an internet archive shows that the Trump team began using Shopify on 26 August 2016 and were using a sort of native e-commerce site prior to that.
This would be about a month after Mr Trump officiailly became the Republican nominee for president and the election was heating up.
Last year alone, Shopify handled the retail needs of 100 million shoppers according to Fortune magazine.
In addition to the hats, baby onesies, beer can and bottle holders, and golf-related items are some of the items available for sale on the site.
The hats are indeed made in a factory in Los Angeles, but a test conducted by the Associated Press concluded that at least some of the fabric used is not the same type as what the factory said it uses in each of the hats. The origin of that fabric remains unknown.
The President has maintained a focus throughout his campaign and six months in office on growing American manufacturing, jobs, and the economy. Recently, the White House also hosted a series of events for what it dubbed "Made in America" week.
Several American companies were invited to the White House to celebrate their products being made in the US like various alcohol, boats, NASA space suits, regional food specialty products like crab cages from Maryland and cheese from Wisconsin.
"Under the leadership of President Trump, not only will the American worker never be forgotten, but they will be championed," said Mr Trump, unless it comes to selling his campaign's merchandise online.
He even withdrew from the Paris Agreement on climate change, an accord signed by nearly 200 countries in an effort to reduce greenhouse gas emissions, because he felt it puts American workers in the manufacturing and coal industries at an "economic disadvantage".
However, the statistics he cited were proven to be inaccurate and nearly one thousand mayors, governors, company CEOs disagree with that contention saying that building a renewable energy sector would help the economy.
Prior to that, in April 2017 Mr Trump signed the "Buy American and Hire American" executive order in which he pledged that the executive branch of the federal government would buy American-made goods.
It has also been reported that Mr Trump and daughter Ivanka Trump's apparel lines are not made in the US, but in China.
Register for free to continue reading
Registration is a free and easy way to support our truly independent journalism
By registering, you will also enjoy limited access to Premium articles, exclusive newsletters, commenting, and virtual events with our leading journalists
Already have an account? sign in
Join our new commenting forum
Join thought-provoking conversations, follow other Independent readers and see their replies