Trump administration tells asylum officers to take more confrontational approach at Mexico border
Changes require officials to zero in on gaps between what migrants say to US border agents after they are taken into custody and testimony they provide during interview process
Nick Miroff
Thursday 09 May 2019 08:32 Comments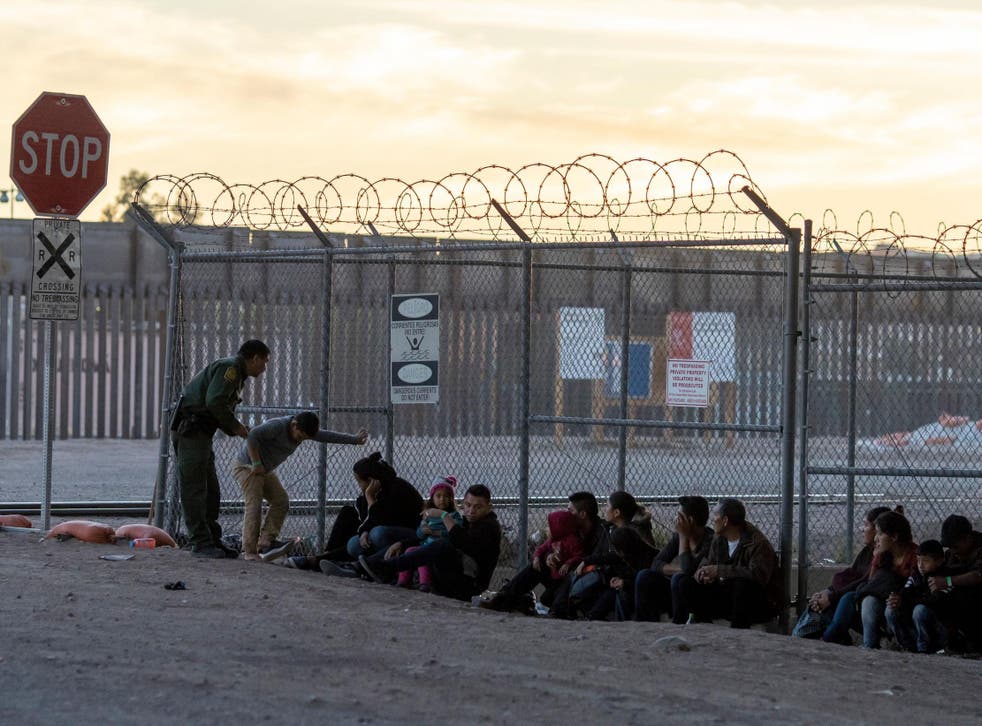 The Trump administration has sent new guidelines to asylum officers directing them to take a more sceptical and confrontational approach during interviews with migrants seeking refuge in the United States.
It is the latest measure aimed at tightening the nation's legal "loopholes" Homeland Security officials blame for a spike in border crossings.
According to internal documents and staff emails obtained on Tuesday by The Washington Post, the asylum officers will more aggressively challenge applicants whose claims of persecution contain discrepancies, and they will need to provide detailed justifications before concluding an applicant has a well-founded fear of harm if deported to their home country.
The changes require officers to zero in on any gaps between what migrants say to US border agents after they are taken into custody and testimony they provide during the interview process with a trained asylum officer.
"Officers conducting credible fear interviews should also be addressing any more detailed inconsistencies between the applicant's testimony during the credible fear interview and other testimony in sworn statement," John Lafferty, the head of the asylum division at US Citizenship and Immigration Services (CIS), wrote to staff in an email, outlining the changes.
Undocumented immigration across the US-Mexico border

Show all 14
The new guidelines and directive to asylum officers are among the most significant steps the administration has taken to limit access to the country for foreigners seeking asylum, whose right to apply for humanitarian protection is protected by US law and rooted in post-World War II international treaties granting refuge to those fleeing persecution.
The changes appear to signal the administration wants to turn away asylum seekers earlier in the legal process, aiming to cut down on the number of applicants who enter the court system and to deter others from attempting to cross into the United States to seek asylum.
Tighter control over asylum claims would fit into a broader White House effort to control the parameters of legal immigration.
White House officials – including senior adviser Jared Kushner – met with Republican members of Congress on Tuesday as they draft a proposal that would base the immigration system largely on an immigrant's ability to contribute to the economy.
The Trump administration has already set lower limits on refugees, is cracking down on visa overstays and has alleged that many asylum seekers crossing the southern border are frauds.
The government also has been sending some asylum seekers back to Mexico as part of a program that calls for migrants to stay on the other side of the border to await their US court hearings.
A federal court blocked the implementation and expansion of the program, and the government has appealed that finding.
The US Court of Appeals for the 9th Circuit, in San Francisco, on Tuesday ruled that the Trump administration can temporarily continue the program while the court waits to hear the case, though two of the three judges on the panel indicated that they had broader legal reservations about the policy.
With a record number of Central American families arriving at the border and swamping US courts with asylum claims, President Donald Trump has repeatedly scoffed at the protections and has told crowds that dangerous criminals are using it to game the system and stay in the United States.
"The asylum program is a scam," Mr Trump said last month in a speech.
"Some of the roughest people you've ever seen, people that look like they should be fighting for the UFC...you look at this guy you say 'wow, that's a tough cookie'!"
One asylum officer, who spoke on the condition of anonymity for fear of retribution, said the changes are "huge" and would make the screening process more time-consuming by requiring officers to provide detailed written analysis before referring an applicant to the courts.
Trump compares US-Mexico border to Disneyland and calls end to family separations a disaster
Jessica Collins, a CIS spokesperson, confirmed that new guidelines – included in a lesson plan Reuters has posted online – were issued to officers, describing them as a "periodic update".
"As part of this periodic update, we have reiterated to asylum officers long-standing policies that help determine an individual's credibility during the credible fear interview and have ensured there are consistent processes for both positive and negative credible fear determinations," Ms Collins said in a written statement.
Homeland Security agencies are already struggling to comply with court orders limiting the amount of time families with children can be held in detention, and further processing delays could exacerbate dangerous overcrowding at Border Patrol stations and immigration jails.
Some areas along the border have been overwhelmed, at times seeing three times as many migrants as they have beds in detention facilities, leading many to be directly released into the United States after initial questioning.
Migrants taken into custody at the border who state a fear of persecution in their homelands typically receive a cursory interview with an asylum officer, and it is up to that officer to evaluate whether the person's story is credible enough to be referred to immigration courts for a fuller assessment.
The initial screening is known as a "credible fear" assessment, and it has become a particular focus of frustration for the White House at a time when illegal border crossings have jumped to a 12-year high, exceeding 100,000 per month.
The influx has swamped US agents and filled Border Patrol stations far beyond their capacity, forcing the government to frequently bypass the credible fear screening process and release tens of thousands of Central American families with little more than a notice to appear in court.
Matthew Albence, the acting director of US Immigration and Customs Enforcement (ICE), said his agency has released 168,000 family members since 21 December.
"We've released four times as many people as we're able to arrest on an annual basis," said Mr Albence, noting that ICE makes approximately 40,000 "at large" arrests of immigration violators in the US interior each year.
Statistics show most migrants who claim persecution pass the initial credible fear screening, but far fewer ultimately receive asylum from a judge.
An avalanche of new applicants in recent years has contributed to a backlog of more than 860,000 cases in US immigration courts, and it can take years for an asylum applicant to get a final answer in court.
That lag time that has created a loophole in US immigration enforcement, Homeland Security officials say, especially for applicants who arrive with children.
Support free-thinking journalism and attend Independent events
They are typically released from custody and allowed to remain in the country while their cases are adjudicated.
The process allows them to spend years living and working in the United States, regardless of whether their claims are ultimately found to be valid.
Trump adviser Stephen Miller has led the push to tighten up the asylum system, and his frustration with the slow pace of change was at the heart of his recent attempt to oust Francis Cissna, the head of CIS, according to three administration officials.
Mr Cissna kept his job after senior GOP senators came to his defence and urged Trump to keep him.
One senior DHS official said Mr Miller and others in the administration are struggling against an asylum officer corps that doesn't share its immigration goals and would rather refer an applicant to the courts than risk making the wrong choice in a rushed decision with life-or-death consequences.
The administration's changes take effect immediately, and asylum officers will be trained in their application in coming weeks, according to the emails and CIS officials.
The overhaul follows a White House directive last week ordering Homeland Security and Justice Department officials to tighten asylum rules by limiting access to work permits for applicants and charging fees for the first time to migrants who arrive on US soil seeking humanitarian protection.
Baby girl returned to Honduran mother after separated and detained at US-Mexico border
Those changes also direct the Justice Department to complete processing of asylum claims within 180 days.
Mr Lafferty also told staff that 10 US Border Patrol agents had volunteered to join a pilot program that will train them to conduct credible fear screenings.
As many as 50 agents will be trained in coming months, he said.
The plan has raised concerns from immigrant advocates who say agents should not be making such consequential decisions about credibility of migrants' deportation fears and their eligibility for humanitarian refuge.
"Credible fear interviews involve the discussion of sensitive, difficult issues," Julie Veroff, of the American Civil Liberties Union's Immigrant Rights Project, wrote Monday, calling the plan "highly concerning".
"Federal law thus requires that credible fear interviews be conducted in a 'non-adversarial manner'," Ms Veroff wrote. "Credible fear interviews have always been conducted by professionals who specialise in asylum adjudication, not immigration enforcement."
Washington Post
Register for free to continue reading
Registration is a free and easy way to support our truly independent journalism
By registering, you will also enjoy limited access to Premium articles, exclusive newsletters, commenting, and virtual events with our leading journalists
Already have an account? sign in
Join our new commenting forum
Join thought-provoking conversations, follow other Independent readers and see their replies