Mexico 'formally asks for clarification' on Trump's plan to deploy US troop to southern border
Mr Trump has called the US's border laws 'very weak'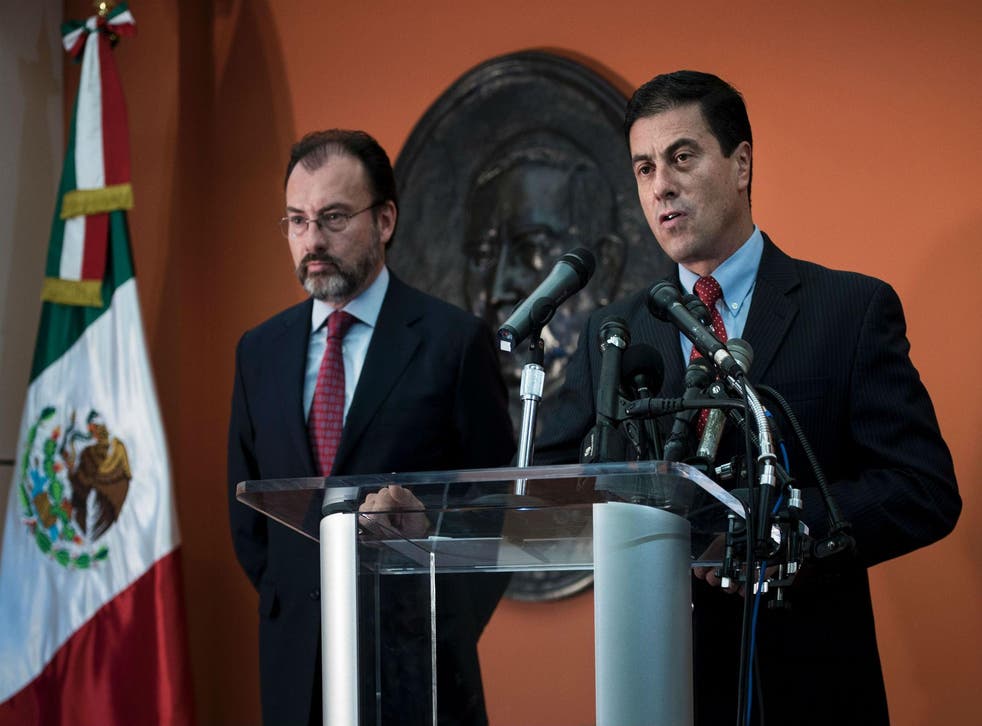 Mexico wants clarification on Donald Trump's announcement that he plans to deploy troops to the US's southern border – a proposal that could lead to another standoff over immigration and border security between America and its neighbour.
Mr Trump has called the US's border laws "very weak" and said he will send the military to guard America's border with Mexico "until we can have a wall and proper security".
Mexico's ambassador to the US, Geronimo Gutierrez, said the Mexican government has formally requested that the Trump administration elaborate on the US preisdent's remarks.
"The Mexican government has formally asked for clarification of the president's statements, both through the State Department and the Homeland Security Department," Mr Gutierrez told CNN, adding that he had personally spoken to Homeland Security Secretary Kirstjen Nielsen.
"The important thing is that both countries share the idea of having a secure border," he said. "We don't always agree in how to achieve that objective, and I do expect that, in the next few hours, we will get clarification on this issue."
Mr Gutierrez said that militarizing the border would not be welcomed by Mexico. However, further clarification by the Trump administration is necessary to determine "where we are", he added.
Mexican Foreign Secretary Luis Videgaray said in a tweet that "the Mexican government will define its reaction on the basis of that clarification, and always in defense of our sovereignty and national interests."
During a meeting at the White House with leaders of Baltic nations, Mr Trump said "we cannot have people flowing into our country illegally, disappearing and, by the way, never showing up for court."
For days, Mr Trump has been ramping up his rhetoric on immigration and border security, possibly to mobilise his base ahead of upcoming special elections and the midterm elections in November.
Later at a news conference, the president said he would soon meet with Defence Secretary Jim Mattis to discuss having the US military deployed to the border.
World news in pictures

Show all 50
Such a move would dramatically escalate the US presence along the border, which is currently guarded by the US Border Patrol.
Both Barack Obama and George W Bush sent troops to the border during their presidencies. But it is unclear why Border Patrol agents would need help from the Defence Department right now, given that illegal border crossings are at the lowest level in decades, the Washington Post reported.
One of Mr Trump's advisers told the newspaper that the president is worried about his political base because he has not yet received enough funding from Congress to finance his border wall and immigration policies.
Last month, Mr Trump grudgingly signed a massive budget bill that allocated $1.6bn for border security this year, even though the president at one point wanted $25bn to fully fund the construction of his border wall.
Mr Trump had originally said the wall would be paid for by Mexico. The president has now reportedly floated the idea of getting the Pentagon to pay for it since the department received a huge boost in funding under the budget measure.
On Wednesday, Mr Trump urged Congress to change immigration laws.
"Our Border Laws are very weak while those of Mexico & Canada are very strong," Mr Trump tweeted. "Congress must change these Obama era, and other, laws NOW! The Democrats stand in our way – they want people to pour into our country unchecked....CRIME! We will be taking strong action today."
It wasn't immediately clear what action he was alluding to.
Join our new commenting forum
Join thought-provoking conversations, follow other Independent readers and see their replies