Members of Trump's White House team 'sh*****g bricks' after Michael Flynn's guilty plea
'Everyone is paranoid'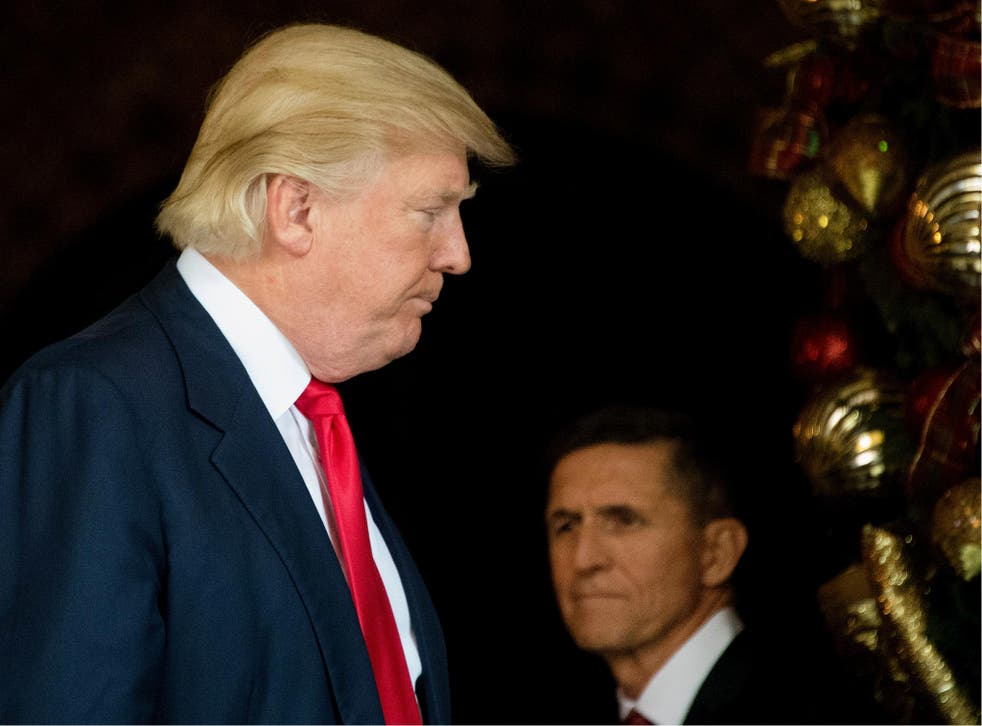 Donald Trump's aides are said to be "sh***ing bricks" following the guilty plea deal made by his ex-national security adviser Michael Flynn.
Special counsel Robert Mueller's probe into possible collusion between Donald Trump's campaign team and Russia struck at the heart of the White House last week, with Mr Flynn admitting that he lied to the FBI about contacts with a senior Russian diplomat.
Mr Flynn agreed to cooperate with investigators as part of his plea deal, reportedly worrying Trump aides already concerned about how an ex-campaign adviser's secret plea deal was kept quiet for months.
"Everyone is paranoid," a person close to Trump's White House told Politico. "Everyone thinks they're being recorded."
After being arrested in July, George Papadopoulos began cooperating with Mr Mueller's investigation. But it wasn't until early October when Mr Papadopoulos, as part of a deal with investigators, pleaded guilty to making false statements to the FBI.
Making cooperating witnesses wear wires is a routine law enforcement tactic that is often used in criminal cases. It is done to obtain recordings of other conspirators and witnesses talking about their behaviour - material that could be used as evidence to press charges.
White House attorneys and private counsel representing both current and former Trump aides told Politco they have asked their clients whether they had any communications with Mr Flynn or Mr Papadopoulos that could have been secretly recorded.
The biggest names involved in the Trump-Russia investigation

Show all 17
"They're probably sh***ing bricks," said an attorney who represents a senior Trump aide caught up in the Russia investigation. "How can you not?"
Members of Mr Mueller's team are under intense scrutiny, with an army of Trump allies watching them like hawks to catch any ethics violations.
One of the biggest no-no's for the special counsel would be wiring up a witness to talk with someone he knows already has a lawyer representing them on the subject matter that is being discussed on the tape.
White House lawyer Ty Cobb said he didn't expect Mr Mueller to use Mr Papadopoulos or Mr Flynn as witnesses to help his case, especially to record anyone who is represented by a lawyer.
"Mueller is too good a professional and too good a prosecutor to tape represented individuals, and he doesn't want his office or his important mission to be tainted," Mr Cobb told Politico.
Join our new commenting forum
Join thought-provoking conversations, follow other Independent readers and see their replies