Judge rejects Trump's administration's blanket request to delay reuniting children at border
'It must comply with the time frame unless there is an articulable reason'
Andrew Buncombe
New York
Saturday 07 July 2018 17:18 Comments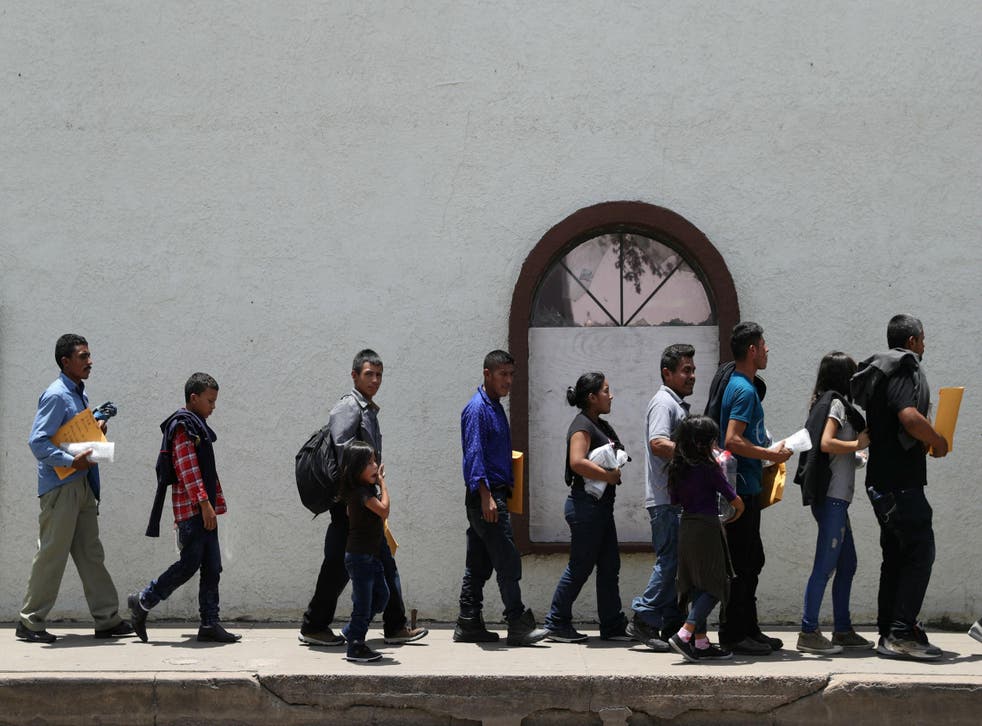 A federal judge has refused a blanket request from the Trump administration for extra time time to reunite migrant children and their parents separated at the US-Mexico border, saying extensions will only granted in cases where there was an "articulable" reason.
Last month, District Judge Dana Sabraw issued an order for the government to reunite up to 3,000 children split from their families as a result of a "zero tolerance" immigration policy that resulted in officials charging anyone apprehended crossing the border illegally. He ordered children under the age of five to be reunited with their parents by July 10, and for all children to be reunited by July 26.
As the government responded to the court order, making use of DNA testing to speed up the process, it appealed for extra time to reunite families. "The Department of Health and Human Services (HHS) anticipates, however, in some instances it will not be able to complete the additional processes within the timelines the court prescribed, particularly with regard to class members who are already not in government custody," the government's lawyers wrote last week.
But Mr Sabraw rejected the blanket request for extra time, acknowledging instead, that more time may be justified only in specific cases. The administration said it needed more time to reunite 101 children under 5 years old to ensure the children's safety and to confirm their parental relationships.
"There's always going to be tension between a fast release and a safe release," said Sarah Fabian, a Justice Department lawyer, according to the Associate Press.
On Friday, Mr Sabraw ordered the government to share a list of the 101 children with the American Civil Liberties Union, which successfully sued to force the reunions. The two sides will try to determine over the weekend which cases merit a delay in an effort to present a unified front in court on Monday morning.
Melania Trump visits Arizona border patrol facility: 'I'm here to support you'
"The government must reunite them," the judge said. "It must comply with the time frame unless there is an articulable reason."
The administration has matched 86 parents to 83 children and 16 are not yet matched, Ms Fabian said.
Undocumented immigration across the US-Mexico border

Show all 14
On Thursday, Health and Human Services Secretary Alex Azar told reporters fewer than 3,000 children were believed to have been separated, but that includes children who may have lost parents along the journey, not just parents who were detained at the border.
"HHS knows the identity and location of every minor in the care of our grantees," said Mr Azar. "And HHS is executing on our mission, even with the constraints handed down by the courts."
The judge, who was appointed by President George W Bush, set the deadline last week, writing that the "situation has reached a crisis level" and said the "chaotic circumstances" were of the government's own making.
Register for free to continue reading
Registration is a free and easy way to support our truly independent journalism
By registering, you will also enjoy limited access to Premium articles, exclusive newsletters, commenting, and virtual events with our leading journalists
Already have an account? sign in
Join our new commenting forum
Join thought-provoking conversations, follow other Independent readers and see their replies