Republican leader Mitch McConnell 'doubts whether Trump can salvage his administration'
The feud between the President and the Majority Leader could threaten the Republican legislative agenda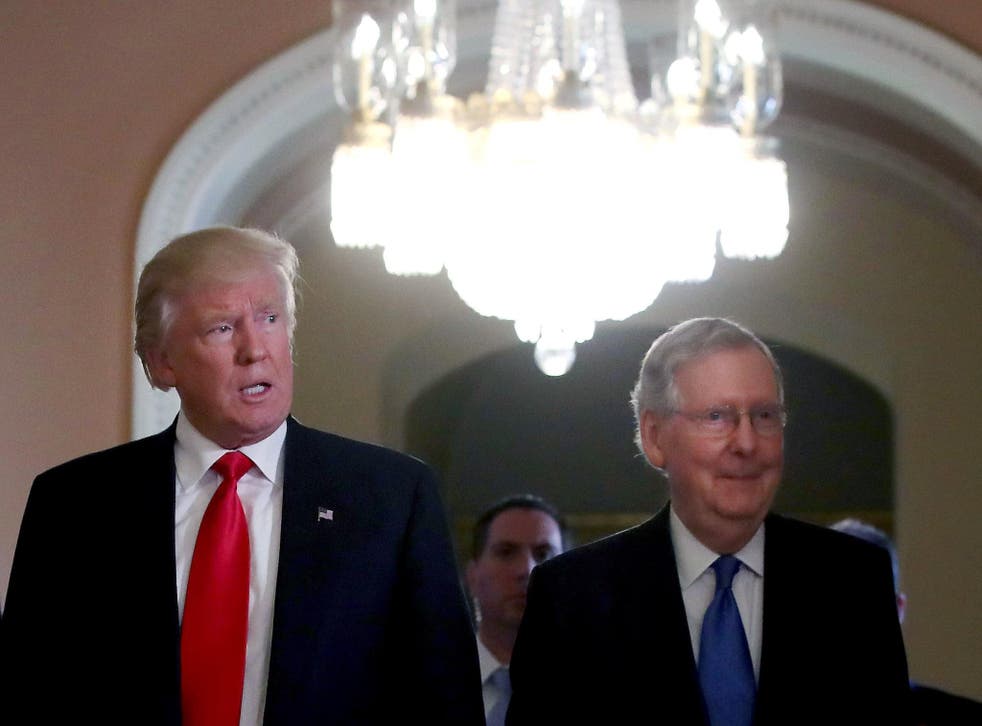 The top Republican in the Senate is said to be privately questioning whether Donald Trump can "salvage" his administration and has reportedly not spoken to the President for weeks.
The cold relationship between Mr Trump and Senate Majority Leader Mitch McConnell could threaten the Republican legislative agenda, which is already months behind schedule.
Members of the party face several urgent deadlines when they return to Washington next month, and Mr Trump has still not secured a major legislative victory since being inaugurated in January.
Relations between Mr Trump and Mr McConnell appeared to frost earlier this month after the majority leader failed to get enough support for a bill that would have dismantled Obamacare, otherwise known as the Affordable Care Act. Less than two weeks after the Republicans' colossal defeat, Mr McConnell contended that the President's "excessive expectations" about the speed of the democratic process.
"Senator Mitch McConnell said I had 'excessive expectations,' but I don't think so," Mr Trump fired back on Twitter. "After 7 years of hearing Repeal & Replace, why not done?"
The President continued to berate Mr McConnell on the social media platform and, according to the New York Times, got into a profane shouting match with the senator during a phone call on 9 August.
Iran's 'Trumpism' contest

Show all 10
The newspaper reported that Mr McConnell has expressed anger and frustration over Mr Trump's regular threats against fellow Republicans and criticism of Senate rules.
The majority leader has apparently also mused over whether the President will be in a position to lead the Republican party during the 2018 midterm elections and beyond, the Times said, citing people who have spoken to Mr McConnell directly.
The issue is complicated by the face that McConnell's wife, Elaine Chao, is in Mr Trump's cabinet serving as his Secretary of Transportation.
When asked last week what she thought of her boss's criticism of her husband, Ms Chao told reporters, "I stand by my man – both of them."
Register for free to continue reading
Registration is a free and easy way to support our truly independent journalism
By registering, you will also enjoy limited access to Premium articles, exclusive newsletters, commenting, and virtual events with our leading journalists
Already have an account? sign in
Register for free to continue reading
Registration is a free and easy way to support our truly independent journalism
By registering, you will also enjoy limited access to Premium articles, exclusive newsletters, commenting, and virtual events with our leading journalists
Already have an account? sign in
Join our new commenting forum
Join thought-provoking conversations, follow other Independent readers and see their replies