Trump's Covid vaccine chief fired from GSK board after sexual assault allegations
GlaxoSmithKline revealed Moncef Slaoui was terminated following an investigation into allegations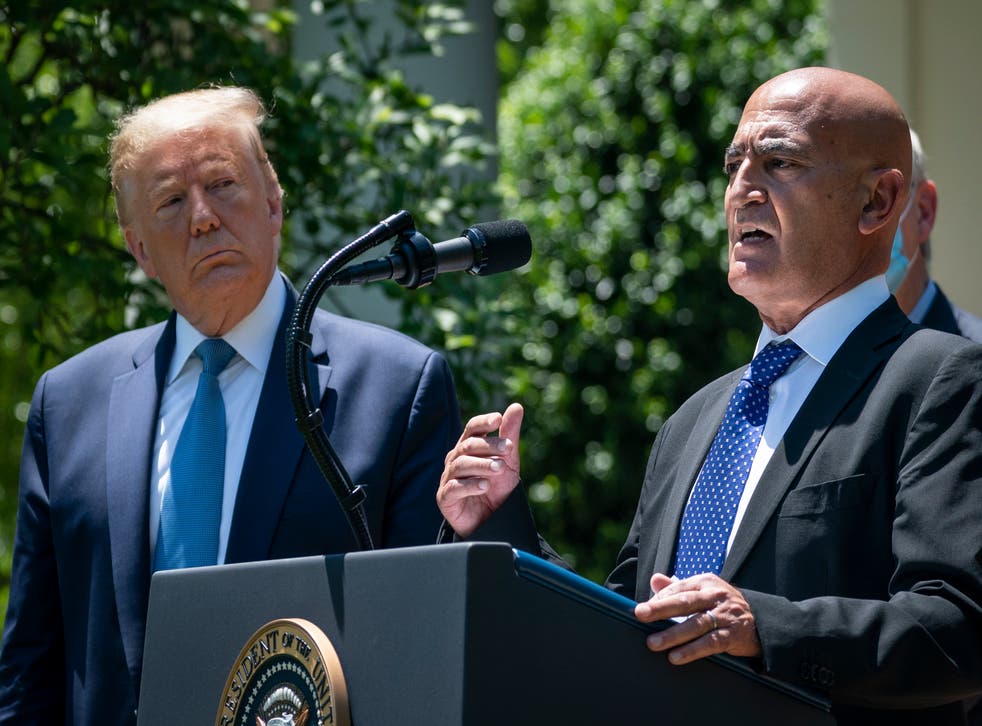 Leer en Español
Moncef Slaoui, the vaccine specialist who guided President Donald Trump and his administration in the development of Operation Warp Speed, has been fired from the board of a medical company on Wednesday over sexual harassment allegations.
GlaxoSmithKline revealed that Dr Slaoui was terminated from his position as board of director of majority held Galvani Bioelectronics after the company launched an investigation into allegations against the specialist.
The company received a letter in February that detailed alleged "sexual harassment and inappropriate conduct" towards "an employee of GSK by Dr Slaoui" occurring "several years ago," according to a statement released by GSK.
Dr Slaoui, 61, has worked for 30 years at GSK by overseeing vaccine development for the pharmaceutical company. He was credited with leading the creation of 14 vaccines over 10 years.
"Upon receipt of the letter, the GSK Board immediately initiated an investigation with an experienced law firm to investigate the allegations," GSK said. "The investigation of Dr Slaoui's conduct substantiated the allegations and is ongoing."
Read more:
"Dr Slaoui's behaviours are wholly unacceptable," GSK added.
In a statement, Mr Slaoui apologised for his behaviour.
"I have the utmost respect for my colleagues and feel terrible that my actions have put a former colleague in an uncomfortable situation. I would like to apologise unreservedly to the employee concerned and I am deeply sorry for any distress caused," he said.
Galvani Bioelectronics is a medical research company dedicated to developing bioelectronic medicines that help treat chronic illnesses. It was created through a partnership with GSK and Verily Life Sciences.
Prior to Dr Slaoui being fired from GSK, he was tapped by the Trump administration in May 2020 to lead Operation Warp Speed, which worked to develop vaccines amid the coronavirus pandemic. Upon the announcement, the Trump administration boasted about Dr Slaoui's expertise at GSK in vaccine development as their reasoning for selecting him to run the federal program.
His appointment received criticism, though, due to his connections to pharmaceutical giant Moderna, which was developing and now has a coronavirus vaccine that's received emergency use authorisation from the Food and Drug Administration (FDA). Dr Slaoui sold his shares to Moderna and resigned from his position on the company's board, but he refused to sell his stock in GSK.
Dr Slaoui handed in his resignation to the incoming Biden administration in January as the chief of Operation Warp Speed.
"I do not want my departure from the role to have anything to do with the new administration. I have more affinity for the new administration than the current one," Dr Slaoui, a registered Democrat, said at the time. "This doesn't have to be black and white. I can continue to be available as needed."
He has since been working as an adviser for the European Union as it rolls out coronavirus vaccines to the public. 
GSK CEO Emma Walmsley revealed Dr Slaoui's firing to employees in an email.
"On a personal level, I am shocked and angry about all of this, but I'm resolute," she said. "I want to be clear that sexual harassment is strictly prohibited and will not be tolerated."
Besides losing his position with the company, GSK would also be removing Dr Slaoui's name from its research and development center in Rockville, Maryland, which was previously called The Slaoui Center for Vaccines Research.
Join our new commenting forum
Join thought-provoking conversations, follow other Independent readers and see their replies