Roy Moore: Donald Trump tells Alabamians to 'get out and vote' for accused candidate
The President has taken a position at odds with the views of many in the Republican party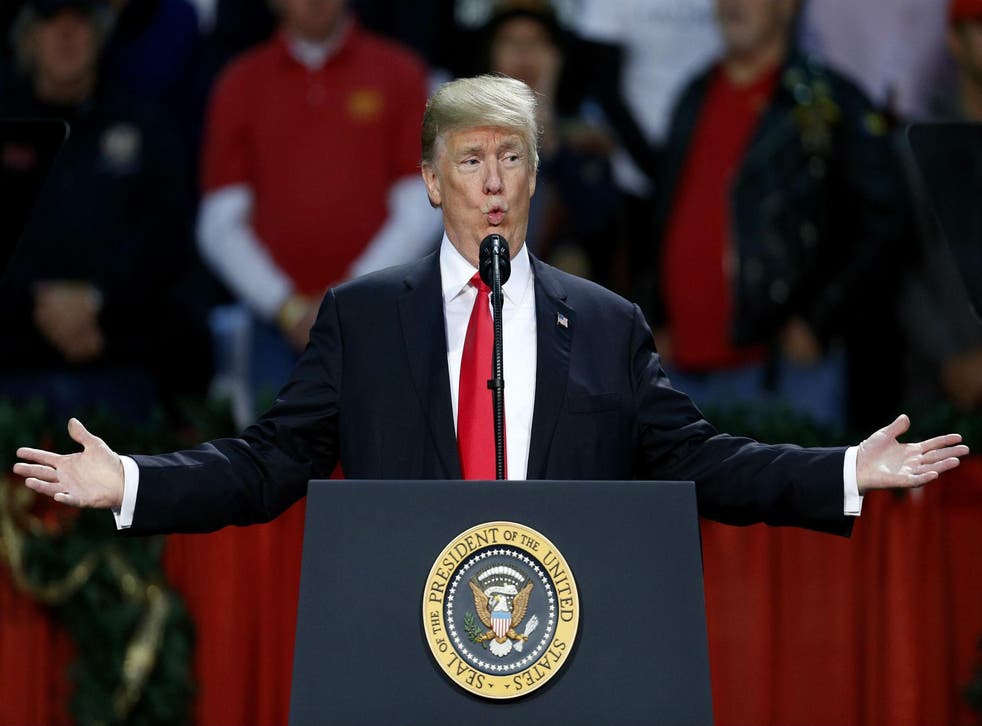 Just four days before a crucial special election for a US Senate seat in Alabama, President Donald Trump has again told Alabamians to "Get out and vote for Roy Moore", the Republican candidate dogged by sexual misconduct allegations.
The US leader appeared to cast doubt on the claims of Beverly Young Nelson, who has accused Mr Moore of sexually assaulting her decades ago when she was a teenager. Mr Moore has vehemently denied all the allegations against him.
"How many people here are from the great state of Alabama?" Mr Trump asked a cheering crowd in Pensacola, Florida - which is located about 25 miles from the Alabama border.
"I have to say this - did you see what happened today? There was a little mistake made. She started writing things in the yearbook," he said, referring to Ms Nelson.
Earlier in the day, Ms Nelson acknowledged that she added a notation under a high school yearbook inscription she says Mr Moore wrote in 1977. The candidate and his allies have seized on the admission, using it to argue that Ms Nelson's allegations against him are not true.
At a news conference with Ms Nelson, her lawyer Gloria Allred revealed the findings of a handwriting analyst who had determined that the signature on the inscription belonged to Mr Moore.
Several women, including one who was 14 at the time, also claim that Mr Moore had inappropriate contact with them decades ago.
Donald Trump's least presidential moments so far...

Show all 30
The President's endorsement of Mr Moore and his mention of Ms Nelson during his address show that he has chosen to stand with the accused rather than women who say Mr Moore abused them.
"We cannot afford - this country, the future of this country - cannot afford to lose a seat in the very very close United States Senate," Mr Trump said to the approving crowd.
"We can't afford it folks. We can't afford to have a liberal Democrat who is completely controlled by Nancy Pelosi and Chuck Schumer," he added, referring to the top Democrats in the House of Representatives and Senate, respectively.
After taking a swipe at the Democratic candidate Doug Jones, calling him a "puppet", Mr Trump declared: "We need somebody in that Senate seat who will vote for our Make America Great Again agenda, which involves tough on crime, tough on borders… building the wall, strengthening our military, continuing our great fight for our veterans."
He continued: "We want jobs, jobs, jobs, so get out and vote for Roy Moore."
There is still question over whether the allegations against Mr Moore will have the ability to derail his chances of being elected. Alabama has voted Republican in every presidential election since 1980, demonstrating the hold the party has over the state.
By endorsing Mr Moore, Mr Trump has taken a position at odds with the views of many in his own party.
Senate Majority Leader Mitch McConnell originally said that Mr Moore should withdraw from the race, but on Sunday he said he was "going to let the people of Alabama make the call." On Tuesday, Mr McConnell said if Mr Moore was elected, "he would immediately have an issue with the Ethics Committee."

Join our new commenting forum
Join thought-provoking conversations, follow other Independent readers and see their replies