Donald Trump says he will negotiate new Nafta deal rather than 'terminate' it
Mr Trump says he was planning on terminating US participation in the agreement 'three days from now' but will give renegotiation a 'good shot'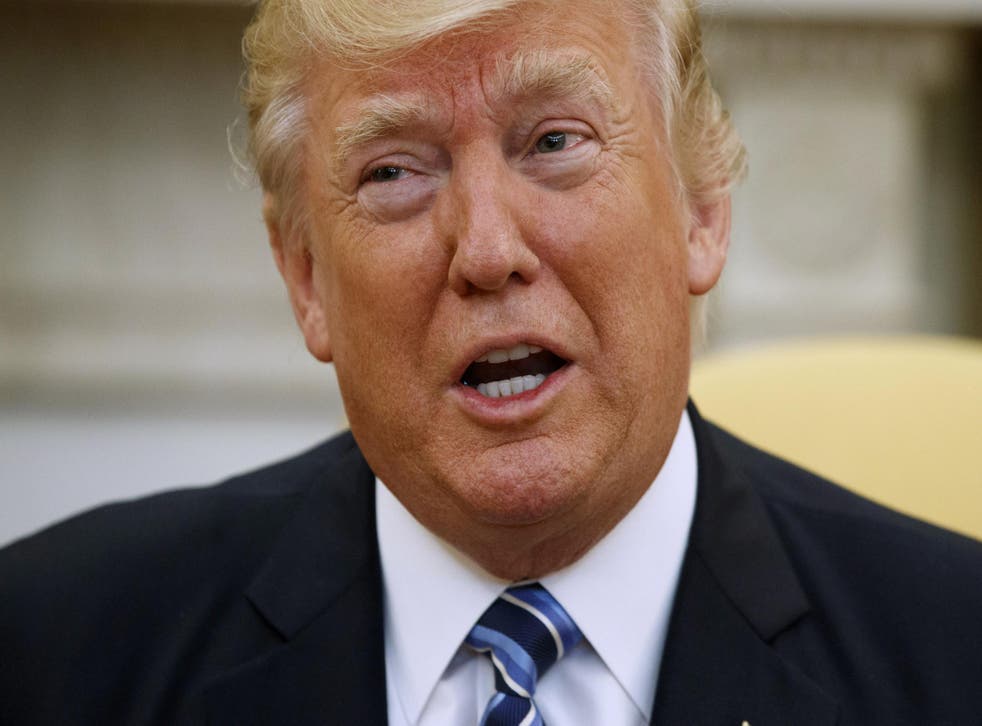 Donald Trump has said he will try to renegotiate the North American Free Trade Agreement (Nafta) rather than "terminate" it, as he had previously threatened.
Speaking before a White House meeting with Argentine President Mauricio Macri, Mr Trump said that he had been planning to "terminate Nafta as of two or three days from now," but had been persuaded to reconsider, which he acknowledged "would be a pretty big, you know, shock to the system."
Mr Trump added, "Now, if I'm unable to make a fair deal, if I'm unable to make a fair deal for the United States, meaning a fair deal for our workers and our companies, I will terminate Nafta. But we're going to give renegotiation a good, strong shot." He later said renegotiation was "starting today."
That came after Mr Trump had tweeted about a softening of his position. "I received calls from the President of Mexico and the Prime Minister of Canada asking to renegotiate Nafta rather than terminate," Mr Trump said in a tweet. "I agreed, subject to the fact that if we do not reach a fair deal for all, we will then terminate Nafta. Relationships are good-deal very possible!"
Mr Trump had escalated his rhetoric on Nafta in recent days, even slapping his administration's' first sanctions on Canadian imports. At an executive order signing in Wisconsin, he said Nafta had been "very, very bad for our companies and for our workers," and promised to "make some very big changes" or "get rid of Nafta once and for all."
On Wednesday, however, Mr Trump spoke with both Canadian Prime Minister Justin Trudeau and Mexican President Pena Nieto, in what the White House described as "pleasant and productive" calls.
"President Trump agreed not to terminate NAFTA at this time," the White House said, "and the leaders agreed to proceed swiftly, according to their required internal procedures, to enable the renegotiation of the Nafta deal to the benefit of all three countries."
The controversial orders Donald Trump has already issued

Show all 9
Mr Trump is required to give Mexico and Canada six months notice before pulling out of the deal. His tough talk this week signalled that notice may be coming, making both world leaders anxious. Mr Trudeau reportedly called Mr Trump twice – on Tuesday and Wednesday – to discuss trade.
Several senators also urged the president not to pull out of the multilateral trade deal – an action experts say could set off a trade war between the three countries.
"Withdrawing from #NAFTA would be a disaster for #Arizona jobs & economy," Arizona Senator John McCain tweeted on Wednesday. "@POTUS shouldn't abandon this vital trade agreement"
The anti-Nafta rhetoric, however, is not new for Mr Trump, who has called the agreement "the worst trade deal maybe ever signed anywhere." He has promised to renegotiate or pull out of the deal since as early as 2015.
Join our new commenting forum
Join thought-provoking conversations, follow other Independent readers and see their replies