German magazine depicts Trump giving Nazi salute on cover
The headline is a reference to Adolf Hitler's autobiography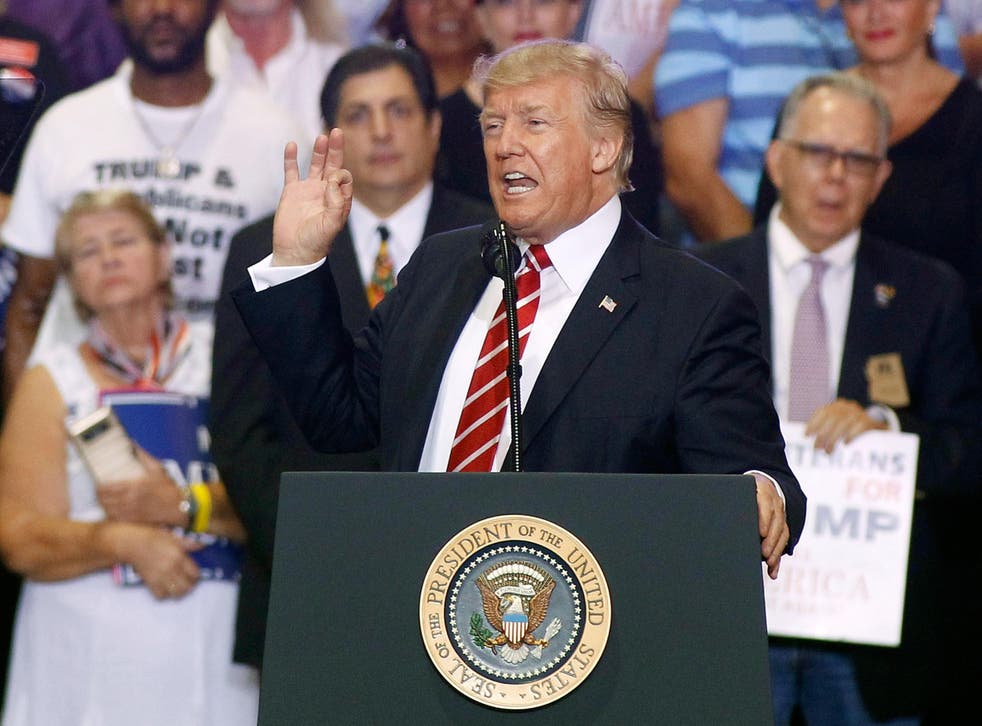 A German magazine has plastered a depiction of Donald Trump giving the Nazi salute on its cover amid outcry over the President's response to a white supremacist rally.
The cover features a doctored image of Mr Trump giving the infamous salute, while draped in an American flag.
"Sein Kampf," reads the headline, or "his struggle" – a reference to Adolf Hitler's autobiography, Mein Kampf. The subheadline reads: "Neo Nazis, Ku Klux Klan, racism: How Donald Trump fuelled hatred in America".
The cover was circulated by Stern, a left-leaning German magazine that has been published weekly in the country since 1948. But Stern is not the first magazine to link Mr Trump to controversial, racist groups: Both the New Yorker and the Economist published covers tying Mr Trump to the KKK earlier this month.
The covers come on the heels of a white supremacist rally in Charlottesville, Virginia. Some attendees at the rally carried Nazi and Confederate flags, performed the Nazi salute, and chanted: "Jews will not replace us".
The rally-goers were met by counter-protesters, who chanted slogans such as: "No Trump! No KKK! No fascist USA!" Three people were killed and dozens were injured in connection with the event.
Mr Trump, in response, decried the violence on "both sides" of the protest. He later condemned neo-Nazis and the KKK, but maintained that there were some "fine people" at the rally.
"You had many people in that group other than neo-Nazis and white nationalists. Okay?" he said. "And the press has treated them absolutely unfairly."
Violence on the streets of Charlottesville

Show all 9
Almost 60 per cent of voters now say Mr Trump's decisions and behaviour have encouraged white supremacist groups, according to a recent Quinnipiac University poll. Only three per cent say he has discouraged these groups.
According to the Anti Defamation League, anti-Semitic incidents spiked 86 per cent in the first three months of Mr Trump's presidency.
The leader of a prominent KKK group previously told The Independent that he saw record interest in his group after Mr Trump was elected.
"I've been doing this for over 20 years and I haven't seen the Klan grow at the pace it's growing now," Chris Barker, an Imperial Wizard of the KKK, said. "...Now that Trump is President, it seems like it's getting even better, because more whites are starting to be more proud."
Register for free to continue reading
Registration is a free and easy way to support our truly independent journalism
By registering, you will also enjoy limited access to Premium articles, exclusive newsletters, commenting, and virtual events with our leading journalists
Already have an account? sign in
Register for free to continue reading
Registration is a free and easy way to support our truly independent journalism
By registering, you will also enjoy limited access to Premium articles, exclusive newsletters, commenting, and virtual events with our leading journalists
Already have an account? sign in
Join our new commenting forum
Join thought-provoking conversations, follow other Independent readers and see their replies