Trump claims NFL TV audience 'way down' and forcing players to stand for anthem is only way to win viewers back
The president has repeatedly attacked the protests by a number of players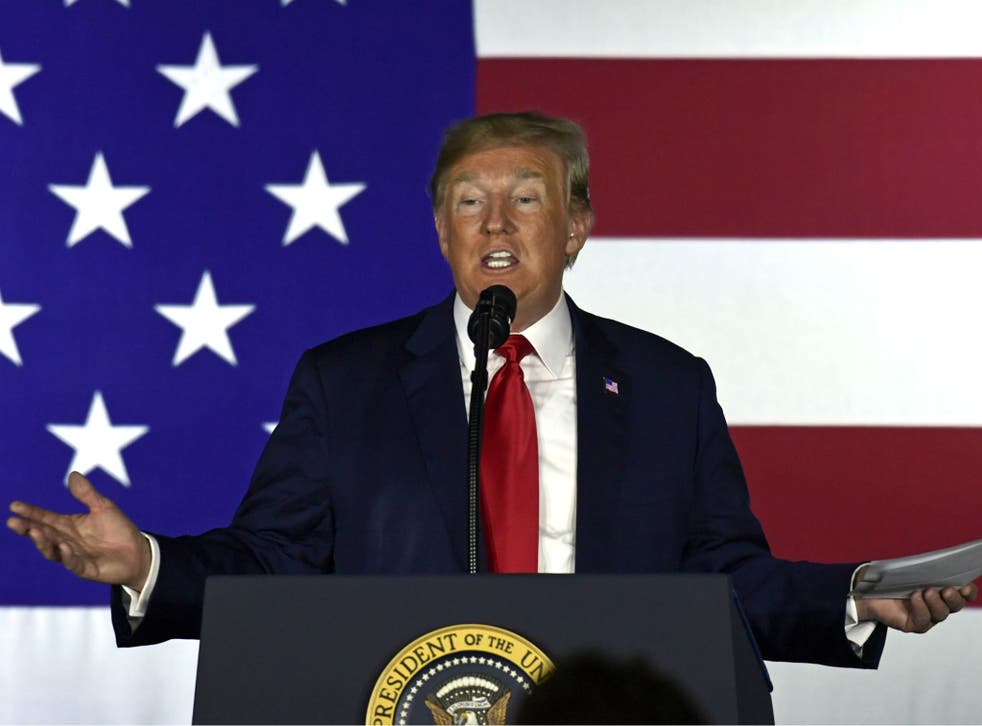 Donald Trump has once again claimed that television ratings for the NFL are "way down" and that forcing players to stand for the national anthem is the way to bring them back.
The president has repeatedly attacked the protests, which started with former San Francisco 49ers player Colin Kaepernick taking a knee for the anthem during a game in 2016, using it to fire-up his supporter base.
According to the players, the protests are a peaceful demonstration against the systematic bias against people of colour in the US, despite previous tweets from the president claiming most players "are unable to define" why they are kneeling.
"Wow, NFL first game ratings are way down over an already really bad last year comparison. Viewership declined 13%, the lowest in over a decade," Mr Trump tweeted on Sunday, citing no evidence. "If the players stood proudly for our Flag and Anthem, and it is all shown on broadcast, maybe ratings could come back? Otherwise worse!"
Before the NFL kicked-off it new season this week, the issue of the protests had already been put back in the spotlight after sportswear giant Nike announced it was using Kaepernick in its new advertising campaign marking the 30th anniversary of its "Just Do It" slogan.
Nike first released billboard adverts on Labour Day, consisting of a black-and-white close-up of the player's face alongside the slogan: "Believe in something, even if it means sacrificing everything."
The company followed that with a television advert several days later, featuring Mr Kaepernick and a number of athletes signed to the brand, including Serena Williams and LeBron James.
Nike's 'Just Do It' video ad featuring NFL quarterback Colin Kaepernick
The campaign sparked some protests, with so of those believing that players should stand for the anthem burning items of Nike apparel or calling for a boycott.
But the ad was praised by other sports stars such as Tiger Woods, who told ESPN: "I think Nike is trying to get out ahead of it and trying to do something special, and I think they've done that."
The rapper Common called the ad "beautiful and powerful and inspiring".
American sportspeople kneel in protest

Show all 14
While shares in the company initially dropped by 3.16 per cent, the move appears to have paid off, with the company's online sales rising 31 per cent in the days after the campaign launched on Labour Day, according to research by e-commerce analyst Edison Trends.
The campaign has drawn the ire of the president, who has previously called on NFL owners to fire players who took part.
Mr Trump criticised both Nike and Kaepernick in an interview with Fox News before a rally in Montana on Thursday.
"I don't like what Nike did. I don't think it's appropriate what they did," the president said.
"I honour the flag. I honour our national anthem and most of the people in this country feel the same way."
Join our new commenting forum
Join thought-provoking conversations, follow other Independent readers and see their replies