Donald Trump attacks NFL players for kneeling on Thanksgiving and says the league is 'hemorrhaging'
The President has repeatedly criticised players for kneeling during the national anthem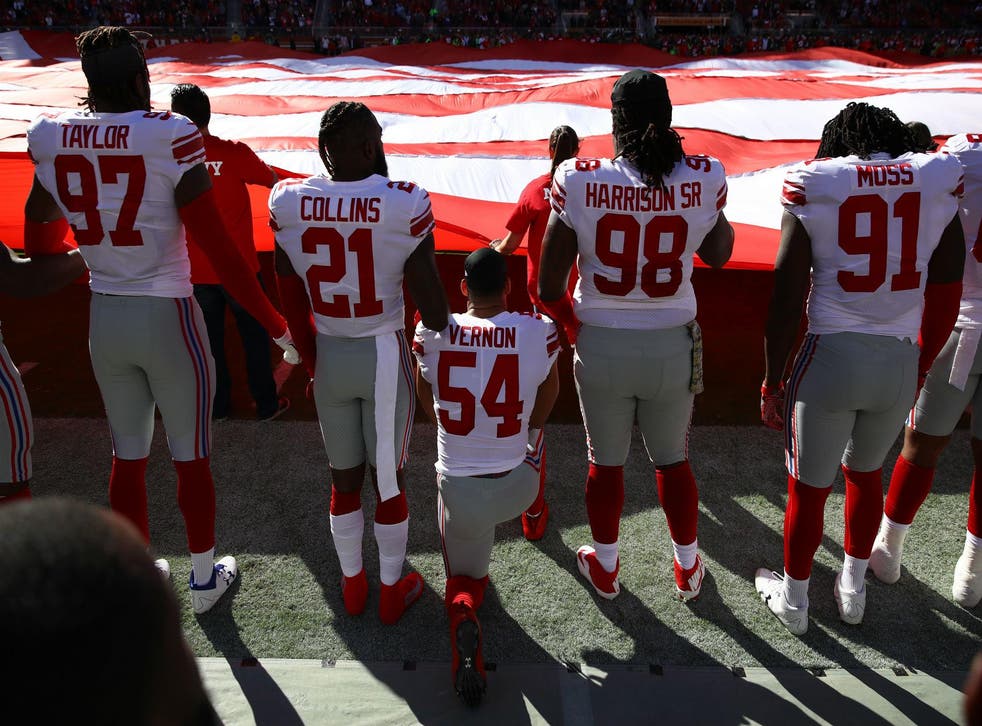 President Donald Trump has continued his attacks on NFL players, saying the league is "hemorrhaging".
His comments came after New York Giants defensive end Olivier Vernon knelt during the national anthem at a Thanksgiving game.
"Can you believe that the disrespect for our Country, our Flag, our Anthem continues without penalty to the players," Mr Trump tweeted. "The Commissioner has lost control of the hemorrhaging league. Players are the boss!"
Mr Trump has repeatedly criticised players who have kneeled during the national anthem as a form of protest.
The movement that began last year when Colin Kaepernick, then a quarterback for the San Francisco 49ers, began doing so to highlight, as he has said, police brutality and racial injustice.
Donald Trump's least presidential moments so far...

Show all 30
In September, the President suggested the NFL should fire players who kneel. The comments, at a rally, started a feud between Mr Trump and the players, who began protesting in unity during the anthem at games.
The league said last month it has no plans to implement a ban on kneeling during the anthem. NFL spokesman Joe Lockhart said the commissioner planned to speak to the teams and owners "about how to use our platform to both raise awareness and make progress on issues of social justice and equality in this country."
Join our new commenting forum
Join thought-provoking conversations, follow other Independent readers and see their replies