Nikki Haley denies 'disgusting' rumours about 'affair' with Donald Trump
The rumours had swirled online for some time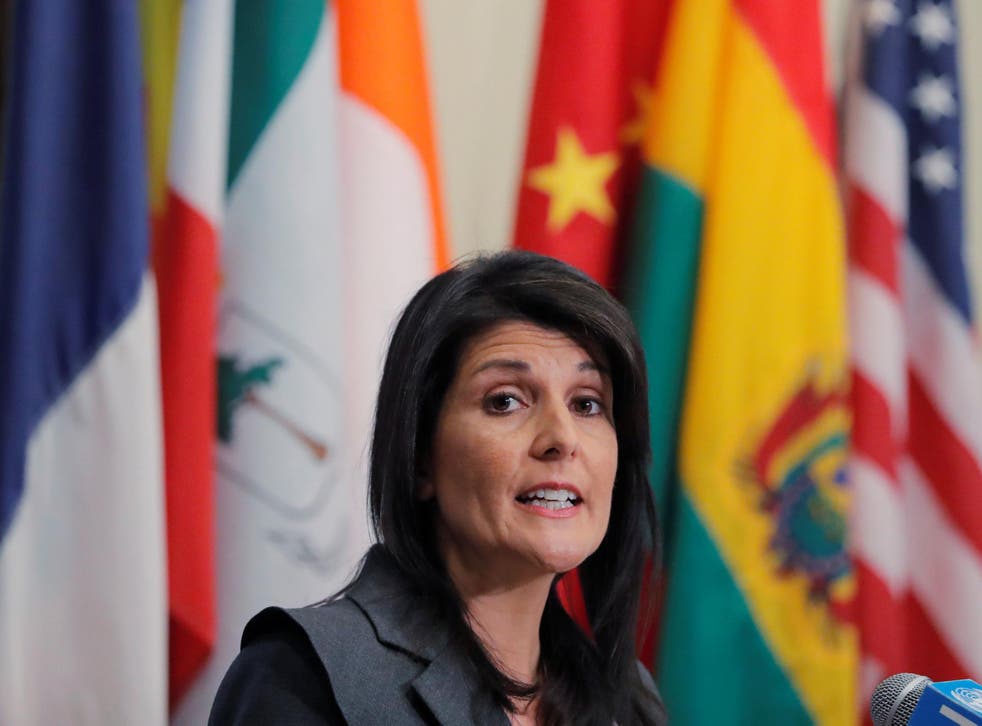 US Ambassador to the United Nations Nikki Haley has responded to rumours that her swift ascension into President Donald Trump's inner circle was a pleasant perk of an affair with the former business mogul.
Ms Haley, speaking to Politico's podcast Women Rule, said the rumours are "highly offensive" and "disgusting".
They're not true, she said, and are simply the predictable result of a strong woman earning seats of power.
Nikki Haley: Iranians have become "so fed up with their oppressive government"
"It is absolutely not true," Ms Haley said. "I have literally been on Air Force One once and there were several people in the room when I was there."
The rumours began after journalist Michael Wolff told television comedian Bill Maher that he was "absolutely sure" that Mr Trump was having an affair. Mr Wolff wrote the recently released book Fire and Fury: A year inside the Trump White House, which details a turbulent first year in Mr Trump's presidency.
That book has also been criticised for sloppy copy editing, and glaring factual inaccuracies.
Mr Wolff, speaking to Mr Maher, said that he was "absolutely sure" that the President is having an affair, but wasn't confident enough to include the allegation in his book.
"Now that I've told you, when you hit that paragraph, you're gonna say, 'Bingo,'" he said.
That comment sparked a furious search by people online to try and identify the sentence he referenced.
Donald Trump's first year: in pictures

Show all 29
They landed on this line from Mr Wolff's book: "The president had been spending a notable amount of private time with Haley on Air Force One and was seen to be grooming her for a national political future."
"He says that I've been talking a lot with the president in the Oval about my political future. I've never talked once to the president about my future and I am never alone with him," Ms Haley said on the podcast.
"So, the idea that these things come out, that's a problem," Ms Haley continued. "But it goes to a bigger issue that we need to always be conscious of: At every point in my life, I've noticed that if you speak your mind and you're strong about it and you say what you believe, there is a small percentage of people that resent that and the way they deal with it is to try and throw arrows, lies or not."
Ms Haley was the governor of South Carolina during the 2016 campaign, and was reluctant to throw her support behind Mr Trump's campaign. At one point, Ms Haley said that she was "not a fan" of Mr Trump, prompting the then-candidate to claim that her constituents were "embarrassed" by her.
The former governor was already seen as a rising star in the Republican Party when she later joined the Trump administration, and had been picked by the party to deliver the yearly rebuke to President Barack Obama in 2016.
The White House did not immediately respond to a request for comment on the rumours.
Register for free to continue reading
Registration is a free and easy way to support our truly independent journalism
By registering, you will also enjoy limited access to Premium articles, exclusive newsletters, commenting, and virtual events with our leading journalists
Already have an account? sign in
Register for free to continue reading
Registration is a free and easy way to support our truly independent journalism
By registering, you will also enjoy limited access to Premium articles, exclusive newsletters, commenting, and virtual events with our leading journalists
Already have an account? sign in
Join our new commenting forum
Join thought-provoking conversations, follow other Independent readers and see their replies