Trump plays his cards close to his chest in 'poker game' over North Korea's nuclear programme
Analysis: Despite recent talks between North and South Korea – which have cooled tensions slightly – the regime in Pyongyang is still the biggest global issue facing Donald Trump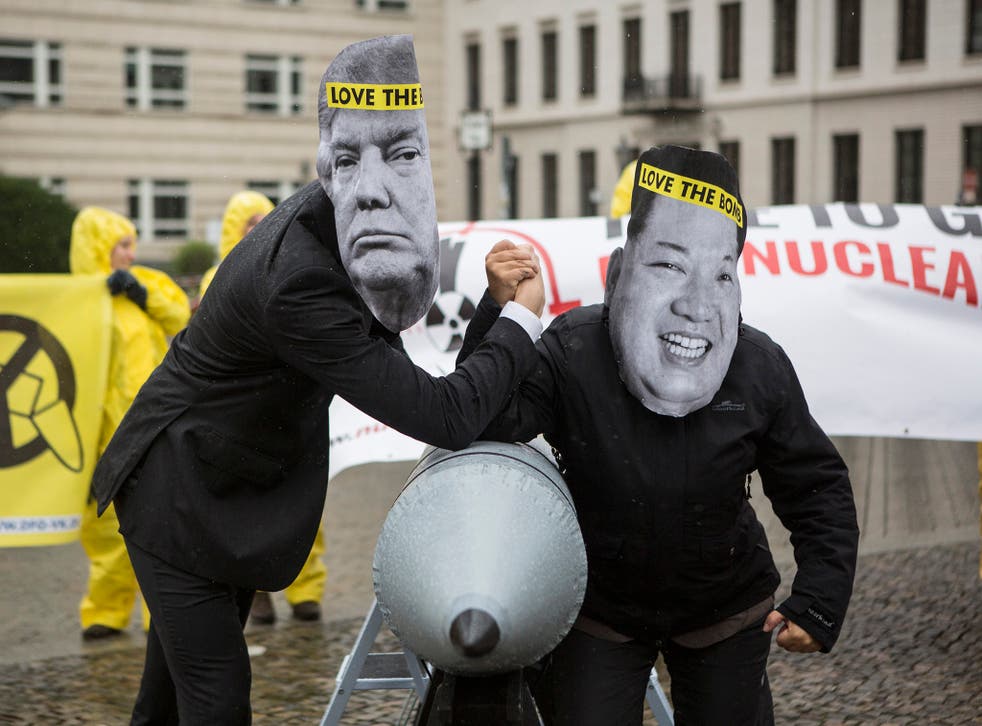 North Korea is one of the issues that has defined the first year of Donald Trump's presidency, combining a number of elements the global community has come to expect from the White House incumbent: vague statements, bravado and a flurry of Twitter messages.
In an interview this week Mr Trump said that the US was playing "a very, very hard game of poker and you don't want to reveal your hand" but what is certain is that the stakes over the North's nuclear weapons programme certainly increased throughout last year thanks to a mixture of the increase in missile tests by Pyongyang and a similar lift in the intensity of the rhetoric coming out of Washington.
This year started with talks between North and South Korea, where the pair have agreed to march under a unified Korean flag as the North send a team to February's Winter Olympics held by its neighbour in Pyeongchan. The first high-level talks between the two nations in more than two years are a sign of a thaw, although whether it leads to any more movement after the Games is open to question. It was an easy win for North Korean leader Kim Jong-un to agree to a move that will give the country exposure and offers them a level of legitimacy in an international setting they have not had for a while.
The recent mistake in Hawaii, where a false alert of a ballistic missile threat caused panic, shows how quickly things can change and Mr Trump is seemingly in no mood to play down the threat, saying Pyongyang is steadily advancing in its ability to deliver a missile to the United States – a move that Mr Kim has repeatedly threatened.
"They're not there yet, but they're close. And they get closer every day," Mr Trump told Reuters.
While he has previously said he is open to getting involved with talks with North Korea, his latest comments suggests he may have cooled on the idea, saying he was "not sure that sitting down will solve the problem".
Donald Trump's first year: in pictures

Show all 29
Answering questions in the wake of each North Korea missile test with "we'll see what happens" – one of his favourite non-committal answers – or "we'll take care of it" are not what others want to hear. While a pragmatist like Mr Trump wants to keep options open, including military action, vague statements open the door to miscommunication. While he has had some personal success on a visit to the region in rallying those to his cause, officials in the United Nations have often sounded exasperated as they repeatedly urge caution and a return to negotiations.
While Mr Trump has recently toned down the "fire and fury" rhetoric that he said would be his response to any act of aggression by North Korea, he has refused to rule out a pre-emptive strike against Pyongyang to show the US is serious in its intentions.
This open-ended approach has led to a number of occasions where the Trump administration has not always appeared to be on the same page – despite protests from the White House that all departments are working closely. One recent example in mid-December was Secretary of State Rex Tillerson saying that the US "has no preconditions" to starting talks with North Korea, only for White House officials to brief that that was not the case the all. Three days later, Mr Tillerson was back out in public and suggesting that Pyongyang would have to "work its back" to the negotiating table by halting its missile tests for a prolonged period. A position more in line with the White House.
North Korea and South Korea open line of communication
However, recent statements by Mr Tillerson talking up the effect of recent sanctions, including those signed off by the UN have had on North Korea, have shown a line seemingly more consistent with Mr Trump's and certainly this is likely where the US will keep applying pressure into Mr Trump's second year. "We are getting a lot of evidence that these sanctions are really starting to hurt," Mr Tillerson said, citing intelligence and anecdotal evidence from defectors. Talking at a Stanford University event in California, Mr Tillerson added that South Korean President Moon Jae-in had attributed North Korea's recent willingness to talk to the pain caused by the sanctions.
Both Mr Tillerson and Mr Trump offered cautious praise for China over their efforts to implement sanctions, with Mr Tillerson saying they have "leaned hard" on Pyongyang. Both instead turned their attention to Russia, accusing them of not complying with the UN measures, a charge denied by Moscow, according to Russia media, but it is worth noting that Mr Trump has said "Russia is not helping us at all with North Korea," almost the exact language he used against China last year.
As for direct diplomacy for the US, a recent report by Lisa Collins – a fellow at the Centre for Strategic International Studies – on 25 years of diplomacy by the US with North Korea suggests that provocations from Pyongyang have slowed during times the country has been invited to the negotiating table.
Mr Trump has blamed his three immediate predecessors, Bill Clinton, George W Bush and Barack Obama, for failing to resolve the crisis, but has talked up his own mental aptitude: "I guess they all realised they're going to have to leave it to a president that scored the highest on tests," he said.
A prudent course may be to see where discussions between North and South Korea go and instead apply pressure on other nations. The carrot and stick approach applied to China, and now potentially Russia, may not be subtle, but it does lessen the need for a direct confrontation – rhetorical or otherwise – with Mr Kim.
Join our new commenting forum
Join thought-provoking conversations, follow other Independent readers and see their replies