Incoming national security adviser John Bolton casts doubts on North Korea talks
The hawkish new national security adviser has argued for a preemptive military strike on North Korea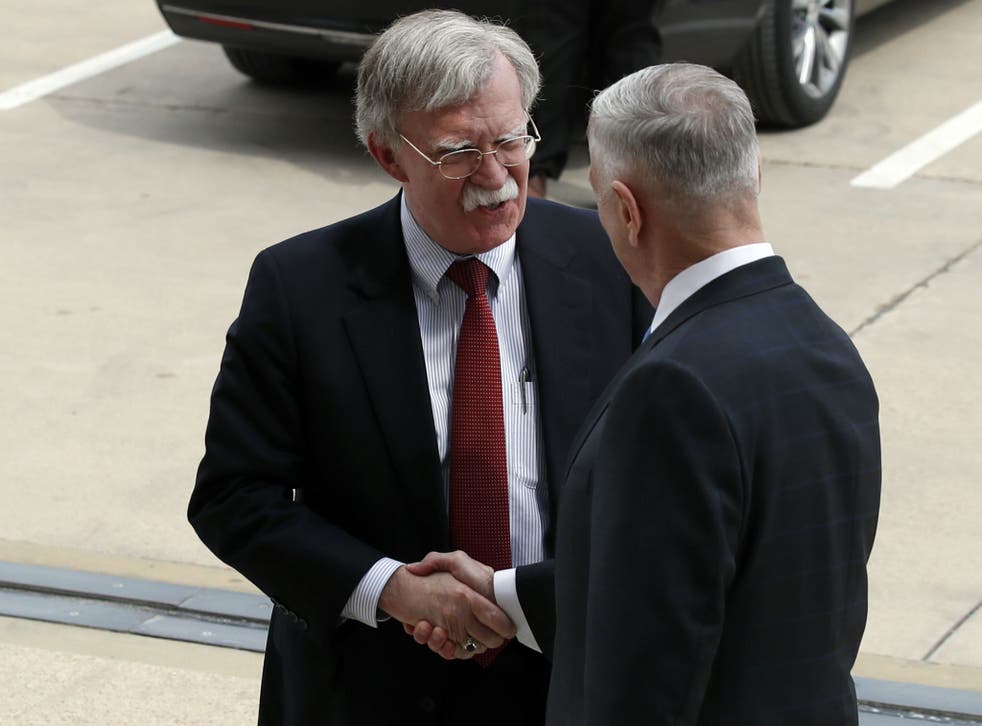 Donald Trump's hawkish new choice for national security adviser has cast doubt on upcoming talks with North Korea, a Republican senator said.
"He has a very healthy scepticism of North Korea", Lindsey Graham, a South Carolina Republican and administration ally, said of newly elevated adviser John Bolton in an appearance on Fox News Sunday.
"I had dinner with Bolton a couple of nights ago. His big fear is that they're just buying time", Mr Graham said. "He sees these negotiations as a way of buying time".
Mr Bolton's ascendance comes at a critical time for the world's effort to contain North Korean military ambitions, with a rare diplomatic window offering glimmers of a breakthrough.
The president has agreed to North Korean leader Kim Jong-un's proposal that the two heads of state meet face-to-face, an unprecedented move that has fanned hopes of a peaceful resolution to mounting tensions on the Korean peninsula. Mr Kim has said he is committed to "denuclearisation", according to a South Korean envoy who detailed the overture.
But wariness about the sincerity of North Korea's intentions abounds. The United States has continued to maintain pressure on the regime, backing new sanctions on companies accused of doing business with Pyongyang and this weekend joining South Korean troops in holding military exercises.
US/South Korea joint exercise Operation Pacific Reach

Show all 10
In selecting Mr Bolton to be his top security aide, Mr Trump ensured a pro-military intervention voice will be prominent in his administration.
A vocal supporter of the American invasion of Iraq, Mr Bolton has advocated preemptive military strikes on Iran and North Korea.
He has long been leery of diplomacy's efficacy, famously saying that if the United Nations headquarters "lost 10 stories, it wouldn't make a bit of difference". He has warned in recent months that diplomatic efforts to quell North Korean aggression are futile.
"I think the only diplomatic option left is to end the regime in North Korea by effectively having the South take it over", Mr Bolton told Fox News last year.
Newly appointed US National Security Advisor John Bolton 'wasn't expecting' Trump to make the announcement with a tweet
He will now be advising a president who has shown few compunctions about threatening foes with a military strike. As North Korea tested intercontinental ballistic missiles and a hydrogen bomb, Mr Trump and his surrogates repeatedly warned America could respond with overwhelming force.
"The US has great strength and patience," Mr Trump said in his first speech to the United Nations, but "if it is forced to defend ourselves or our allies, we will have no choice but to totally destroy North Korea."
The escalating martial rhetoric has given way to cautious expressions of optimism amid North Korea's latest overture. Pyongyang's offer of talks with the US came with a pledge to suspend weapons tests, a South Korean envoy said.
North Korea did not condition talks on an end to joint US military drills with South Korea, which the regime regularly condemns as laying the groundwork for an invasion. Another round of military exercises kicked off this weekend.
Register for free to continue reading
Registration is a free and easy way to support our truly independent journalism
By registering, you will also enjoy limited access to Premium articles, exclusive newsletters, commenting, and virtual events with our leading journalists
Already have an account? sign in
Register for free to continue reading
Registration is a free and easy way to support our truly independent journalism
By registering, you will also enjoy limited access to Premium articles, exclusive newsletters, commenting, and virtual events with our leading journalists
Already have an account? sign in
Join our new commenting forum
Join thought-provoking conversations, follow other Independent readers and see their replies