Donald Trump announces three US prisoners being freed by North Korea
Announcement comes amid preparations for US-North Korea summit
Chris Stevenson
New York
,
Emily Shugerman
Wednesday 09 May 2018 13:44 Comments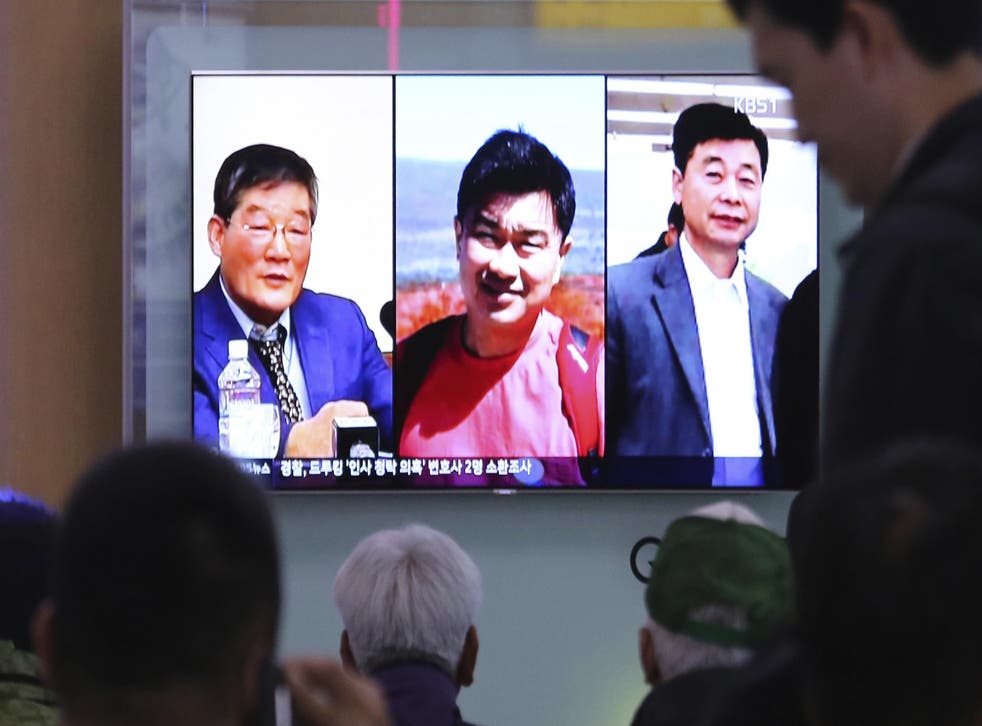 US President Donald Trump has said the secretary of state, Mike Pompeo, will return from a trip to North Korea with three American detainees, who "seem to be in good health".
"I am pleased to inform you that Secretary of State Mike Pompeo is in the air and on his way back from North Korea with the three wonderful gentlemen that everyone is looking so forward to meeting. They seem to be in good health," Mr Trump tweeted.
Mr Trump said he will greet Mr Pompeo and the Americans when they land at Andrews Air Force Base outside Washington early on Thursday morning. "Very exciting!" he wrote on Twitter. The news was a chance for Mr Trump to tout a diplomatic success, a day after facing heavy criticism from Europe for pulling the US out of the Iran nuclear deal.
The fate of Korean-Americans Kim Dong Chul, Kim Hak-song and Kim Sang Duk – known as Tony Kim – had been among a number of delicate issues in the run-up to the first ever meeting between Mr Trump and North Korean leader Kim Jong-un.
Mr Trump sent Mr Pompeo to Pyongyang to accompany the men home following calls from Washington for Mr Kim to free them as a gesture of sincerity before the US-North Korea meeting, which is expected to take place in late May or early June. The release appears to be an effort by Mr Kim to set a favourable tone ahead of the unprecedented summit.
The White House said in a statement that Mr Trump viewed the detainees' release as "a positive gesture of goodwill". The statement confirmed the Americans were in good condition, and able to walk onto the plane without assistance.
"I appreciate Kim Jong-un doing this and allowing them to go," Mr Trump told reporters at the White House. He also thanked Chinese President Xi Jinping, saying Beijing was "helpful" in securing the men's freedom, and described pre-summit discussions with North Korea as "serious and positive".
Escape from North Korea

Show all 16
Little is known about the conditions the men faced in North Korea.
Kim Dong-chul, a South Korea-born US citizen, was detained in 2015 and sentenced to 10 years of hard labour in 2016. He was accused of stealing military secrets for South Korea – a claim the country denies.
Tony Kim, a worker at Pyongyang University of Science and Technology, was arrested last year on espionage charges. Fellow PUST worker Kim Hak-song was arrested two weeks later on suspicion of "hostile acts". Many of the foreigners detained in North Korea in the past have said the government had forced them into making false confessions.
Trump on North Korea meeting: 'we have a date and location'
Reports surfaced last week that the men had been had been transferred to a hotel near Pyongyang ahead of their release. While the White House would not confirm the reports, press secretary Sarah Huckabee Sanders said the detainees' release would be "an incredible sign of goodwill" in the lead-up to the US-North Korea summit.
Mr Trump also hinted that the release might be coming, telling his Twitter followers to "stay tuned" last week.
The family of Tony Kim thanked Mr Trump, saying in a statement: "We are very grateful for the release of our husband and father, Tony Kim, and the other two American detainees."
North Korea released American college student Otto Warmbier from detention late last year. However, that only escalated tensions with Washington, as the 22-year-old was in a coma, and died a week after being returned to his parents without ever regaining consciousness.
The president announced his secretary of state's surprise visit to North Korea on Tuesday, with North Korean officials reportedly visiting Mr Pompeo's hotel in Pyongyang to inform them that Mr Kim had granted the release of the detainees.
"You should make care that they do not make the same mistakes again," a North Korean official was said to have told Mr Pompeo, according to Reuters. "This was a hard decision."
The detainees were in the air less than an hour after leaving custody. Asked what his first words were to the freed Americans, Mr Pompeo told reporters on his plane: "Although we a€™re not quite back home yet, I welcomed them back. They were happy to be with us on this plane, to be sure."
Mr Pompeo said that his meetings with the North Koreans were "very productive". The secretary of state had previously held a secret meeting with Mr Kim in April to lay the groundwork for the summit. Mr Trump said a "good relationship" was formed at the Easter weekend meeting.
Mr Kim has also met with the South Korean president, Moon Jae-in, in recent weeks – even crossing the border into South Korea for the first time. The leaders agreed to officially end the Korean War, and agreed on a goal of denuclearising the Korean Peninsula.
South Korea hailed the release of the detainees as a positive step and called for Pyongyang to release six South Korean detainees.
James Mattis, the US defence secretary, said that the release of the detainees showed "there is reason for some optimism that these [upcoming] talks could be fruitful". He added, however, that the US troop presence in South Korea, one of North Korea's biggest issues, would not be part of initial negotiations with Pyongyang.
Mr Trump said he will announce the location of the summit "within three days" but he ruled out the location being the Korean Demilitarised Zone (DMZ). There are reports that Singapore will likely be the chosen meeting place.
Register for free to continue reading
Registration is a free and easy way to support our truly independent journalism
By registering, you will also enjoy limited access to Premium articles, exclusive newsletters, commenting, and virtual events with our leading journalists
Already have an account? sign in
Join our new commenting forum
Join thought-provoking conversations, follow other Independent readers and see their replies