Trump's first 100 days compared to Obama's: All the laws, golf trips, holidays and poll ratings
President Trump has spent a lot of time playing golf in Florida
Clark Mindock
New York
Friday 28 April 2017 18:19 Comments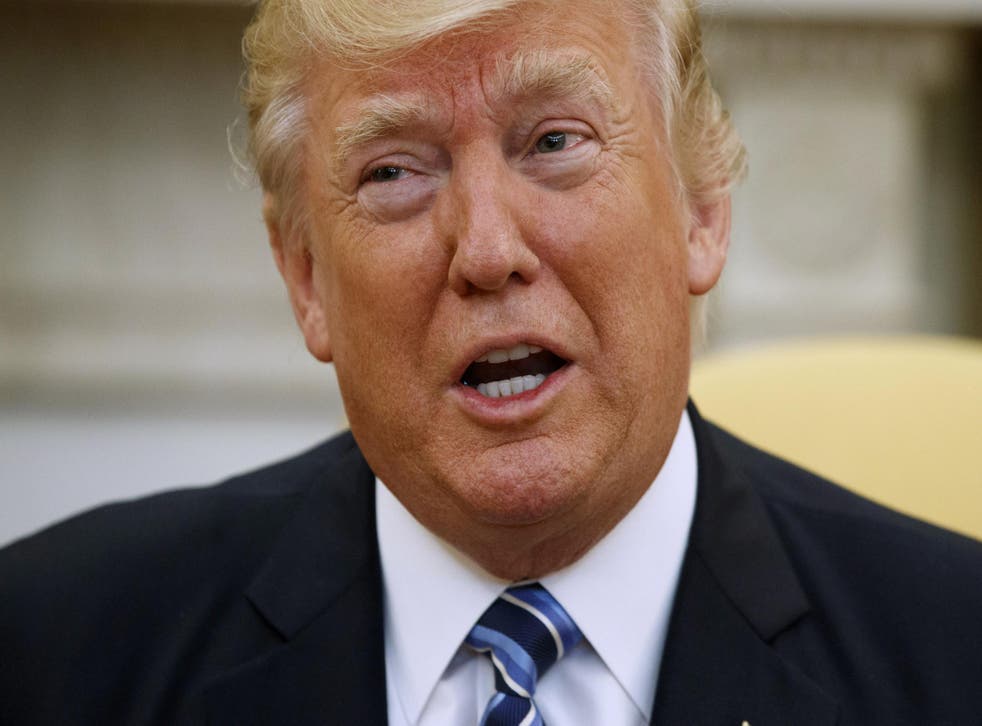 President Donald Trump and his predecessor Barack Obama spent their first 100 days in office doing starkly different things, and the end of the critical period for Mr Trump has brought frequent comparisons between the two.
While they were very different men inheriting very different political and economic climates, comparing the two illustrates their distinct styles of governing and priorities. Mr Obama, who came into office shortly after the 2008 economic downturn, needed to quickly move to stymie a haemorrhaging economy. Mr Trump, on the other hand, inherited a relatively strong economy and was able to focus more closely on his many difficult campaign promises.
Here's a comparison of the two during the time by the numbers.
Number of countries visited
Mr Trump and Mr Obama clearly had different priorities when it came to visiting foreign governments. Mr Trump, who had campaigned heavily on domestic issues, started out saying that he planned a lighter foreign trip load than Mr Obama.
Mr Trump didn't have a single out of country trip during his first 100 days while Mr Obama visited nine countries during the time, according to State Department records.
Number of executive orders signed
Although he frequently criticised Mr Obama for his use of executive orders while in office, Mr Trump relied on them heavily during his first 100 days to try and push through his policy goals. The White House said it will have signed 30 during that time while Mr Obama signed 29, according to the National Archives.
Donald Trump's first 100 days: in cartoons

Show all 33
Total number of bills signed
Mr Trump has signed at least 28 bills during his first 100 days in office. Mr Obama signed 11.
Number of significant legislative victories
Mr Trump may have signed more total bills during his first 100 days but he has struggled to secure any landmark legislative victories. Although Republicans control both chambers of Congress, the Trump administration has suffered stinging losses in its efforts to deliver on some of its more ambitious campaign promises such as repealing and replacing the Affordable Care Act. When asked in April to name a single significant legislative achievement, White House Press Secretary Sean Spicer couldn't do it.
Mr Obama on the other hand got Congress to pass a $787bn stimulus package and signed the Lilly Ledbetter Fair Pay Act to prohibit sex-based wage discrimination, and signed legislation expanding the State Children's Health Insurance Program.
Trump's most controversial tweets
Approval rating at the end of 100 days
Mr Trump's approval rating nearing the end of his presidency had sunk below 40 per cent, the lowest in modern polling history, according to Gallup. Mr Obama finished his first 100 days with a 65 per cent approval rating, the highest rating at that time since former President Ronald Reagan.
Cost of personal travel
Mr Trump has dwarfed the personal travel costs of Mr Obama. While it is difficult to determine exactly how much Mr Trump has spent on travel to his Mar-a-Lago, Florida, resort – there hasn't been an official analysis of the costs – an analysis of a similar trip taken by Mr Obama to Florida during his presidency provides a close estimate.
The US Government Accountability Office analysed a 2013 trip Mr Obama took to Florida by way of Chicago and determined that the costs, including financing Air Force One and Coast Guard protection, came out to about $3.6m (£2.8m). That itinerary is fairly close to the costs Mr Trump's frequent weekend trips would likely incur, bringing the estimated costs for private travel during his first 100 days to more than $21.6m.
Mr Obama, on the other hand, spent far less time outside of the White House on personal trips during his presidency. His total private trips cost during his two terms was $96.9m, according to an analysis by the conservative non-profit Judicial Watch. That figure, though, also includes several million dollars worth of travel expenses for official presidential trips, including an Earth Day trip to the Florida Everglades in 2015 when Mr Obama discussed climate change, and his historic 2016 trip to Cuba.
Number of days on private retreat from the White House
Mr Trump frequently takes trips to his Mar-a-Lago resort where he has been seen playing golf. Finishing off his first 100 days, he had spent at least 25 days away from the White House.
Mr Obama spent one weekend, or four days, away from the White House on a private retreat during that time.
Number of days spent playing golf
Mr Trump, as a private citizen, frequently criticised Mr Obama for the amount of time he spent golfing. But, during his first 100 days the President has golfed much more than his predecessor during that time. While the exact number is difficult to determine because most of the information comes from pictures of sightings posted online, Mr Trump has spent at least 19 days golfing. Mr Obama didn't golf at all during that time and didn't hit the links until four months into his presidency, according to an analysis by the New York Times.
Number of tweets sent from their private accounts
Mr Trump is known for his prolific tweeting and sent more than 194 tweets from his private account during his first 100 days. Mr Obama's private Twitter account sent out just one during his presidency, and it didn't appear to be written by the President himself.
Number of late night television shows visited
Mr Obama became the first sitting president to visit a late night TV show within the first 100 days of his presidency when he visited the Tonight Show with Jay Leno. Mr Trump didn't appear on any late night television shows during his first days.
Register for free to continue reading
Registration is a free and easy way to support our truly independent journalism
By registering, you will also enjoy limited access to Premium articles, exclusive newsletters, commenting, and virtual events with our leading journalists
Already have an account? sign in
Join our new commenting forum
Join thought-provoking conversations, follow other Independent readers and see their replies