Trump administration to end key part of Obama's climate plan
The Clean Power Plan was a key regulation to meet the goals in the Paris Agreement on climate change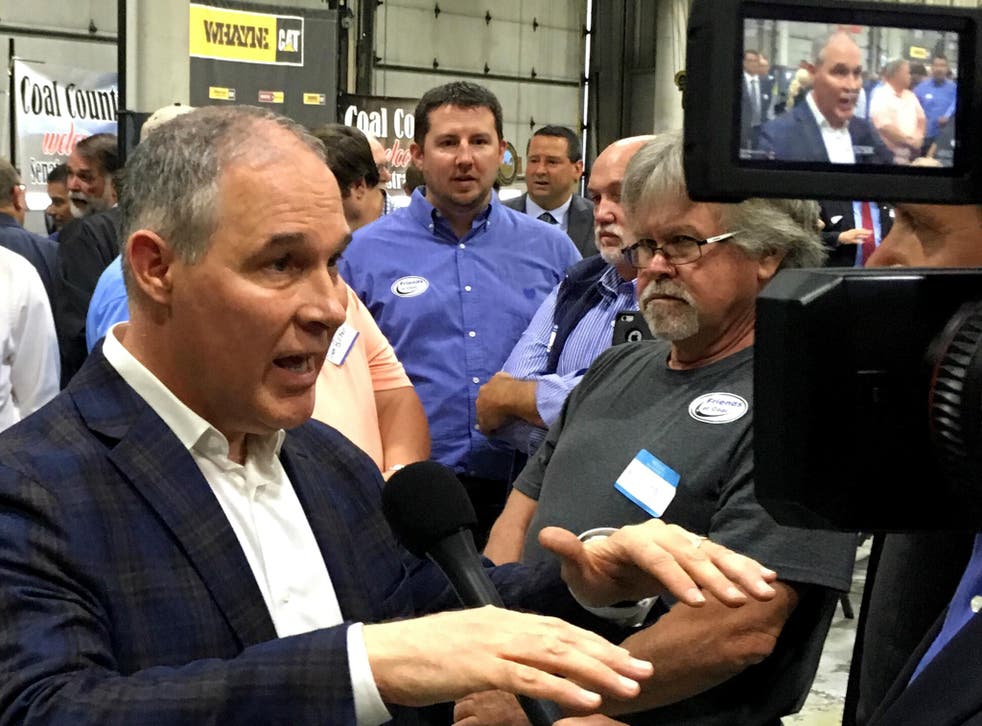 The head of the Environmental Protection Agency (EPA) has said that he will sign a new rule overriding the Clean Power Plan, an Obama-era effort to limit carbon emissions from coal-fired power plants.
"The war on coal is over," EPA Administrator Scott Pruitt declared in the coal mining state of Kentucky.
Mr Pruitt's announcement at the event with Senate Majority Leader Mitch McConnell said: "the EPA and no federal agency should ever use its authority to say to you we are going to declare war on any sector of our economy."
The repeal of the CPP was one of Donald Trump's 2016 campaign promises and with the appointment of Mr Pruitt, tied to the oil and gas industry in his home state of Oklahoma, the fate of Barack Obama's environmental legacy may have been sealed.
The CPP, called a "game changer" by the Union of Concerned Scientists in 2015 after it was passed into law, regulates the carbon emissions of power plants.
According to the Washington DC-based organisation, power plants account for almost 40 per cent of the country's emissions - "more than every car, truck, and plane in the US combined."
We still don't know if Trump believes climate change exists
Had the CPP been implemented it would have reduced power plants' carbon emissions by 2030 to a level 32 per cent lower than they were in 2005.
Every state would have its own plans to reach its own, various emissions targets under the CPP had it been left in place.
The Obama administration saw it as the main means of meeting targets outlined in the Paris Agreement on climate change, which was signed by nearly 200 countries in December 2015, in an effort to reduce global carbon emissions and help poor countries adapt to an already-changed planet.
However, in June, Mr Trump announced he would be withdrawing the US from the deal because he believed it put American workers at an "economic disadvantage".
Fossil fuel industry opponents of the CPP went to court over the regulations in 27 states.
The DC Circuit Court of Appeals had suspended the regulation at the request of the Trump administration in April 2017 and set a 6 October deadline to get a report for the EPA about it will proceed.
Even though it was suspended, the plan helped drive a recent wave of retirements of coal-fired plants, which also are being squeezed by lower costs for natural gas and renewable power, as well as state mandates promoting energy conservation.
The most recent move fits the Trump administration's plan to dismantle the previous administration's environmental regulations, including the delay or rollback of rules limiting levels of toxic pollution in smokestack emissions and wastewater discharges from coal-burning power plants.
According to a document leaked late last week to Reuters, the EPA plans to have a comment period open "developing a rule similarly intended to reduce CO2 emissions from existing fossil fuel electric utility generating units" but no details were outlined in it.
Some groups have called for a strict repeal rather than taking time to draft a suitable replacement.
Register for free to continue reading
Registration is a free and easy way to support our truly independent journalism
By registering, you will also enjoy limited access to Premium articles, exclusive newsletters, commenting, and virtual events with our leading journalists
Already have an account? sign in
Register for free to continue reading
Registration is a free and easy way to support our truly independent journalism
By registering, you will also enjoy limited access to Premium articles, exclusive newsletters, commenting, and virtual events with our leading journalists
Already have an account? sign in
Join our new commenting forum
Join thought-provoking conversations, follow other Independent readers and see their replies